Two police officers have been suspended and a constable transferred.
But the false case slapped by the Railway Protection Force against Rediff.com Reporter Anita Aikara has not yet been withdrawn.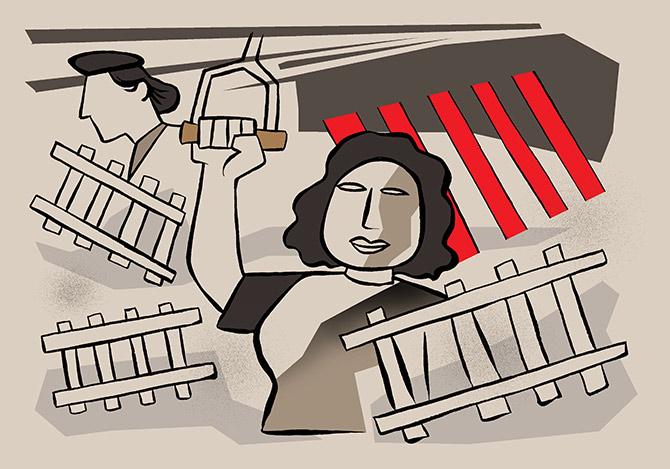 Illustration: Uttam Ghosh/Rediff.com
"When can we get our lives back?" asked my husband.
He asks that every day.
I am not exaggerating when I say that my life has been in limbo since last week.
I'm out on bail. All for reporting a cop who was breaking the rules.
You can read my story here.
There has been a lot of uncertainty hovering over my head since February 4, the day I was charged.
I am a law-abiding citizen and this is the first time anyone in my family has ever been charged with a (false) crime.
When my husband and I are not at work, the two of us now spend time talking to lawyers for legal advice.
We have started visiting our parents more frequently. We feel we don't want them to be unnecessarily worried about us.
Over the weekend I lost my voice answering calls from well-wishers concerned about our safety. They can't still believe that the news is true.
On Friday, I received a tweet from a fellow journalist.
The tweet was about the two officers who were handling the case being suspended and the home guard returned to the Maharashtra home guards.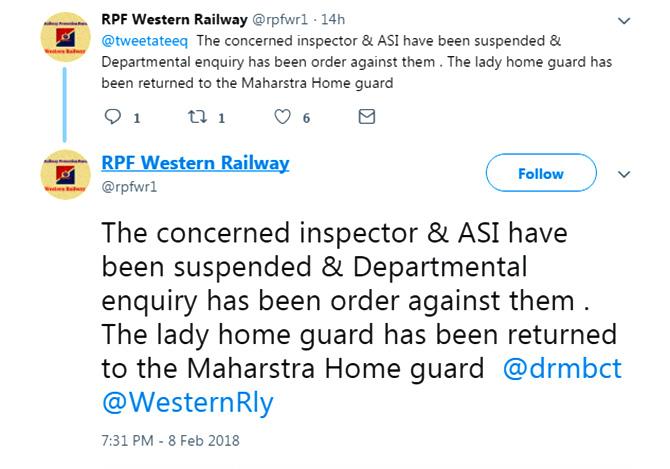 Wanting to reconfirm the news, I tweeted the RPF/Mumbai Central Division and received this tweet.
'After a preliminary enquiry the inspector and concerned officer have been placed under suspension. Lady home guard has been repatriated.'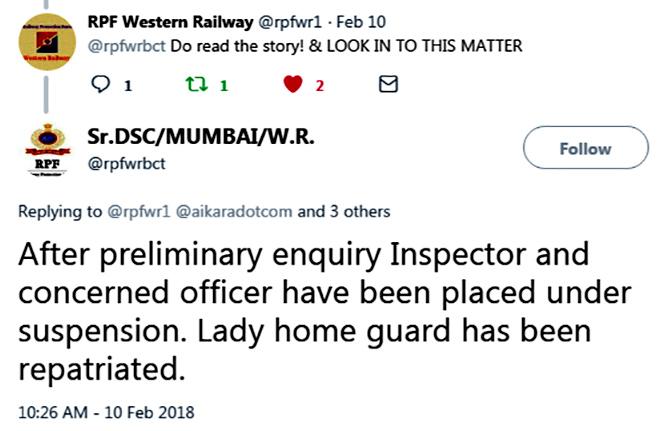 While social media cheered on hearing the news, I didn't have much to say.
Had a thorough investigation been done before the complaint was filed, we would not have had to go through all of this.
I would like to know on what grounds the home guard was repatriated.
Throughout, the Borivali station's RPF thana (police station) had maintained the home guard wasn't guilty and this home guard has been consistently lying telling her seniors I abused her, instead of it being the other way around.
If the home guard was repatriated, then why haven't they withdrawn the case as yet?
I have tried getting answers to these questions, but there is a high level of secrecy surrounding the case.
On Saturday, February 10, almost a week after the fateful day, I visited the Borivali RPF thana to tell my story for the first time.
There was a departmental enquiry being conducted and I was asked for my account.
When I went back to the police station, where I faced the ordeal, I wondered how soon justice would be served.
My mother told me that if action was taken against the concerned cops, then that in itself was a big step towards justice.
The minute I walked into the room of the senior officer conducting this enquiry, I froze.
Standing there in front of me was the home guard in question, the woman responsible for my false charge.
I wasn't sure if it was a good idea for me to face her again. I don't know how much of my face she remembered after the first incident.
But today I am certain my face has been etched in her memory. I don't feel safe.
At the enquiry, apart from the senior officer, there was another gentleman seated at the table.
He asked me why I didn't approach him that day. He went on to explain the significance of the stars on the badges of the RPF officers.
It seems when I was last at this station, I was taken to an officer with two stars on his badge. But this officer told me that I should have met him because he had more stars on his badge.
I said I didn't walk into the station on my own.
I was dragged in and sought the help of the first person I met.
I was too hassled to even remember the names of the people there, let alone the stars on their shoulders.
I also pointed out to him that if he was present that day and was the senior officer in charge, how come he didn't hear them all shouting at me?
Much later I realised this gentleman was one of the suspended officers. Thankfully, he left the room soon after.
I recounted my story to the enquiry panel of two -- of which one was an assistant commissioner -- and answered all the questions put across to me.
The enquiry did nothing to lighten the stress weighing down on me.
I explained the situation and frankly I am tired of having to wait this long for justice to be served.
I kept reminding the senior police officer that he could check the CCTV footage at Bandra, Andheri and Borivali stations.
The CCTV footage in the room where the said 'chargesheet' was filed could reveal a lot as well I said.
Later, I was informed that as there was some work going on at the Borivali station, getting any footage would be difficult!
That day, I visited the Borivali station's RPF thana again. This time it was to submit a written statement.
I left in a hurry. In minutes I was called back again. I had forgotten to sign the statement.
I went back. My husband volunteered to join me, but I asked him to wait downstairs.
I was told that my letter would be sent down with a constable so that I wouldn't have to take the trouble to come up.
Not seeing anyone downstairs, I hurried up with a pen in my hand only to realise that I had to wait for the constable to return with the letter.
One of the constables, who was part of the group who threatened and charged me on February 4 and who might have come under the scanner due to this case, walked in with the letter in her hand.
There was something intimidating about her demeanour. I let it pass.
She placed the letter on a table and angrily asked me to sign it. I put my initials on all the pages carefully too.
At the end of the letter, above the words 'Thanking You', I signed on the left side of the sheet.
Trying to intimidate me again, she angrily instructed me to sign on the right side.
It didn't make much sense to me, but I obliged.
As soon as I signed, with a swipe of her hand, she pulled it towards herself and then gave me a nasty stare.
In a tone aimed to frighten me, she asked me why I had complained against her.
I was shocked. How did she know what the contents of the letter were?
Does that mean she read it when I left the room? What about secrecy and protection to the person who has lodged a complaint?
I chose to exercise my right to be silent and gracefully exited the room.
This time as I walked down the stairs, the sense of fear again engulfed me again.
What I thought was a closed door enquiry, was not what it seemed like.
Not only did the person I complained against get to know about it, in less than 10 minutes after I left the place, she also got a chance to confront me.
I was speechless. Did she think that by intimidating me, she could get me to withdraw the complaint?
Over the last few days, I have received calls from people in the RPF department who have come under the scanner. I have no clue how they got my number.
I don't know if I will ever get justice.
To be honest, given the way things are unfolding, I seriously doubt it.
What happened to me can happen to just about anyone.
So many of us travel by Mumbai's suburban trains. The harsh reality is that there are so many of us cramped in one compartment that there is barely any room to move and absolutely no space to breathe.
Under these conditions, if you spot a home guard in uniform, like I did, encouraging ticketless travel, anyone would react.
But when the RPF turns around and slams a case against you, only because you pointed out the misdeeds of somebody from their team, you begin to question the system.
Is this the price one pays for reporting a wrong doing?
The case against me also makes me wonder that in a country of 1.3 billion people, where I am informed that on an average one person falls and dies on the tracks every day, while travelling by Mumbai's local trains, how important is this case to the RPF?
Has it been reduced to an ego battle, where they have repatriated the home guard but don't want to withdraw the case just because it will reflect poorly on their image?