A husband and wife from Mumbai filed their nominations for Monday's Presidential election.
A sign that common Indians like you and me can aspire to be the First Citizen of the land.
Rediff.com's Vaihayasi Pande Daniel met Mohammed and Saira Patel a couple of days before the Election Commission nixed their dreams.
IMAGE: Saira and Mohammed Patel at their home in Andheri, north west Mumbai.
It was the first time that a pati-patni had filed their nominations in a Presidential election.
Photograph: Satish Bodas/Rediff.com
An aspiring President and his deputy live in a cosy flat on the seventh floor of Caribbean Sagar, near Gilbert Hill, Andheri west, Mumbai.
They grew up and lived in a slum colony right across the road.
He in a family of 11. She an only child.
His father worked in the Golden Tobacco factory, Vile Parle, that markets Gold Flake and Panama brand of cigarettes.
Her father was a small-time seller/hawker of costume jewellery.
This busy, modest, but rising locality, noticeably Muslim, that stretches up to the black basalt, monolith hill, was once a vast slum until the midscale Sagar City buildings came up around here -- Caspian, Atlantic, Pacific, Indian, Caribbean. Artic and Meditterean are still under construction and will open soon, hopefully with correct spellings.
Their modest beginnings did not stop Mohammed and Saira Patel from boarding an Indigo flight to New Delhi last month, armed with Rs 30,000 in cash, to seek the highest office in the land.
They filed their nominations at Parliament House, before returning officer and Lok Sabha Secretary General Anoop Mishra and returned to Mumbai in the evening by an Air India flight, no doubt feeling like conquering heroes.
Yes, they both submitted nomination forms to be the President of India.
What did the folks in their neighbourhood think of their ambitious dreams when the Patels took off for the airport in an Ola cab?
Or about the possibility of living next to a potential Mr or Mrs President?
"They don't know what a President is," says Saira with a gentle smile, explaining that it is not a very literate neighbourhood.
"They only understand elections where money is distributed, like for corporators and MLAs," says Mohammed. The conversation proceeds in Hindi peppered with English words.
Mohammed is already familiar with the Presidential election process, having filed his nomination in 2012.
This year, he went one step further and persuaded his wife to join him in his quixotic mission.
What propels him to make a bid for the Presidency despite knowing he stands no chance?
As you probe him and Saira, an unlikely Mumbai couple dreaming of occupying Rashtrapati Bhavan, it seems to be a mixed bag of motivations.
Some hubris, no doubt.
A touch of self-aggrandisement.
Thrills.
Also knocking off a bucket-list item. A wish to create a record, too.
"In the history of India, this is the first Presidential election in which a pati-patni have filed their nominations. No one has done this before," says Mohammed proudly.
"People from all communities, generations, states, middle class, non-political have filed nominations to be President. For the first time, two people from one family have filed. And not brother and sister. But husband and wife..."
When he filed solo in 2012 it was more, he recalls, to understand the system and its powers.
This time it is definitely to go down in the record books as an example.
"We gave a statement in Parliament House in front of the returning officer, others were sitting there too. Logon ne appreciate kiya ki yeh unique cheez hai. They wanted to know why miya-biwi were fighting for the same office."
"If one loses what will happen. I said, 'The election of the vice-president is coming next month. One of us will fight there. Whoever loses will fight there'..."
What was the need for a dual presidential adventure?
Mohammed, a well-spoken man, with commonsensical, progressive views, firmly believes in exerting the citizen's rights vested in him.
"Babasaheb Ambedkar gave every citizen of India the right to fight an election. My wife is also a citizen of India. She does social work with me. I am social activist. She works along with me, shoulder to shoulder, in this field."
"So if in social work she marches along with me, then in the Presidential elections she should be there too. The Constitution has given this right to women, and to Muslim women too."
"This is the first time that a Muslim lady has filed a nomination in a Presidential election. You will not find any past record of this. This is the first time."
"It is a very big thing for a Muslim woman to go to Parliament House and fill a form to be the President of India. She is also a graduate," he says, beaming with satisfaction at their achievement.
"If you go to Parliament House, when you arrive there, you don't feel you are any less than an MP or a minister. It's that psychological (moment)."
Says Saira, who is equally thoughtfully spoken, "I felt special doing this as the first Muslim aurat (woman). For the first time... That at least I had the courage to go up to there, fill the form and come back."
That morning in Delhi, an excited Saira and Mohammed, along with four other Rashtrapati hopefuls, showed up at the gate of Parliament House.
"You have to tell the guards that you want to contest the President's election at the gate. Then they check you and let you in," says Mohammed.
Following which there is a round of paperwork which prevented them from chatting much with the other candidates: K Padmaraja from Tamil Nadu; Anand Singh Kushwaha from Madhya Pradesh; Bala Raj from Telangana; Kondekar Vijayprakash from Pune.
Independent candidates, Mohammed says, are driven to file their nominations because they want an opportunity to exercise their rights.
What did it feel to be standing before the returning officer with their nominations?
"A lot of happiness that in our democratic country, the Constitution has given a common man like me, a middle class person, this big right..."
"Yeh humare liye bahut hi bada proud ki baat hai, gaurav ki baat hai."
Setting examples for their Muslim community is essential, but that was not the exact significance of this exercise for them.
"I did it because I am worried about our nation and what is happening in it. You read the newspapers. You feel tension that so many wrong things are happening and they should be stopped," says Mohammed.
"To stop them, good people must come forward. People with good thoughts should come forward. This is a non-political election."
Mohammed, who works for a construction company, and Saira, who once worked in nursing, are social workers too.
They have been working in the Gilbert Hill area for more than 25 years. Saira is a well-known figure, having run for the corporator's post in the next ward.
"When you came here looking for our house if you asked anyone for Saira's house they would have directed you and taken you to my doorstep," she says with a tinge of pride.
They work, they say, on the pressing issues of the area, which she estimates is 80 per cent Muslim -- water, roads and education.
The Right To Education has helped get local children into better schools. It is more about sustaining it.
Seeing that young Muslim girls, who usually study better, turn it into a career and get jobs, in spite of their community's "narrow-minded" outlook. And ensuring that young Muslim boys do graduate.
Saira, with Mohammed's help, has over the years organised public meetings, awareness drives, VIP visits and campaigns, aware of the importance of an educated Muslim woman doing social work in a slum area.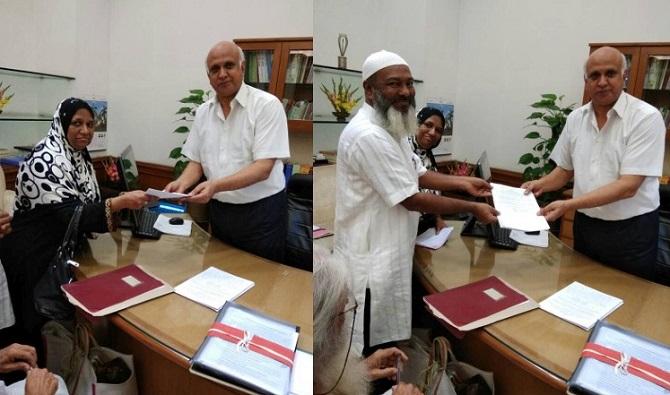 IMAGE: Saira, left, and Mohammed Patel file their nominations for the presidential election before the returning officer, Lok Sabha Secretary General Anoop Mishra at Parliament House, June 14, 2017.
"In our democratic country, the Constitution has given a common man like me, a middle class person, this big right," says Mohammed.
Mohammed gets up and rummages in the sideboard and brings out an album of Saira's engagements.
There are pictures of her with Chief Minister Devendra Fadnavis, former MP Priya Dutt, and various actors, politicians and celebrities. Of tiranga drives. Woman's day functions. And anti-plastic gatherings.
Says Mohammed, "When you do service your mind is full of happiness. In service there is a lot of mewa (value). If you do seva with a good heart, then you are doing a prayer to god."
She has a BA in politics and the husband and wife follow politics avidly, on the television (a large flat screen television has pride of place in their drawing room), through newspapers and social media.
Both are up to date on the latest political news. They call it "practical politics" because they feel they put their money where their mouth is.
Mohammed explains that those on the fringes of society need to be more worried about maintaining democracy than the mainstream or upper classes.
"Democracy ko bachana hai, na (has to be saved, no)? Unless people like us don't fight, how will democracy survive?"
"If only big people fight the elections, then how will it be a democracy? The majaa (joy) of democracy is that a middle class person and a high profile class can also win. Toh hi democracy hai (only then is it a democracy)!"
The Patels moved into Caribbean Sagar about two years ago and live here with their second son Adnan who is headed for a career in IT.
Their neat flat is in the name of their elder son Danish who works in the travel industry in the "Gulf" (Qatar).
It affords them quite a bit more space than the earlier slum housing, and consistent water supply. And clearly a better lifestyle.
Their presidential ambitions are not the only reason that makes the Patels an unusual couple. They seem to share interests and idealism and work as a team in a sweet way. They even complete each other's sentences.
Apart from aspirations to reach Rashtrapati Bhavan together -- nixed by the Election Commission a couple of days after I met them; their nomination papers were rejected as were all the others barring Ram Nath Kovind, the National Democratic Alliance candidate, and Meira Kumar, the Opposition candidate -- another joint project the couple work on is self-education.
She has written the entrance exam for an LLB course. He is awaiting his TYBA (history) exam results after completing his course from the Yashwantrao Chavan Maharashtra Open University.
They say they have time now and want to use it to study, because degrees matter. He did not complete his graduation earlier, for whatever reasons, and regretted it.
"Babasaheb Ambedkar had so many degrees," he says.
Also, pursuing education at a later age sets a good example to their community -- to show Muslims the importance of education. And that education is something one can do even at an older age.
Given that the ruling alliance's Ram Nath Kovind is a shoo-in for the Presidency why the desire to lose Rs 30,000 (each nomination has to be accompanied by Rs 15,000 as security deposit), apart from the expense on flight tickets?
Mohammed explains that each nomination has to be proposed by 50 electors (MPs and MLAs) and seconded by another 50.
That they are not forthcoming, on their behalf, illustrates to him that no one is really interested in minority rights or women's welfare.
Says Saira, "The government talks all the time about doing things for the Muslim aurat (women)... On talaq (divorce)... If they are so worried about Muslim women, why didn't they make a Muslim woman President?"
"So many women in the Hindu community are suffering because of divorce and separation too. Why don't they think of them?"
Mohammed feels this requirement of proposers and seconders for a Presidential nomination takes away from the beauty of this special citizen right Dr Ambedkar had so thoughtfully crafted, and plans to write to the Chief Justice of India about it as well take it to the Supreme Court.
This requirement makes the President's post in reality off-limits to the "common man," he rues.
They know they won't make it past the first round, but nevertheless Mohammed has a firm agenda in mind as President.
"If one of us becomes President, then within 24 hours we sabak sikhlayenge Pakistan ko, based on what our soldiers are facing and what is happening at the border."
"Today because of Pakistan we have so many terrorists spread across our country. The peace in Kashmir has ended. Finish off the terrorists in our country. Bring peace to Kashmir."
"If we have to finish off the terrorists, then we have to take a very kadak (rigid) stand with Pakistan. We have to see what is happening with our soldiers."
The last time he filed his nomination for President he had announced that his first move would be to order Parliament attack accused Afzal Guru and 26/11 terrorist Ajmal Kasab to be hanged.
"Mera statement ka itna asar hua, ki they were hanged within a few days. I feel that somewhere my thoughts are perfect..."
Will he be back in Parliament House in 2022 too?
"Yes. Karenga jab tak hai!" he says with certainty.