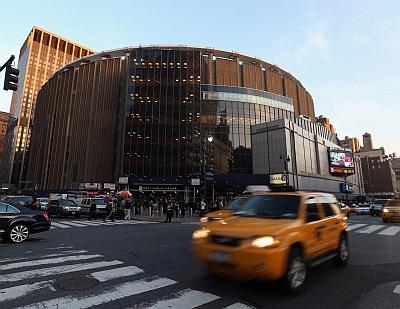 The US State Department and other lobbies who denied Modi a visa when he was chief minister of Gujarat, says one organiser of the Madison Square Garden event, will get a clear idea of what kind of "force" is behind Modi in America.
Sheela Bhatt/Rediff.com meets the people behind the event in New York and finds out what's in store for Sunday's show.
Enough is never enough for the Indian-American community when it comes to celebration.
It is as if Diwali has arrived early with the frenzy over Prime Minister Narendra Modi's community reception at New York's Madison Square Garden on Sunday, September 28, reaching fever pitch.
Dr Bharat Barai, president, Indian American Community Foundation, which is organising the reception, walked into the MSG management's office two days ago with an offer: 20,000 people are coming to the MSG on Sunday to hear Modi. Calculate the profit you would earn by selling food and drinks to them. We will pay you your profit upfront. Allow us to distribute Indian food for free to our audience.
But in the land of the market-driven economy such sentiment is alien. There are many unions in the iconic building. The unions won't permit 'patronising' an audience coming to salute their iconic leader, who had long been denied a visa by their adopted country.
So Dr Barai's team contacted four food truck-owners with licences issued by the City of New York to sell street food. These trucks will park outside the venue and distribute food. Whoever has a ticket to the event will get free lunch in the land famous for 'no free lunches.'
The owners of Rajbhog and Deep Food, two well-known brands of Indian savouries, are Modi supporters want to show their support at any cost.
People all over America want tickets to the event. Dr Barai has received complaints that some Indian Americans are 'black marketing' tickets on the Internet, but the good doctor has no time to check if any such mischief is on.
Dr Barai's mobile phone rings non-stop with requests from Indian Americans, including many wealthy retired professionals who arrived in America in the early 1970s as he did to study medicine. People who have sent cheques for $1,000 (about Rs 60,000) to the organisers are not yet assured that they will secure entry to the event.
Narendra Modi cannot ask for more.
His US visit will have the four major activities. The Indian-American community event and intense business talks with American CEOs, political interaction with President Barack Obama over dinner and delegation-level talks in Washington, DC and meetings with two leaders of India's neighbours and Israel.
Out of some 35 odd meetings scheduled during Modi's visit, the Indian-American community event is making the most noise, but the real advantage for India will be if American companies find Modi as a leader who can deliver and show readiness to increase investment in India and kick-start the prime minister's 'Make in India' dream.
Modi and Obama will hit it off, says Dr Barai. He knows both of them personally. Both leaders are from humble backgrounds, add Dr Barai. Both were outsiders till they were elected to office. Both had to work hard to reach the top.

Soon after Modi won the general election, Dr Barai and his wife Dr Pannaben met Modi on May 20 in Gandhinagar. Dr Barai proposed that Modi arrive in Chicago and address a gathering at the Fullerton Hall from where Swami Vivekananda had addressed America on September 11, 1893.
That could not happen because of time constraints. Modi has bigger plans to unveil on October 2, Mahatma Gandhi's birthday.
Swami Vivekananda will come 'alive' anyway. Dr Kiran Patel, who is in charge of the entertainment segment at the MSG event, has developed a theme where a hologram of Swami Vivekananda will emerge.
When Narendra Modi walks on stage Swami Vivekanada will be present. Almost.
On the afternoon of September 24 at the Bistro restaurant in Park Avenue in mid-town Manhattan, Dr Barai, Dr Panna Barai and Dr Patel met Miss America 2014 Nina Davuluri who will co-host the MSG show.
Though PBS newscaster Hari Sreenivasan had been earlier mentioned as Nina's co-host, there is talk that Bollywood actor Akshay Kapoor, a native of Pittsgrove, New Jersey, may now do the honours.
Dr Barai and Dr Patel are obviously millionaires. Two highly educated Gujaratis from humble backgrounds are now in the top income bracket in their adopted country. They did their master's here and worked up the ladder working sundry jobs.
At the Bistro they ordered just coffee. No show off of any kind. Both well-known personalities in the medical world came without their cars to the venue. Dr Barai, who came to the US as a medical intern, is a member of the licencing authority of Indiana state that authorises doctors to practice.
Both doctors are not staying at one of the many fancy hotels in Manhattan. So what if they are managing the show for the prime minister of India. Good Gujaratis are as economical as their favourite leader is. Nina too was sitting with the trio without nakhras so common to Mumbai showbiz celebrities.
She told Rediff.com, "People are looking up to Modi. They want to hear him." She says she will research Modi's life and career before the show. She wore light make-up unlike Mumbai's glitterati. She coyly told Dr Patel how honoured she feels to compere the Modi show.
The show on Sunday at MSG will travel from the traditional to the modern. Violinist Dr L Subramaniam and his wife singer Kavita Krishnamurthy will perform before Modi arrives at the venue.
After four folk music shows, including Gujarati and Rajasthani, Kavita Krishnamurthy will sing Aye Mere Vatan Ke Logon.
The American and Indian national songs will be sung by Anjali Ranadive and Kavita Krishnamurthy. An Indian-American bagpipers band will perform Mere Desh Ki Dharti and other songs. A laser and hologram show will then come alive.
The US State Department and other lobbies that denied Modi a visa when he was chief minister of Gujarat, says one organiser of the MSG event, will get a clear idea of what kind of "force" is behind Modi in America.
Image: The Madison Square Garden where Prime Minister Narendra Modi will address the Indian-American community on Sunday, September 28. Photograph: Getty Images