'All of our lives are going to be changed in a permanent way...'
'We just have to ride out the tide right now and we will see a rainbow at the end of this.'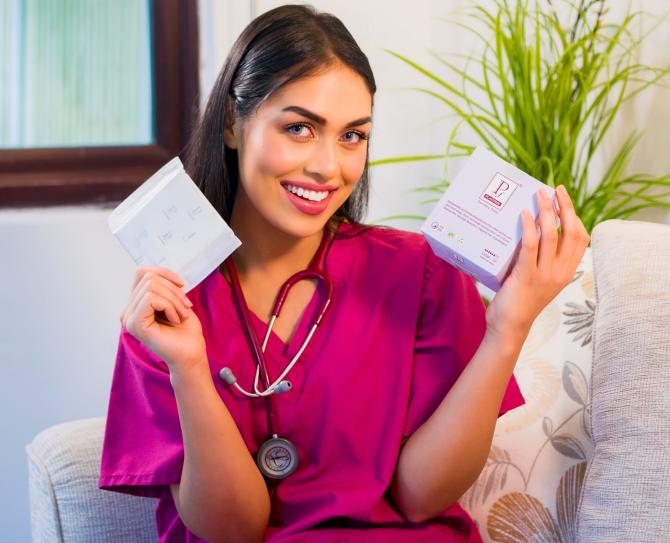 There's a young woman of 24, who can sometimes be spotted walking down the longish Sibsey arterial road that connects the quiet neighbourhoods of the town of Boston with the bustling 391-bed National Health Service's Pilgrim Hospital in the United Kingdom.
A junior doctor, she is usually heading home, on foot,at least four times a week, after a 12-hour, strenuous shift at this hospital that serves the population of east Lincolnshire, a marshy fenland area located nearly on the Greenwich meridian, 160 km north of London on England's eastern coast.
Her walk home helps her get a little exercise and routine into her life, as well as find some "normalcy," she says, after many hours of toil at the hospital.
This tall, pretty woman, with long black hair and pert features, is no ordinary doctor.
Well, firstly, doctors are not ever ordinary, given the critical, compassionate work they do.
And definitely not in the time of COVID-19, when they are our soldiers on the frontlines and the only barrier between us and an ever-expanding, advancing viral army.
But this young woman is also not ordinary because she is leading two lives, with ease.
Her name is Dr Bhasha Mukherjee and a pageant held at New Bridge hotel, Newcastle upon Tyne, last August, saw her crowned Miss England.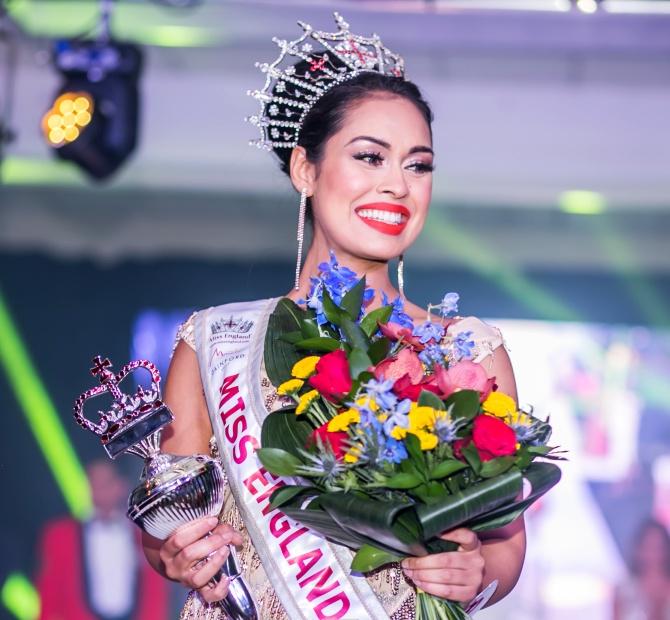 After her victory at this beauty contest, Bhasha packed up her crown and spent a hasty, few minutes washing off her makeup, before she took a 4.44 am train to Lincolnshire, 3.5 hours away, to go back on her junior doctor shift at Pilgrim, she told The Times, then.
The twin nature of that evening in 2019 has gone onto becoming the daily rhythm of Bhasha's dual life, after her win -- a beauty queen and a doctor.
More so ever since a pandemic took over the world.
Bhasha was in Kolkata in March, as part of her Miss England humanitarian aid activities, using the plank to meet and speak to people about the dangers of sugar and prevention of diabetes, when, like an approaching, threatening storm, COVID-19 appeared darkly on her horizon and began to disrupt her schedule.
Events she was to attend, in a kind of cascading domino effect, started getting cancelled in India and even at her next destinations, Pakistan and Mauritius; visas as well.
And she was stranded for eight days, because of the lockdown in India.
Bhasha was forced to take the decision to re-structure her Miss England schedule.
She decided to fly back -- a long and harrowing journey -- to England to give her attention (after 14 days of isolation), more concentratedly, to her work at the Pilgrim Hospital and to the NHS, because the UK's hospitals needed every hand they could get, as COVID-19 cases skyrocketed.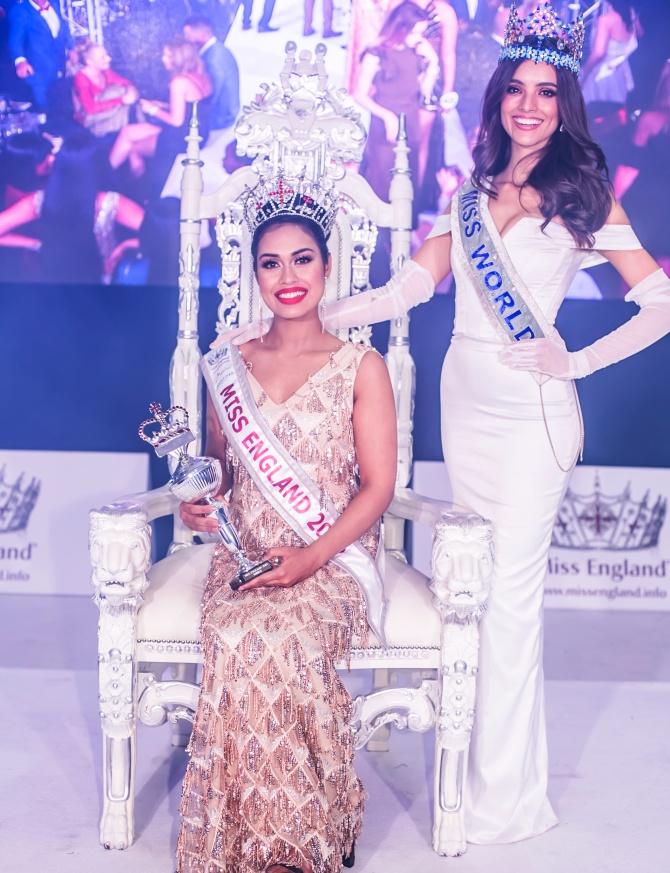 In a Skype interview with Vaihayasi Pande Daniel/Rediff.com, Bhasha explains, that right from the start, just after she won the title, she had worked her Miss England commitments around her doctor duties, balancing both.
"Miss England have always been very supportive of which direction I wanted to take my journey... The past Miss Englands have not had such an extensive involvement in terms of international humanitarian aid work. So a lot of it was my decision."
To some extent, that goes on till today, as she, for instance, gives media interviews like this one, even as she pitches in with the fight against COVID-19 in her little town, that has a population of about 35,200 and is situated in a small county that has, till May 17, seen some 977 cases and 101 deaths.
She is not working with COVID cases. That is, she has not interacted directly, as far as she knows, till the time of this interview, with a patient suffering the illness caused by SARS-CoV-2, but is part of the team that is treating new arrivals and sending those with any kind of cough or fever into isolation.
After work, Bhasha turns her attention to her Miss England responsibilities, some of which involve helping with the video and judging tasks for the 2020 online pageant and continues press and media activities -- "I am doing some of the jobs that I can do online."
Listen to Bhasha describe her nightmare-ish trip, April 1, from Kolkata via Delhi and Frankfurt, back to London and talk about her work in Boston, Lincolnshire, after her return:
Born in India, in Uttar Pradesh, Bhasha moved, with her family, to the UK when she was nine and grew up in Derby, north central England. Her father is a "key worker in the food industry" and her mother was in the care industry.
She told the BBC, after being crowned in August 2019, that she had a strongly Hindu upbringing and her faith was 'very important to her', because of a childhood spent in India, with her deeply 'spiritual' grandparents.
She added that she believes powerfully in one of the faith's key principles: 'We should see god in everybody and every being, whatever their creed, culture, background, whatever it is, and that's the thing I have always followed in my life'.
Bhasha is proud of her Indian birth and culture and also said to the BBC that the Miss England contest was an opportunity for her to 'flaunt it with pride'.
She studied science at the University of Nottingham, Nottingham, and from there later graduated with a medical degree. She also speaks five languages.
Bhasha, who comes across as very clear-minded, focused and confident, was gaining experience in respiratory medicine, as part of her revolving-duties in her two-year residency, before she set out for India. Her main interests lie in preventative medicine and she plans to eventually become a GP (general practitioner).
Her parents are a tad nervous about her role on the frontlines, especially since Britain's hospitals were, for a time, experiencing an acute shortage of PPE and heavy-duty masks.But, she says they "respect" her decision.
During the onslaught of COVID-19 on the UK, and countries across the world, Bhasha believes it has been particularly useful for her to be both a physician and a Miss England.
Hear her reasoning on this and about her medical plans:
Bhasha looks after herself, during these high-risk-to-health many months, by getting enough sleep and exercise, eating the right foods and having, very importantly, enough fluids.
She is militantly anti-sugar and has a strong message for smokers.
The doctor-queen stresses that lockdowns should not be "Eat, eat, eat."
Nor a time for endless, hand-wringing anxiety.
Instead, according to her, these days are a golden, maybe once-in-a-life time opportunity to make the most significant lifestyle changes.
And anxiety could be dealt with, she advises, by bringing some sense of purpose, at this time, in one's life, so one feels like one is "being helpful" in this cause, by assisting others or donating to charity.
"All of our lives are going to be changed in a permanent way... We just have to ride out the tide right now and we will see a rainbow at the end of this."
Finally, watch this video for some valuable words of wisdom from a plucky and astute young doctor:
Videos Production: Rajesh Karkera/Rediff.com
Production: Rajesh Alva/Rediff.com