One of the best stories coming out of Bihar is a meeting place for Chandragupta Maurya, Buddha, Ashoka, Sher Shah Suri and India's Mona Lisa.
Rediff.com's Archana Masih dropped by.
Photographs: Seema Pant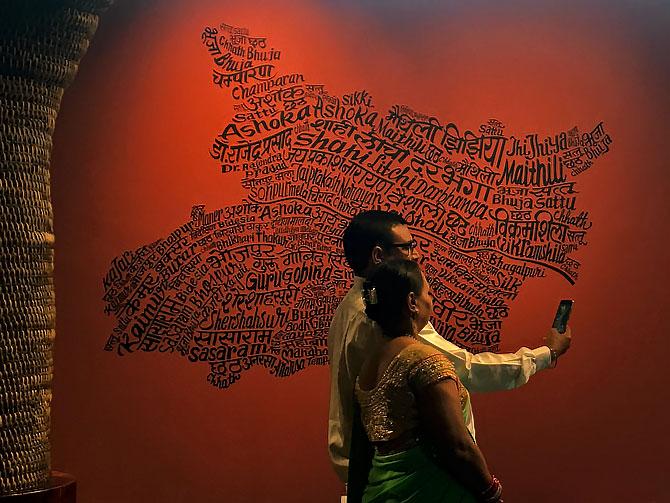 IMAGE: A couple takes a picture in front of a map of Bihar made of Hindi and English words depicting people, places, rivers, festivals, food etc that the state is famous for.
Everything here is precious, but there are no 'Do not touch' signs. No velvet ropes or airport-like barricades that prevent onlookers from crossing the line.
Chandragupta Maurya's singhasan (throne) wants you to sit on it.
Sher Shah Suri's big tarazu (weighing scale) wants you to stand in it.
A bird's nest wants you to swing in it.
An excavation site wants you to dig beneath the earth.
And the Nalanda ruins want you to touch so that you can feel the texture of bricks dating back 1,500 years.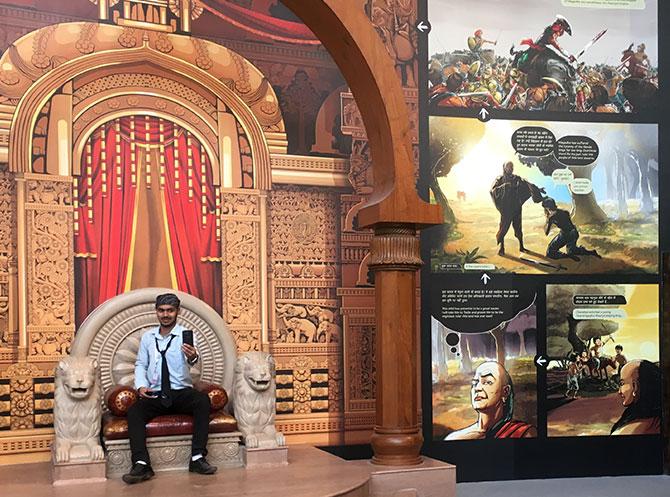 IMAGE: A selfie on a stone throne replica of Chandragupta Maurya, founder of the Mauryan empire. On the right is a story about his advisor Chanakya.
The newly opened Bihar Museum in Patna is a museum with a difference -- and its children's gallery is bursting with life for the young and the old.
Here you can touch, feel and piece together broken pieces of an excavated stone head. And learn of the past by walking into an ancient cave, crouching under a stone bridge and looking into the eye of the endangered tiger and the vanishing sparrow (all very well made replicas of course!).
"Appreciate. Learn. Love," says Moumita Ghosh, the curator, walking through the children's gallery.
"Preservation comes only after you start loving the past -- and to love, you have to touch and feel."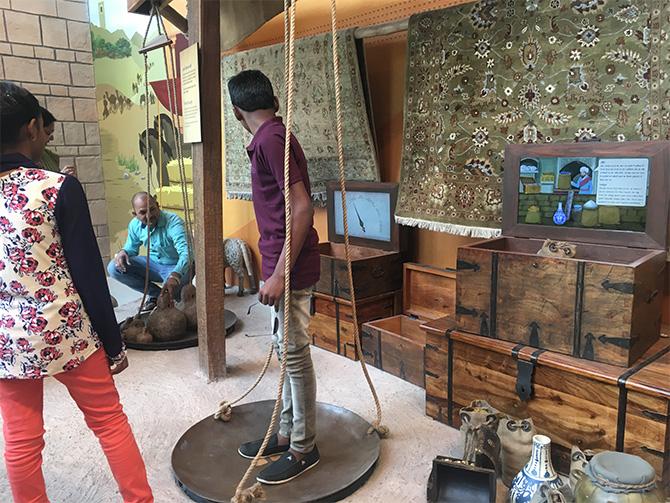 IMAGE: A weighing scale gives the weight in the old unit measure mann and also in kilograms.
Past the display on Sher Shah Suri, a plaque informs about the king who ruled only for 5 years and coined the term 'rupaiya' that we use as our currency. The visionary who also built the Grand Trunk Road that links present day Bangladesh to Afghanistan.
Constructed before the Taj Mahal, and christened Sher Shah Suri Marg, an interactive map of the road shows what it must have looked like in the 15th century and what it is like now.
But nothing can beat the 'then and now' representation of what our ancestors left behind for us and what we are going to leave behind for our children.
The chilling contrast is brilliantly shown by a mound of dug up earth. On one side, layer upon layer show tools, pottery, bits of sculptures that archaeologists had discovered in their excavations.
While on the other side, are a stack of drawers, open them and you get a sense of what we are going to leave behind.
Plastic.
Bottles.
Empty packets of chips.
Biscuit wrappers.
Think about it. Just to put it in perspective: The BBC recently tweeted, while filming the documentary Blue Planet II that its crews found plastic in every ocean, even in the most remote locations.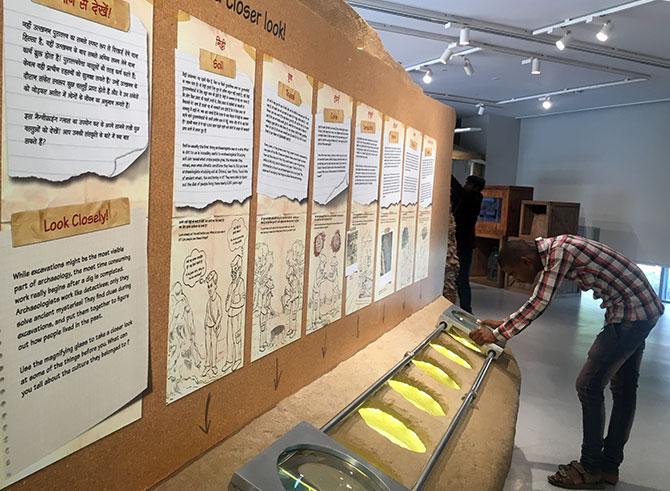 IMAGE: Onlookers can look into large, movable magnifying glasses to see some of the things of the past. 'Archaeologists work like detectives only to solve ancient mysteries,' says the notice above.
With spacious galleries dedicated to the Mauryan, Pala, Gupta periods, rooted in the history of the state, the museum is perhaps the best story from Bihar in recent times.
Yakshi, its prized possession, is called the 'Indian Mona Lisa'. Her nose is chipped and arm is broken, but she stands gloriously. Her smile is hypnotic. Her torso is gleaming.
It is a 5 feet 2 inch statue of a beautiful, heavily bejeweled, woman set in sandstone.
"She is the epitome of Indian beauty. So graceful, and imagine she was a chance discovery," says Moumita Ghosh, relating a fascinating story about how the statue crafted 2,300 years ago was discovered only 100 years ago by a dhobi.
Yakshi was found submerged in the riverbank of the Ganga. She lay facedown for years, the pedestal on which she stands, used as a platform by washermen to wash clothes! The story goes that while trying to fish out a snake from under the water, villagers discovered the sculpture.
"She has been made with a single piece of stone. Even if a single blow of the sculptor had gone wrong, who knows, she would perhaps have not been made," explains Maumita looking at Yakshi.
"You can create if you have devotion and only with devotion comes such perfection."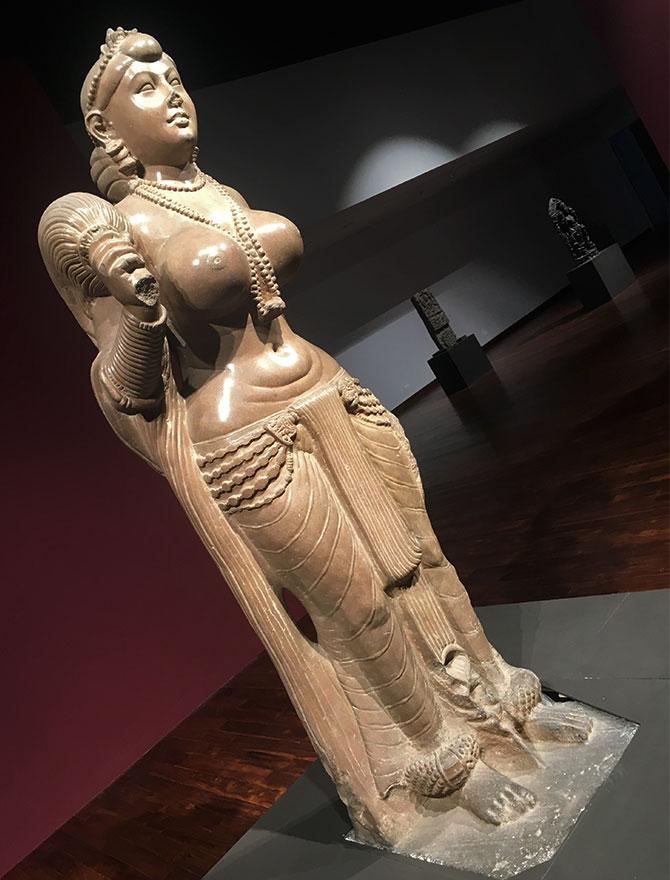 IMAGE: The museum's prized possession is the 2,300-year-old Yakshi. The epitome of classic Indian beauty, her smile is enchanting like the Mona Lisa's.
An introductory film, highlighting Bihar's glorious past, is played before visitors begin to explore the history galleries. It speaks about the Ashokan Lions, the official seal of India, which comes from Bihar.
Of being the land of Buddha, Ashoka, the birthplace of Mahivira and Guru Gobind Singh -- and home to one of the world's oldest universities, Nalanda.
Yet, in spite of this enviable heritage, the state has not been able to attract as many tourists as it should.
"We are one of the strongest states when it comes to history and heritage. Bihar is where big civilisations flourished," says Bihar's Chief Secretary Anjani Kumar Singh who was pivotal to the creation of the museum.
"Art and culture is our strength and can take Bihar on the path of development. The museum is indeed, a bold decision. No other state in recent times has taken heritage as seriously," Chief Secretary Singh adds.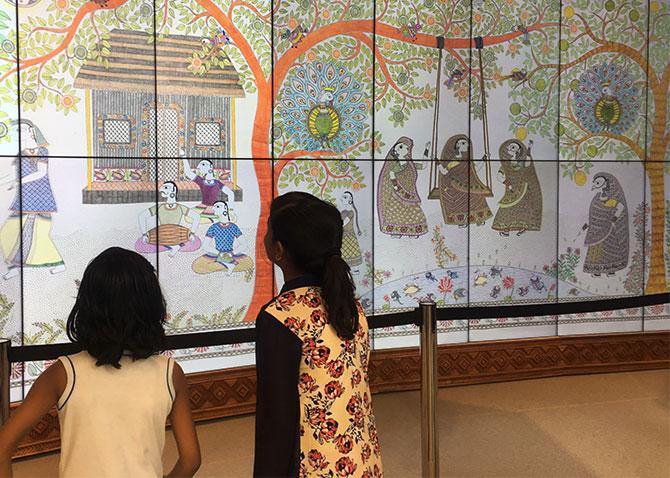 IMAGE: A digital artwork showing village life in the brilliant Madhubani style of painting. Some panels show live dance movements to folk music.
Costing over Rs 517 crore (Rs 5.17 billion), the Bihar government pulled out all stops in its attempt to make a world-class institution.
Japanese firm Maki and Associates with Indian partner Opolis are the architects while L&T constructed the structure.
The master planning consultants are Canada-based Lord Cultural Resources; Singapore-based Kingsmen Group are the fabricators; while branding has been done by Indian company Lopez designs.
The museum logo is the Mahabodhi tree, under which Buddha received enlightenment.
Constructed over five years, the ticket is priced at Rs 100 for Indians, Rs 50 for children and Rs 500 for foreigners.
The Nitish Kumar government was criticised for wasting money on a museum instead of sectors like education, health, infrastructure.
A public interest litigation was filed and the expenditure was questioned by the Patna high court, but the state government won the case.
"We are not neglecting other sectors. We have not stopped building roads. In fact, our spending on the social sector is very high," says Anjani Kumar Singh.
"We have to leave something behind for future generations and to bring people to see Bihar."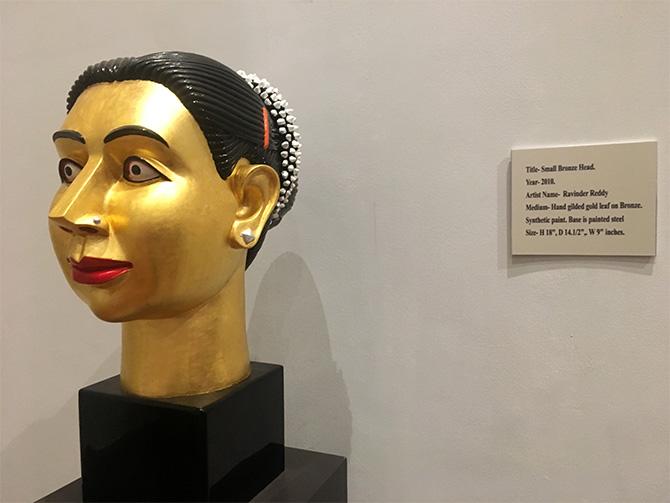 IMAGE: A sculpture of a head by Ravinder Reddy in the contemporary gallery.
Aimed at stirring up Bihari pride, the museum also has a section on the Bihari Diaspora and contemporary artwork from artists of Bihari origin.
It has one of the largest collections of bronzes and terracotta.
An installation by contemporary artist Subodh Gupta will be set up in a couple of months.
Many of the artefacts have been transferred from the Patna Museum, the third oldest museum in India, which completed its centenary in 2017. The transfer of nearly half of the Patna Museum's objects to the Bihar Museum had also provoked criticism.
On a recent inspection to the Patna Museum, Chief Minister Nitish Kumar reportedly disapproved of the poor display of artefacts and announced an expansion of the museum.
Two pieces from the Bihar Museum are at display at India and the World exhibition at the Chhatrapati Shivaji Maharaj Vastu Sanghralaya in Mumbai to commemorate 70 years of Independence.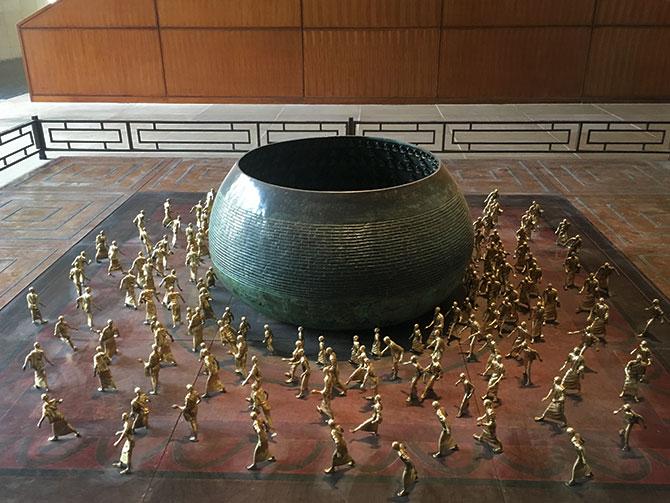 IMAGE: An installation by Sanjay Kumar of Buddha's bowl surrounded by 171 monks.
One of the striking displays in the Bihar Museum is a contemporary installation by Sanjay Kumar of a 6,000 kg Buddha bowl surrounded by 171 brass figurines of monks.
Another masterpiece is an unfinished ancient gargoyle in black stone with exquisite work. It bears scrape marks because it was used a touchstone for checking the purity of gold. The piece has travelled to museums in Brussels and Germany.
The museum has many sculptures of Buddha, depicting different schools of art, and a rare sculpture of a dancing Ganesha.
"Bihar has given lots to human civilisation. And why should we not tell people about this? Wherever there is a world class museum, it has changed the economy of that place," says J P N Singh, additional director, Bihar Museum.
"Culture and art cannot thrive unless it gets state patronage," J P N Singh points out
With over 25 museums, he says Bihar is among the leading states as far as museums are concerned.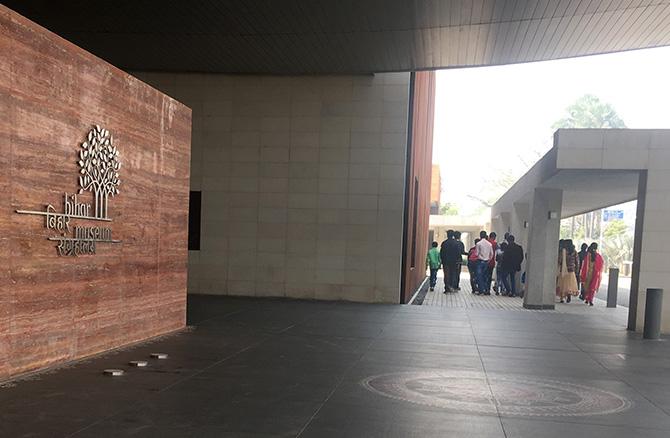 IMAGE: Entrance to the museum. Tickets are priced at Rs 100 for adults and Rs 50 for children.
The idea originated with Chief Minister Nitish Kumar, reveals Anjani Kumar Singh. Nitish Kumar has undertaken a padyatra of Bihar's historical sites and is known to have statues of Buddha in his office. He is also known to have an eye for art and can identify the names of artists looking at their works of art.
"The CM has used costly land in the heart of the city for creating parks, open spaces and a museum instead of giving it for building malls. It shows his commitment to breathing spaces and to conserving heritage," says J P N Singh.
The museum was formally inaugurated on October 2, Mahatma Gandhi's birthday and also showcases Bihar's Chamaparan Satyagraha, from where Gandhi launched the Civil Disobedience Movement.
"We want the museum to be a living and lively place and open to interpretation. It should not only be a historians' interpretation but your own interpretation," says Moumita Ghosh.
"The reason why artefacts survive through the ages is because they have their own stories to tell."