A young girl from Manipur hopes the happy days of togetherness will return to her beloved state again.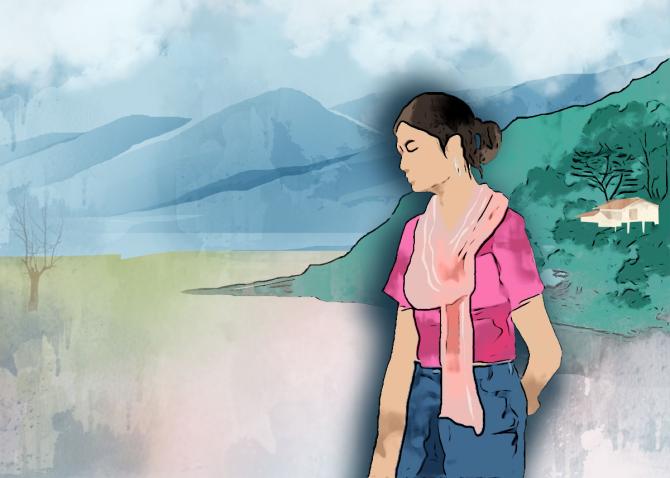 It has been two years since Veronica [name changed] went home to Manipur, the border state where clashes between Meitei and Kuki tribes have seen around 180 deaths since May.
Veronica belongs to the Naga tribe. The three tribes -- Meitei, Kuki, Naga -- constitute a majority of Manipur's population.
Her family moved to Imphal, the state capital, last year from the neighbouring district of Senapati with its green hills and a landscape most glorious at springtime.
It is the time of the year when a burst of fruit and vegetables overwhelm the senses. The guava tree in her house would be laden and the market would boast of fruits that formed a rainbow of colours -- mangoes, peaches, grapes...
She lived in a house with her parents, siblings, uncle, aunt and cousins. A large family with three brothers, and four sisters that filled the home with years of shared memories.
A large number of Nagas from different sub-tribes live in Senapati, but what stood out for young Vernonica was the mixed culture around her. She encountered people from all the other three tribes in the neighbourhood, in the market, in the street at school and college.
She went to the local school till Class 12 where she sat in a classroom with Meitei, Kuki, Naga classmates. Her Mathematics, Geography and Science teachers were Meitei. There were other teachers who were Kuki, some were Naga.
"We all had a happy childhood, studying together in school and later in college. Everyone was friendly, we used to go to each others' houses, eat with them, meet their families and celebrate festivals together."
"There was no tension or problem. I don't know what has happened suddenly," remarks Veronica. She speaks with a simple earnestness and is non-judgemental. It is evident that in her memory bank, the good memories spent with friends and acquaintances from other tribes, prevail over the differences that has presently driven the two communities apart.
She dwells on the things that unite; rather than those that divide, a timeless remedy that can heal the scars and mend the broken.
A young professional who has worked in Delhi, Mumbai and Bengaluru in the last five years, Veronica loves her job, but worries for her family back home.
Internet is still suspended and curfew is in place in five districts. She cannot send regular WhatsApp messages like in the past to her mother, but calls her on the mobile network once a day.
"Daily life has got some normalcy now, but earlier the shops used to open for a short time to buy vegetables and daily essentials."
"We grow vegetables in our garden patch so that was a great help. We, Nagas are great rice eaters and my mother has stocked up on the rice," she says with a laugh.
The school that her siblings and cousins attended has been shut.
"My sisters, siblings and cousins are all very young -- they are in Classes 1, 2 and 3. I feel very bad that they had just started learning and had to stop going to school because of the trouble."
Her brothers and sisters resumed classes last week, but have taken admission in a different school.
The family largely stayed indoors and did not venture out. They slowly started going out in the last month.
"Even now, they move around only in the neighbourhood. Moreover, transportation has also become very difficult," she says.
One of her three brothers has been stuck in Delhi at a cousin's home and has not been able to return home. He was preparing for a career in the service industry, but had to leave the institute midway and is trying to rejoin. The other two brothers are still studying.
Her mother works in a hospital and has recently started going back to work which is a short walk from their home. Her father is retired.
Veronica says she is lucky to have picked up a campus placement and enjoys her work. She shares her flat with work colleagues and is hoping that things in Manipur will improve soon.
"I miss my family, our food, friends and relatives. My mother wants me to spend Christmas at home this year. It is the most beautiful time of the year and I haven't been there for two long years," she says, deeply aware of how far she is from her home, the place she knows like none other.
"I love everything about Manipur and I can't wait to be home again."
Feature Presentation: Aslam Hunani/Rediff.com