... and from Panipat to Imphal... Rediff.com speaks with performers to know their views about Make In India.
These artists, who came to showcase their dance, songs and martial arts at the Make In India event last week, differed about what Make In India meant to them, but were unanimous on two things: One, they were in Mumbai to showcase their rich culture and heritage, and two, money was just not important for them.
Each artiste in every group were paid Rs 800 per performance; their group leaders were paid Rs 1,000.
Most young artists, especially those from Thiruvananthapuram and Imphal, were eager to catch a glimpse of the Make In India stalls, which they were sadly not allowed to because they did not have registrations.
Prasanna D Zore/Rediff.com requested Amitabh Kant, Secretary, Department of Industrial Policy & Promotion and Maharashtra Chief Minister Devendra Fadnavis, the hosts for the Make In India Week, on the concluding day of the event to permit these college-going, job-seeking, Indians to catch a glimpse of what went on inside the Make in India stalls.
Amitabh Kant assured us that he would surely look into our request. We earnestly hope at the next such event the organisers will keep this aspect in mind and see that Aspiring India gets its due.
Photographs: Sanjay Sawant/Rediff.com. Text: Prasanna D Zore/Rediff.com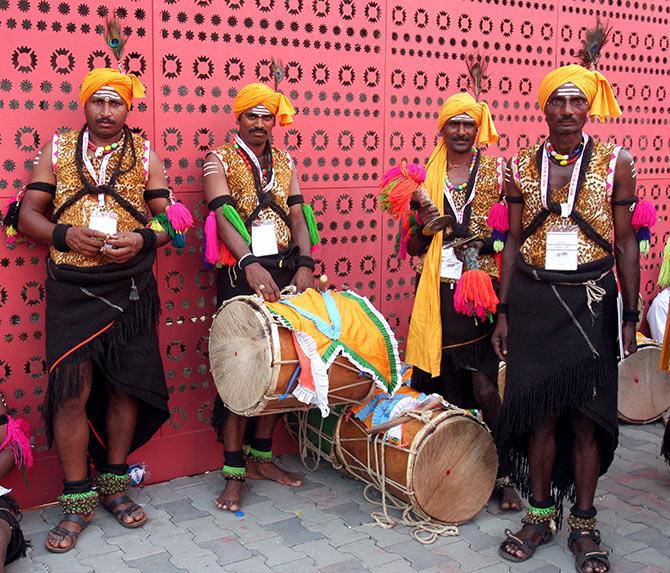 Parshuram, second from left, hails from Shimoga, Karnataka. He, along with his 12-member troupe, travelled by train for almost two days to perform the Dollu Kunitha, a dance form that involves dhols and is performed in praise of Lord Beeralingeswara.
A farmer from Shikarpur taluk in Shimoga, Parshuram says, "I enjoy performing at such events." When asked what Make In India means to him and his troupe (only Parshuram among them spoke Hindi, that too with difficulty), he says, "We are farmers. I don't know what Make In India is all about, but if the country progresses fast the farmers too will benefit."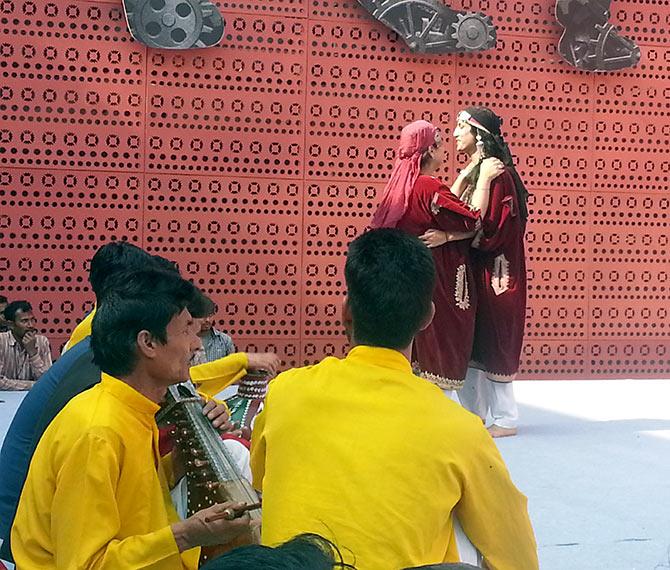 This is Jammu and Kashmir's popular Rouf dance. A dance of joy, Rouf is chiefly performed on Eid and post fasting during the holy month of Ramzan.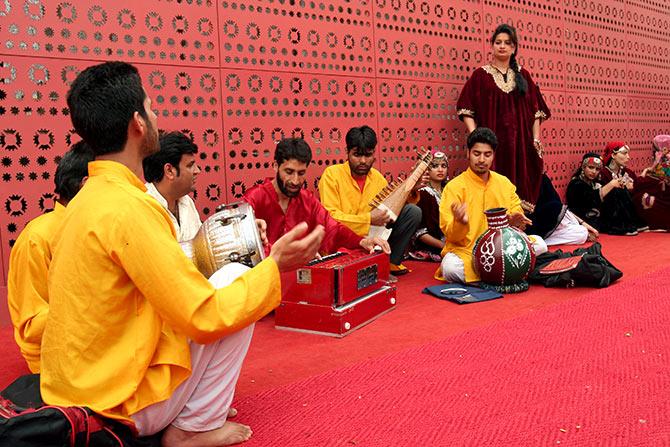 Ifra Khan, standing, far right, is a final year BCom student from the Degree College, Bemina.
"Bahut kuch (a lot) ," Ifra says about the significance of Make In India to her and other college students like her. Ifra, who wants to pursue a career in the Indian Administrative Service, says she will complete her MCom first and then enter the competitive arena.
For her, Make In India means creation of jobs in huge numbers.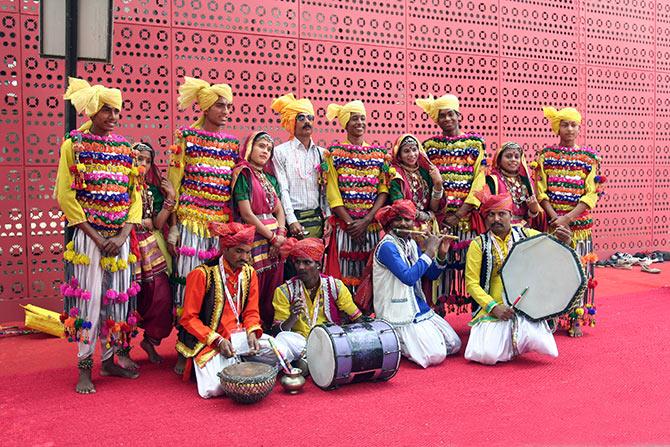 This troupe came from Sagar district in Madhya Pradesh. They performed the 'badhai' (congratulatory) song and dance that is performed on occasions that leads to joy and happiness.
Radha Devi, fourth from left, standing, a student of the Noble College of Education, says, "Make In India will create jobs not only in Madhya Pradesh, but across India."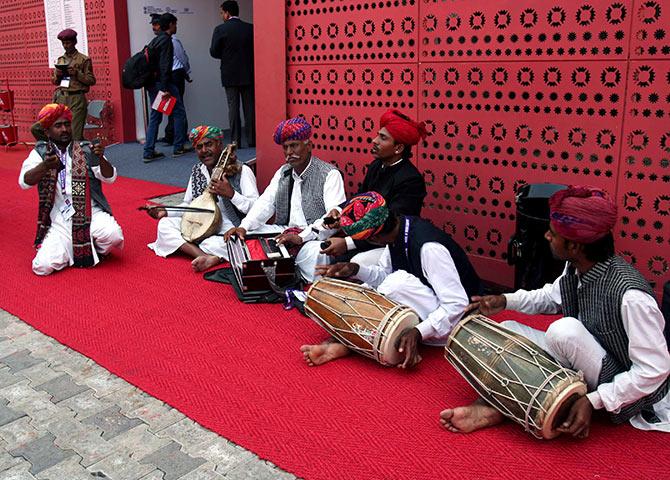 The folk singers from Rajasthan's Barmer district. Ask them the name of the music they perform and they call it just "folk songs and music."
These traditional dancers said they farm their lands when they are not performing across the world. "We have performed in Paris, Madrid, Switzerland," says Gafoor Khan, third from left, the group leader.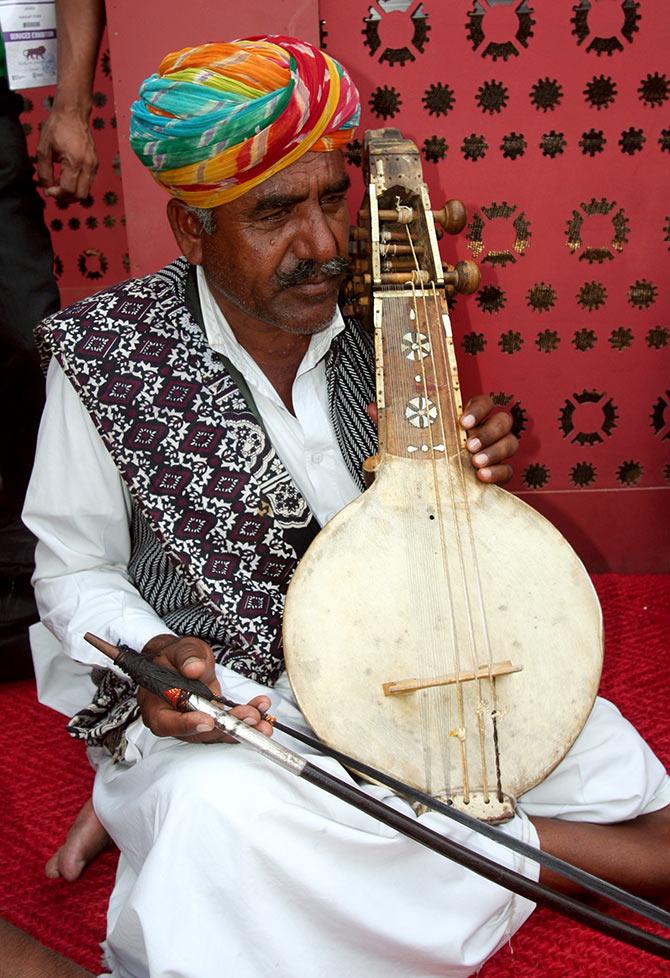 This is Gafoor Khan (yes, there were two Gafoor Khans in this troupe of Khans), who showed us a great historical piece.
The Kamaya, the musical instrument in his hand, said this Gafoor Khan, was almost 400 years old. It is made up of the bark of mango trees and this traditional artist was handed the Kamaya from his father who in turn got it from his father.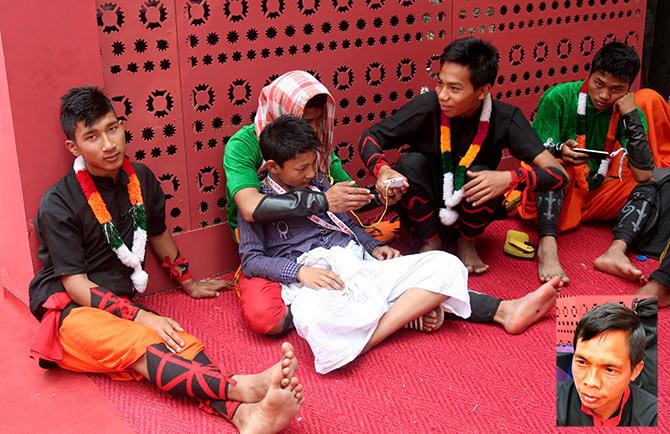 These artists from Manipur's Imphal performed the Thang Ta. The ancient martial art uses swords and spears to perform a dance-like effort.
Suresh Singh, the group leader, said they travelled to Guwahati from Imphal by bus and from there took a three-day train journey to reach Mumbai.
Singh was disgusted with the treatment he received from fellow Indians at the Make In India Week. "People called me Nepali. That make us miserable. They look down upon us as if we are not Indians," he said ruefully.
"My boys wanted to visit various stalls, but we were not allowed because we did not have the pass. The security guards at the entrance to these stalls kept sneering at us. Do we deserve such treatment?" Singh asked.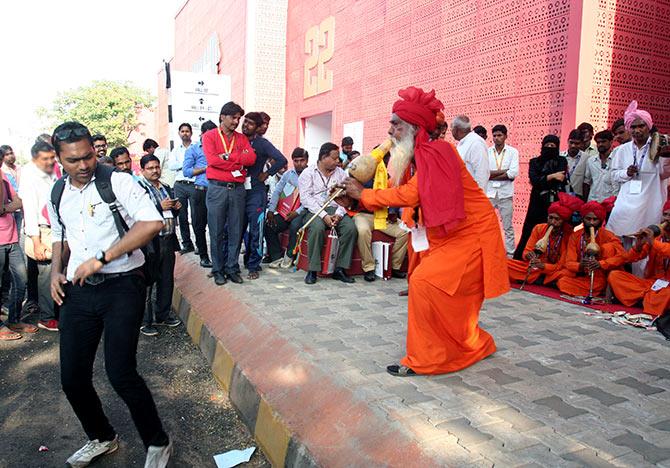 Prakash Nath, the group leader of artists who had come from Haryana's Panipat district, performed the 'bin' dance and played the bin (the musical instrument that is used by snake charmers).
Prakash Nath and his troupe would go about their dance and music on public demand, though the organisers had asked them to perform just once a day.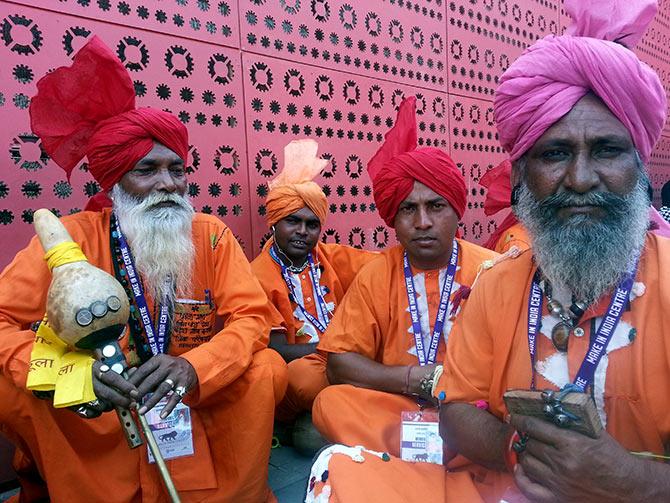 Nath, left, with his brother Gorakh Nath, extreme right, believes that though people give them money after every performance, they were more interested in regaling the crowd.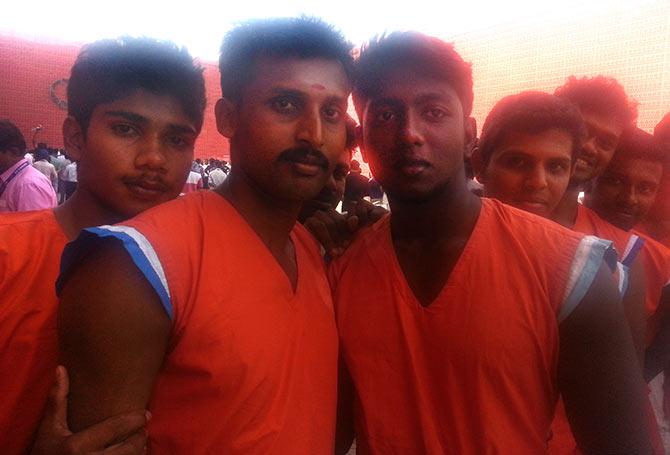 Meet Saju Kumar, left, and Sumesh S, both from Kerala's Thiruvananthapuram, both expert Kalaripayattu artistes.
Somesh, who studies at the K N M Arts and Science Government College, and Saju Kumar, a carpenter, are poles apart in their political leanings.
While Somesh is confident that the CPI-M (Communist Party of India-Marxist) will win the coming assembly election in Kerala, Sajukumar is hoping the BJP surprises the state and nation.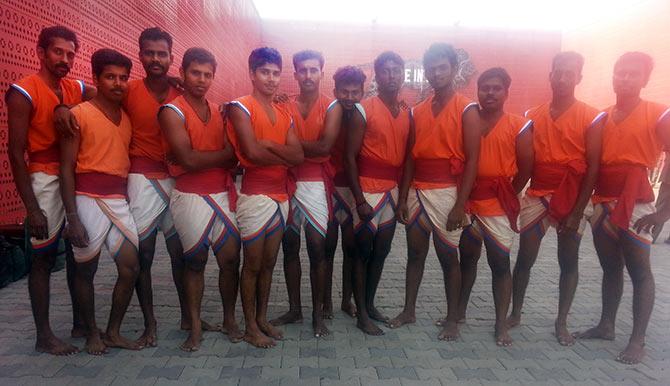 Their political rivalry melts as soon as these two young men meld with their Kalaripayattu team members.
Both say their appearance at the Make In India Week is not about money, but about spreading their state's rich cultural heritage.
Both Saju and Somesh believe that Make In India will help India's young look forward to a flood of jobs in the next two to three years.