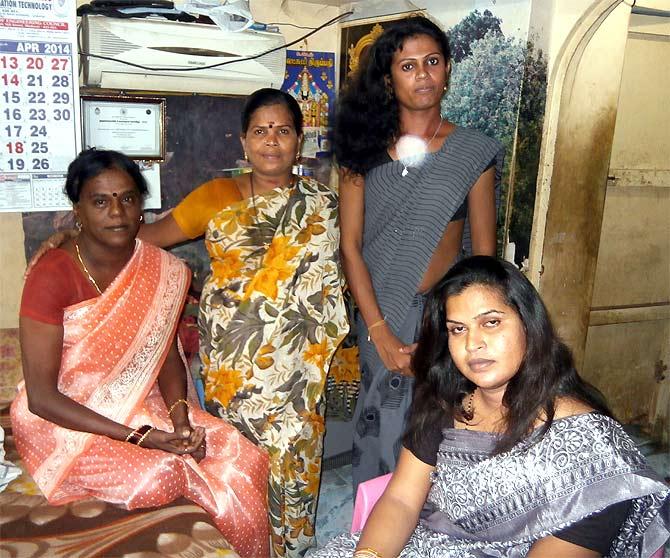 On a day the Supreme Court gave transgenders third gender status, Rediff.com presents Bharathi Kannamma (seated, left), who is contesting the Lok Sabha election from Madurai.
This is her story, in her own words:
I wanted to become the mayor of Madurai in 2011, but they rejected my nomination papers.
My name, in the voters's list then, was Alaguraj and I was listed as a man. But I had filed my nomination papers as Bharathi Kannamma, a transgender.
Today, I don't face that problem. Today, my name on the voters's list appears as Bharathi Kannamma, a transgender.
I revealed my true sexual orientation in 2004, after my mother passed away. I then joined the transgender community, where I belong. Before that, I had lived as a man and wore men's clothes.
Professionally, I was quite successful as a man. I own a small building in the heart of Madurai. I live on the top floor and rent out the rest of the space.
I graduated in Economics and completed my Masters in Sociology. I then did a diploma in computer engineering.
My first job was that of a clerk-cum-typist in a Simson ancillary unit at Hosur. I was promoted to accounts assistant and then accounts officer.
My second job was with Ion Exchange Ltd.
Later, I joined Cine Carbon as a sales officer and rose to area sales manager.
From 2002 to 2004, I was a sales manager at HDFC bank.
After I came out and joined the transgender community, I began working with the Tamil Nadu Aids initiative. After all, I did have a Masters in Sociology. I became a state level advocacy officer for the transgender community.
I used to speak in schools and colleges and explain how transgenders are born and what their role in society is. I worked with TAI from 2004 to 2010.
In 2010 I started my own trust -- the Bharathi Kannamma trust. We work among the transgender community.
My main job is to educate the public about our community.
We also arrange free legal aid for those living below the poverty line. We have helped 48 people till date and only three of the litigants were transgenders.
Though I advise and help in these cases, the court-related work is handled by Mohan Das and Muthukumar, the lawyers of our trust.
In August last year I got an award from Chief Justice of India Palanisamy Sathasivam in Hyderabad. I was honoured for doing the best legal advocacy for my community in India.

I don't have a very big budget for the elections. I have printed 4,000 notices and will print 10,000 more. These notices have been sponsored by a friend.
We are canvassing for 14 days, so I will distribute 1,000 notices every day. To help me, I have one auto, one car and seven workers. These include two transgenders, four men and one woman. The auto driver and the owner of the car will also help. That's enough for me.
My budget is Rs 5,000 per day; this means that, in 20 days, I will spend Rs 1 lakh (Rs 100,000).
When I ask for votes, I always say, 'I have no family, so I have no reason to be corrupt. Other people spend half their time with their families. I will work 24 hours for you. I don't have any party leader towards whom I have to be loyal. I will be loyal to the people. I can do what the public wants and not what the political party wants.'
(Just then, the young man who owns the car returns.
"Hey, I gave you Rs 50 to buy tea. You bought four glasses, which costs Rs 24. Where's the change? Come on, give it to me."
"I am not returning it," laughed the young man).
I am 53 years old now.
As a member of the Mahadalat in Madurai, I have helped settle non-performing assets worth Rs 4 crores for bank. I have started a garment manufacturing unit, where undergarments are stitched, near the university there. Ladies, gents and transgenders work there.
I helped six transgenders get jobs in the Home Guards.
I have started another trust called Aam Saathi to help people.
This is a small place and the staircase does look like it came out of Jack and the Beanstalk, but it is home to and my girls (transgenders).
I am a social worker. If I win, I will work for the city. If I lose, I will still work for the city.
As told to Rediff.com's A Ganesh Nadar.
Photograph: A Ganesh Nadar