Is politics gaining at the expense of civil society? Mayank Mishra analyses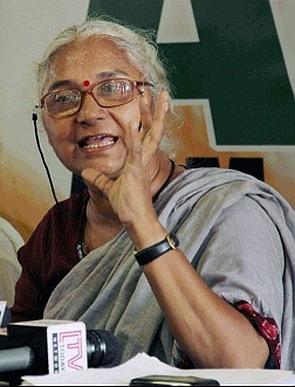 The choice before social activist Medha Patkar and her National Alliance of People's Movements was not easy.

She and other members of the NAPM had to abandon their movement to merge with the Aam Aadmi Party. They decided instead to support the AAP from outside and gave all members the choice of formally joining the party if they wished.

A large number have joined politics and Medha Patkar herself is contesting the Lok Sabha elections as the AAP candidate from the Mumbai North East constituency.
The NAPM consists of nearly 250 social groups with a membership base of almost 100,000. This is just one of several examples of social activists joining active politics.

Recently, 28 social groups active in the Marathwada and Vidarbha regions of Maharashtra, with a combined membership of 40,000, joined the AAP. Among the prominent social activists who have joined the AAP in Maharashtra are Subhash Lomte, Gajanan Khatu, Sanjeev Sane and trade union leader Jammu Anand. Lomte and Sane are contesting elections for the AAP.
In Odisha, Jawaharlal Nehru University-trained academic Lingraj Pradhan, who has been fighting for tribal rights against big mining corporations in the Gandmardan area under the banner of Samajwadi Jan Parishad, led a group of social activists to join the AAP. In fact, almost the entire Samajwadi Jan Parishad switched over to the AAP in Odisha and Bihar.

Prominent AAP leader Yogendra Yadav was an active member of the organisation. Both Lingraj and Yadav are contesting the 2014 elections.
Social activists joining politics is not confined to a few states. If Mallika Sarabhai was one a well-known social activist to have joined the AAP in Gujarat, noted social activist and writer Sara Joseph did the same thing in Kerala. The Goa unit of the party managed to attract people such as Oscar Rebello.

And Sudhir Panwar, president of the Lucknow-based Kisan Jagriti Manch, was one of the many social activists to join the AAP in Uttar Pradesh. An analysis of the professional background of 70 AAP candidates for the Lok Sabha elections reveals that as many as 47 per cent candidates have been social activists.
With leading social activists joining politics, are we going to see some erosion in the influence of pressure groups? In the past two decades, it was the growing influence of social movements led by Anna Hazare, Aruna Roy, Medha Patkar and Nikhil Dey that ensured the passage of key laws such as the Right to Information, Tribal Rights Act, Right to Food, Land Acquisition Act and Right to Education, among others.
Now that many of them have joined politics, will the pressure groups themselves come under pressure because of their new-found position in politics?

Social activists do not quite agree. On the contrary, some of them are even more optimistic, given the prospect of someone from their ranks entering Parliament. Dey, co-convener of the National Campaign for Peoples' Right to Information, lists out a number of reasons in support of his thesis that social movements will continue to create a buzz on relevant issues.
"Social movement by definition is people-driven. Most of the political parties are the result of people's movements. It is a different matter that they forget the values and ethos of movements once they get established," he says.

Dey and other prominent social activists are of the view that what drives social movements is a cause and the freedom to fight for that cause.

"What I can do as a social activist will not be the same as what I can achieve if I join politics. Politics comes with a set of compulsions which is restrictive, whereas social movements have none of that," observes Dey.
Some social activists even go one step further and argue that people from among their ranks joining politics would give social movements a new momentum. "With the likes of Medha Patekar entering Parliament or state assemblies, we can be sure of favourable response to people's movements. That will be helpful," says Madhuresh, national organiser of the NAPM.
The evolution of social movement, too, has raised hopes of its continuity despite thinner ranks for the time being, point out social activists. "We are not satisfied just with a piece of legislation. We ensure it is implemented properly, which is a continuous process that benefits people in their everyday lives," says Dey.
Then there are people who argue social activism is also a kind of politics: people's politics, which keeps the politics of power in check.
And there can never be any dearth of volunteers for it.

"The politics of power needs a face-lift much more than people's politics. It is good that the politics of power is attracting good people," argues Trilochan Sastry, professor at the Indian Institute of Management, Bangalore, and founder of the Association for Democratic Reforms (ADR). Perhaps, exchange of personnel between the two kinds of politics will help both.
Let us hope that indeed is the case. A functioning democracy needs both: people from all walks of life joining politics and a set of vibrant pressure groups continuing to attract talent.