As many as seven retail shops on Lanka Road in Varanasi are owned and run by the extended family of the Kejriwals in the holy town. Somesh Jha reports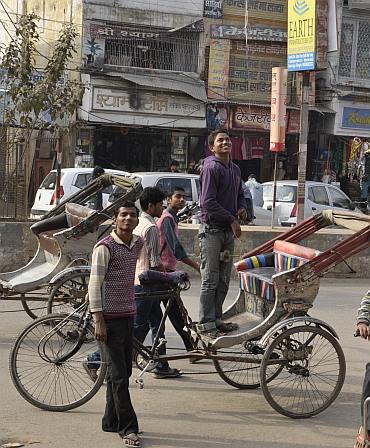 The Kejriwals of Varanasi have spoken. And not all of them are with Arvind.
The busy Lanka Road near the famous Banaras Hindu University has the name Kejriwal leaping out from boards: Not election campaign boards but shops.
As many as seven retail shops on the Lanka Road are owned and run by the extended family of the Kejriwals in the holy town. The clan has been running retail stores in Varanasi for six decades. Originally from Bhiwani in Haryana (Arvind Kejriwal is from Hisar), the clan is divided vertically on their view of Arvind Kejriwal.
Sharing their feelings about the Kejriwal who leads the Aam Aadmi Party, one Rajesh Kumar Kejriwal says: "He broke his promise to his voters by taking Congress support to form the Delhi government." Rajesh runs a departmental store in the area.
His son, Kishore Kejriwal, shares this view. Like his father, he is a staunch supporter of Bharatiya Janata Party titan Narendra Modi, who will face off against AAP's Kejriwal from here on May 12.
"This country cannot be run through nautanki (theatrics). Modi rightly called him AK-49. If you keep saying everyone around you is a thief, how can you not expect a rebuttal?" says Kishore, while contending that BJP's return to Varanasi was inevitable.
The AAP chief's wobbly administration in Delhi has led to Kishore's family becoming a butt of jokes at functions. "Having the same last name becomes a burden for us at times," he retreats. "When he was a CM, we were happy someone from our roots had taken charge. Now, things have changed," he adds.
However, Kishore's cousin, who also runs a departmental store nearby, has a different take.
"He was an honest minister," 39-year-old Anand Kejriwal says between attending calls and making arrangements for various products at his three-storeyed store, owned by his father, Banke Bihari Kejriwal.
"People have many misconceptions when it comes to Arvind. They think he has run away from his responsibilities in Delhi. In fact, power leaves him unmoved," says Anand, defending the former Delhi chief minister's resignation from the national capital.
Anand is proud of sharing both, the same surname and the initials. "Once I was travelling in a train and the TTE was amused to see my name. People started asking me if I was Arvind's brother," said Anand, grinning.
Anand keeps a track of all the speeches the AAP chief delivers and argues on politics in the country like Arvind. He says for the past one month, people have been thronging the shop, only to enquire if he was related to the AAP convenor.
But his father, a tough man, maintains he has critically analysed Arvind's performance till date and disagrees with his son.
"There are two things. First, he shouldn't have accepted the Congress' support; second, even if he assumed power, he shouldn't have resigned. Only after he had performed, would the people have reaffirmed faith in him," says the 65-year-old.
Surviving in Varanasi was not easy for the Kejriwal family, who initially started a small residence-cum-shop in the 1970s, after their oil mill went into losses.
The only fear the father-son running the multi-storey store have is the entry of foreign retailers; the Walmarts and the Tescos.
"For retailers like us, the biggest worry is Walmart. We have worked all our lives with great honesty and dedication and our business will be run over by them. This is something we all liked about Mayawati; she didn't let mega stores enter the state," says Anand, who identifies his journey in life with poster-boy Kejriwal. His father says simpler taxation laws such as the Goods and Services Tax would transform life for them. "If Kejriwal takes care of these two things, he will draw massive support from here," says Banke.
A few shops away, Banke's younger brother, Ramesh, who has a small kirana shop, is not happy with Kejriwal for stepping down in Delhi.
Banke's brother, the late Vishwanath Prasad Kejriwal, another title holder of the clan, had a garment shop close by which was inherited by his son. Vijay Kumar Kejriwal had always been a BJP supporter but says with a proud smile, "Our man changed the political game in the country." Vijay has been following AAP since its Delhi win and even donated funds to the party.
"People are afraid of the Kejriwal name," says Vijay, citing his own experience. He called an official when he found his name was missing from the voters' list and the officer, "out of fear", assured him the problem would be fixed within a few days.
"In Varanasi, people are riding on two boats. Even those who are critical of Arvind want to meet him in person at least once," Vijay says.