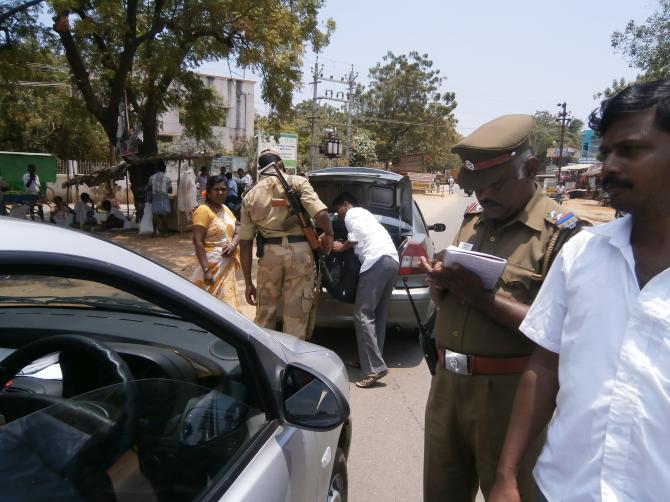 In one village, a woman asks, "They are always showing cash seizures on television, you think some of it will escape and we will get money as usual?"
"Only 1 percent of cash is actually seized, the rest has arrived, you don't worry," a party worker assures her. Rediff.com's A Ganesh Nadar reports on the election in the southern-most tip of the country.
"In Tamil Nadu people are always ready to accept money, and there are people ready to give it at election time," says former panchayat president Murugesapandi.
In Kayamozhi village, Tuticorin district, Tamil Nadu, a woman asks, "They are always showing cash seizures on television, you think some of it will escape and we will get money as usual?"
"Only 1 percent of cash is actually seized, the rest has arrived, you don't worry," a party worker assures her.
In a fishermen's colony in Colachel, Kanyakumari district, a housewife says, "I am very happy with Amma (as Tamil Nadu Chief Minister J Jayalalithaa is often called in the state), she has given me 20 kilos of free rice every month, I have received a free fan, a mixie-grinder and she has increased the amount we get when we are not allowed to fish from Rs 1,000 to Rs 2,000. I will only vote for Amma."
At a hospital in Colachel, a nurse says she has received all the freebies from the state government and she would vote for Amma. But three other nurses vow not to vote for Amma. "We have not received a single freebie," they complain.
Kanyakumari district has 44 percent Christians in the population, the highest concentration in the state.
Vasantha Kumar, a former MLA from the neighbouring Tirunelveli district, is the Congress candidate from Kanyakumari. His elder brother Kumari Ananthan is a former state Congress president.
Vasantha Kumar is among the biggest consumer goods dealers in Tamil Nadu; he also owns a satellite television channel.
The Bharatiya Janata Party candidate is the party's state president Pon Radhakrishnan, a rich coconut farmer. The Dravida Munnetra Kazhagam candidate, F M Rajarathnam, is a big businessman.
In Melamannakudi, a housewife tells this correspondent, "Robberies, chain snatching, rapes and murder are happening every day. There is no law and order. The criminals know they will never be punished. We need to bring back the rule of law."
"I will vote for (Aam Aadmi Party candidate) S P Udayakumar," she says. "He has not seen his wife or children for three years. He is fighting for our cause and holed up in a village with 300 cases against him."
Udayakumar, an activist agitating against the setting up of the Koodankulam nuclear power plant, filed his nomination on March 29. He has moved the Madras high court for anticipatory bail in the 385 cases filed against him for leading the protests.
D John Thangam, the All India Anna Dravida Munnetra Kazhagam candidate, is the front-runner.
Though the Congress, DMK, AAP may put up a good show in Kanyakumari, the AIADMK, observers feel, will coast ahead. Only the Tamil Nadu Electricity Board can defeat the AIADMK, as the district sees crippling power cuts.
Tirunelveli has two Lok Sabha constituencies: Tirunelveli and Tenkasi, a reserved constituency.
In Tirunelveli, sitting MP S S Ramasubbu is the Congress nominee while the DMK has named Chennai builder Devadasa Sundaram.
The AIADMK candidate is Prabhakaran; the BJP has allotted this seat for its ally, the Desiya Murpokku Dravida Kazhagam, led by Tamil movie star Vijayakanth. The DMDK candidate, Sivanantha Perumal, finished second in the 2009 election.
The AAP candidate is another anti-nuclear protester, Jesudas, an ordained priest. The church has told Jesudas it is against the canons of the church to contest elections. How does Jesudas solve this problem?
Udayakumar, his fellow protestor, says, "If he wins, he will go to Parliament; if he loses, he will go back to the church."
In Tirunelveli too the AIADMK is expected to wipe out the opposition. No one talks about the candidate. It is all about Amma. Her one rupee idlis; her Rs 5 lunch packets; her Rs 10 mineral water; her free rice and free goats; cows; mixie-grinders; fans.
Ramasubbu won the seat the last election in an alliance with the DMK and knows that his chances are not good this time.
The DMK perhaps lost the election when it announced its candidate from Thoothukudi -- P Jagan, son of former MLA N Periaswamy and life-time district secretary of the party. DMK workers lament, "He (Periaswamy) was an MLA, his daughter was first district chairperson, then an MLA, then a Tamil Nadu minister. Now he wants his son as MP. The rest of us are here to work for his family. We will not do so."
But when Jagan held a party workers meeting in Kurumbur, almost 400 people turned up. "We get money to attend," one participant claimed, "We got Rs 200 for an hour."
The AIADMK candidate in Thoothukudi is Jayasingh Thiyagaraj Nattarjee, a lawyer. This is his first election.
The BJP has marked this seat for its ally the MDMK.
The AAP candidate is Pushparayan, a vociferous anti-nuclear protestor. Like Udayakumar, he has innumerable cases against him.
All three AAP candidates don't wear the trademark AAP cap. Their trademark has always been the battle against the Koodankulam nuclear plant.
Image: The police check cars for cash and illegal freebies in Kanyakumari. Photograph: A Ganesh Nadar/Rediff.com