'Finding a job during the lockdown was not easy.'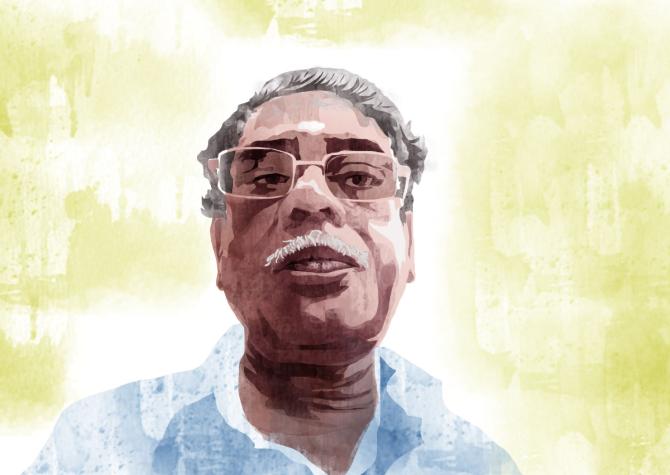 S Balakrishan, 59, is an Ola bike driver. He zips around Chennai for 10 to 12 hours a day on his bike, ferrying passengers untiringly to where ever they want to go.
At his age, this kind of work will lead to backache.
"Backache is always there, I take rest, I sleep, it helps and I am ready to go again, he says with a smile.
Balakrishnan belongs to the port city of Tuticorin in South Tamil Nadu.
He was working as an Uber Bike driver for two years before this.
When he saw that the number of trips was falling every day, he recently switched to Ola.
Balakrishnan completed his HSC (Higher Secondary certificate) before taking up a job in the private sector.
He worked in a marketing function for a chemical factory in Tuticorin for 15 years. After that, he worked for another private company.
He also tried his hand at business. "I was doing charcoal business for three years. I did not have enough capital to sustain it," he tells Rediff.com.
In 1990 he married when he was 27 years old. His wife is a homemaker. They had three children, two girls and a boy.
Though he has been to school only he made sure his children went to college.
Both his daughters have college degrees and his son has completed a course in an ITI (Industrial Training Institute). His son is working now.
He got both his daughters married in 2015. At that time he was working for the private company.
He got into some debts because of the expenses for two marriages. "Both are happily married and that is important," he laughs.
Two years ago he joined another company in Chennai. On his third day at the new company, the national lockdown was announced.
"The company stopped work, they kept my job pending and finally I could not wait any longer," he says.
Finding a job during the lockdown was not easy. He decided to see if he could find anything online.
"I was searching for a job online, I saw the option for an Uber bike driver, I already had a bike, so I joined them," he explains.
Initially, his tenure at Uber was very good and he was occupied the whole day. But lately, the number of trips went down and so he joined Ola.
Now he has both and can switch on whichever app he chooses.
He gets 12 to 15 trips a day and works for 10 to 12 hours. He works mostly during the day.
"I have also worked the whole night, I choose the time according to my convenience. When I feel tired I go home and rest," he says.
He earns Rs 400 to Rs 500 a day after expenses.
He lives in a rented house in Chennai and pays Rs 7,000 monthly rent. He lives with his wife and son.
"I am paying interest on my loans and also paying the loans slowly. I think it will take another five years to settle all my loans," he says.
Does he have plans to buy a car and operate an Uber or Ola cab? "No!" he says emphatically, hoping that when the economic times in the country improve, he can return to a regular desk-based job.
"I am good at marketing and purchase," Balakrishnan says, "if I get a good job in marketing or in any plant, I will join them."
Feature Presentation: Rajesh Alva/Rediff.com