Incidents like these are a wake-up call, says School Education Secretary Anil Swarup.
'Today, if a particular problem has been found, technology allows solutions to address it,' he says, suggesting alternatives such as printing and distribution of encrypted question papers on the day of the exam.
Swarup wants electronic tracking to keep tab on who has access to and can, therefore, leak papers.
Ritwik Sharma reports.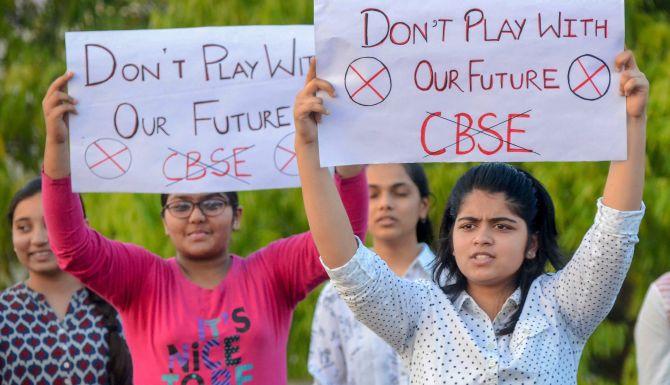 Akash Singh, a Class 12 student at a government aided school in central Delhi, was at the door of the human resource development ministry a couple of weeks ago demanding action against those who had leaked the Central Board of Secondary Education question papers.
The economics paper for Class 12 was leaked a couple of days before the exam on March 26.
After it was cancelled, many like Akash endured stress for another month as the exam was rescheduled for April 25.
"It means a waste of time for us, and it also breaks the flow of preparations. My other papers went well, but chances are I may not fare as well after a month-long gap," he says.
Following the leaks that included the maths paper for Class 10 -- it was circulated on social media hours before the exam that went ahead as per schedule with the board later deciding against a retest -- arrests were made and a CBSE official was suspended for 'laxity'.
Unsurprisingly, there was uproar among students and parents and Congress President Rahul Gandhi mocked Prime Minister Narendra D Modi on Twitter with a pun on the latter's book for examinees, Exam Warriors.
There were also calls for removal of CBSE Chairperson Anita Karwal and Union Human Resource Development Minister Prakash Javadekar who sought suggestions from students at a hackathon to solve the paper leak.
The Delhi police claimed to have solved the case of the economics paper leak with the arrest of a teacher, clerk and support staff of a public school in Una, Himachal Pradesh.
CBSE spokesperson Rama Sharma admits that social media platforms like WhatsApp are adding fresh challenges, but the board has earned credibility through largely secure systems and it aims to overcome the new age problems through innovation and technology.
Asked about likely steps, she refuses to divulge details citing confidentiality, adding that a high-powered committee headed by a former education secretary would suggest measures to make the process "secure and foolproof through the use of technology."
Experts stress that the paper leak does not indicate a serious systemic flaw within the CBSE, rather it is symptomatic of a deeper social malaise.
The CBSE paper leaks came close on the heels of protests in Delhi after a similar incident in the Combined Graduate Level Examination held in February.
The anger of aspirants of non-gazetted jobs in central ministries and subordinate departments was directed at the autonomous Staff Selection Commission. The media reported the presence of a cheating racket that was busted by the police.
The police hopes arrests in the CBSE episode will have a deterrent effect.
Deependra Pathak, spokesperson, Delhi police, says institutions cannot be faulted.
"As of now, it appears to be individual cases of crime more or less. Their impact was limited because of the timing," says Pathak.
"Had they leaked the papers a few days earlier, it would have been worse," he says, adding that investigations are on to examine links between teachers, administrators, parents and students.
Those arrested include two teachers of a private school, a coaching centre owner in Delhi, students, coaching centre coordinators, and a former office-bearer of the Akhil Bharatiya Vidyarthi Parishad in Jharkhand.
Although CBSE has remained above board, incidents such as these are a wake-up call, says School Education and Literacy Secretary Anil Swarup.
"Today, if a particular problem has been found, technology allows solutions to address it," he says, suggesting alternatives such as printing and distribution of encrypted question papers on the day of the exam.
He vouches for electronic tracking to keep tab on who has access to and can, therefore, leak papers.
Since the introduction of the Right to Education Act, 2009, CBSE had been holding Class 10 exams based on the Continuous Comprehensive Evaluation scheme that assessed students based on multiple tests throughout the year.
This year, the old assessment system based on a final exam was reintroduced.
Understandably, this had students and parents worried.
The buzz around Class 10 exams was at a fever pitch, says Ameeta Mulla Wattal, principal, Springdales School, Pusa Road, New Delhi.
"Children were not used to exams for nearly a decade. So with a switch from a semester system; there was anxiety among parents and student."
Within the CBSE, conversations around alternatives to secure a tighter exam system have taken place.
The board has, for example, created observers to ensure CCTV cameras are placed in the rooms where the papers are opened.
However, some of the ideas, says Wattal, are widely viewed as impractical.
One such suggestion is downloading papers and then printing them at the centres on the exam day.
There is also a bigger question that needs to be addressed.
"How do we look at learning and employment? That is the big picture, which the government, civil society and educators have to look at in a big way," says Wattal.
She feels incidents such as leaks reflect despair borne out of a sheer competitiveness in recent decades, a decline in values, absence of an equitable education system and the rise of a parallel coaching industry whose existence depends on the number of toppers they produce.
CBSE caters to over 18,000 schools and has been entrusted with conducting competitive exams such as the National Eligibility cum Entrance Test.
The CBSE, Wattal says, is prepared to consider a deeper debate on how to improve learning outcomes for students. In her view that is a more important problem than stray incidents like leaks.
"The National Curriculum Framework (published by the National Council of Educational Research and Training) is a very fine document. So keeping the NCF in mind, we can create syllabi which don't require a leak and even if a leak happens, it doesn't really matter," she says.
For a holistic and assimilative learning system, she recommends that the National Council of Teacher Education create bridge systems for a seamless movement of students from school to college so that universities do not rely heavily on Class XII board exams for screening candidates.
Ashok Agarwal, lawyer and president of the All India Parents Association which had petitioned the Delhi high court for a court-monitored probe into the CBSE paper leak, says the board is competent enough to prevent these incidents.
But he strongly feels that paper leaks in general are manifestations of a broken system overall, where the ruling class lacks the will to solve endemic problems such as teacher shortage in educational institutions.
"Quality education is the bigger problem. There are millions of children in government schools. They turn out to be illiterate certificate holders. Teaching students and creating employment for them are issues," says Agarwal. So, there is no shortage of problems."
The fundamentals of health, education and employment are not accessible to the majority who rely on the establishment, whereas public schooling itself is discriminatory and half the teachers are unfit to teach, he adds grimly.
"When the system fails, dharna becomes the right education."