After Jayalalithaa's death Sasikala is the person to be watched, writes R Ramasubramanian.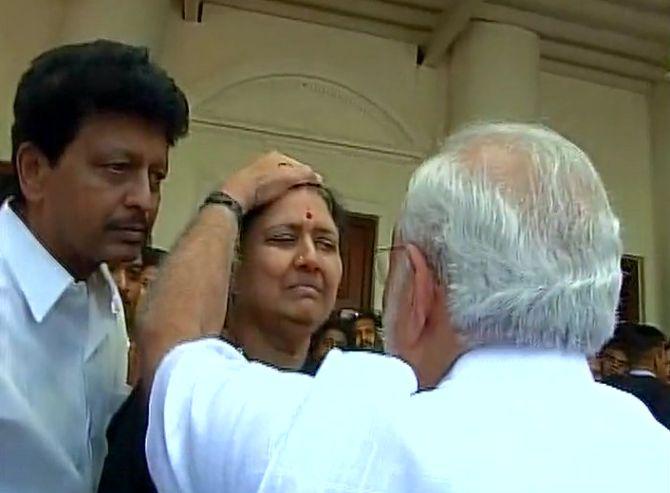 IMAGE: Prime Minister Narendra Modi consoles Sasikala at Rajaji Hall, Chennai, where Jayalalithaa's body was kept for public viewing on December 6, 2016. Watching on is Natarajan, Sasikala's husband who had been turned out by Jayalalithaa during her lifetime. Photograph: ANI.
J ayalalithaa has gone. But her death has not diminished the importance of her long time associate of sorts Sasikala Natarajan.
Throughout Tuesday, December 6, 2016, when Jayalalithaa's body was kept at Chennai's Rajaji Hall for public homage and later taken to the MGR Memorial Complex at Marina Beach for the last rites, Sasikala was fully by her akka's side. She was positioning herself in such a way that no photographer could avoid her while fixing the visuals of the former Tamil Nadu chief minister's body.
That speaks volumes about the role Sasikala is expected to play in the coming days in Tamil Nadu politics.
But who is Sasikala and what is her relevance?
It was in 1982 when Jayalalithaa, then a new entrant into the All India Anna Dravida Munnetra Kazhagam, went to Cuddalore district to preside over a function in connection with the free noon meal scheme. Her mentor and then Tamil Nadu Chief Minister M G Ramachandran was slowly tutoring her on the nuances of politics. It was MGR who asked the then collector of Cuddalore, V S Chandralekha, to extend all help to Jayalalithaa. At that time Sasikala's husband M Natarajan was a public relations officer in the district and Sasikala was doing some small-time video shoots of public functions. It was here that she was introduced to Jayalalithaa by Chandralekha.
In 1983, when Jayalalithaa conducted a huge women's wing rally in Chennai, Sasikala did the complete video shooting of the event, and thus started one of the important chapters in the state's politics.
After MGR's death in 1987, Sasikala moved into Jayalalithaa's Poes Garden residence in Chennai. When Jayalalithaa became the chief minister in 1991, Sasikala's clout -- both in the party as well as in the government -- started growing by leaps and bounds. Jayalalithaa used to call her 'Udan Piravas Sagodhari' (my sister from different parents).
Then came the famous mega wedding of V N Sudhakaran, Sasikala's nephew who was described by Jayalalithaa as her foster son. The extravagant wedding spelled the beginning of Jayalalithaa's downward spiral then. Public anger built up against her as crores of rupees were splurged on the wedding and the images of a fully decked up Jayalalithaa and Sasikala became a symbol of corruption.
But testing times came in June 1996. Sasikala was arrested by the Enforcement Directorate in a money-laundering case under the Foreign Exchange Regulation Act. She was in jail for 10 months and was released only in April 1997.
That time the Deve Gowda government was in power at the Centre and the Dravida Munnetra Kazhagam was ruling the state. It was widely rumoured that enormous pressure was exerted on Sasikala to turn approver and give a statement implicating Jayalalithaa.
"But Sasikala stood her ground and refused to do so. It was this 10 months of her incarceration, during which she stood by Jaya, which cemented her relationship with Jayalaithaa," says a senior AIADMK functionary.
"When politicians were jettisoning Amma at that time, it was Sasikala who provided maximum support to her," he added.
Undoubtedly there were hitches in their long friendship.
Sasikala was jettisoned twice by Jayalalithaa. First in 1996 and then in December 2011. On both these occasions, Sasikala bounced back with greater vigour.
Once Jayalalithaa described Sasikala in these words: "She suffered a lot for me. What my mother could do if she was alive today, Sasikala is doing it for me."
A senior state Congress functionary who was once in the AIADMK said that Sasikala exerted a great influence on Jayalalithaa's decisions.
"Sasikala had the capability to alter her decisions in times of need. Her loyalty to Jayalalithaa was amazing and unflinching. People thought that it was only for money and power that she was with Jayalalithaa. But she proved them all wrong when she languished in prison for 10 months," he said.
IMAGE: A file photograph of Sasikala with Jayalalithaa, who she often described as her akka (elder sister). Photograph: PTI Photo.
Today, Sasikala has an iron grip on the AIADMK. Out of the 136 MLAs, almost 70 to 80 per cent of them were her choice. The remaining 20 to 30 per cent cannot attempt any adventure as of now because no one knows Sasikala's actual striking capabilities.
"Sasikala was with Jayalalithaa for nearly 30 years and no one actually knows her true strength. Those who underestimate Sasikala are doing so at their own peril." says a retired bureaucrat who had some knowledge about the whole issue.
Sasikala belongs to the dominant Thevar community and a vast chunk of the state's MLAs from this community are in the AIADMK today.
It is said there are murmurs among other dominant communities like the Gounders at this dominance -- even Chief Minister O Paneerselvam is a Thevar -- and are against Sasikala. But their problem is that they cannot take on the powerful woman on their own. For them to succeed, they have to create a wedge in the Thevar ranks. Unless that happens, defeating or forcing Sasikala on the back foot is not an easy option.
But there maybe a way out: The impending Supreme Court judgment in the disproportionate assets case against Jayalalithaa.
The apex court, after hearing the appeals of the Karnataka government in the matter, reserved its orders in June this year and the judgment is expected any time. There are four accused in this case, including Sasikala, and since Jayalalitha is dead, the other three are vulnerable. If the judgment goes against them, then Sasikala will immediately go behind bars in whihc case new scenarios are bound to emerge in Tamil Nadu politics.
Another interesting development was the visible presence of Natarajan, Sasikala's husband at the funeral. Natarajan was present near Jayalalithaa's coffin all through Tuesday and was even seen interacting with Prime Minister Narendra Modi, Congress vice president Rahul Gandhi and other leaders.
Natarajan was arrested several times during 2011-2016 by the Jayalaithaa government on land grab charges and he was clearly persona non grata in Jayalalithaa's time.
In fact, Sasikala's family members, nmbering over, 20 known in Chennai as the Mannargudi clan, were seen surrounding Jayalalithaa's coffin and all the ministers including Chief Minister O Panneerselvam were seen standing at a safe distance. This picture clearly shows the new power dynamics in the ruling AIADMK now.
Jayalalithaa was also the general secretary of the AIADMK. Now the talk is Sasikala will soon be anointed to that post. If that happens, it will complete her control over the party.
However, opinions are divided over whether she will take on this role herself or appoint someone from her family.
Unlike the events after MGR's death in December 1987, this time the transformation of power in the AIADMK was smooth. It seems some ground work had been done in the 75 days when Jayalalithaa was in hospital.
Clearly, Sasikala had scored a neat victory in the 48 hours immediately after Jayalalithaa's death. But whether she will achieve the same feat in the subsequent rounds is the million-dollar question.
Maybe she could if one goes by the visuals at the last stages of Jayalalithaa's funeral. After the body was lowered into the grave, an army officer took the national flag draped around the casket and presented it to Sasiakala. Usually, the flag is presented to those who are very close to the departed soul.
Undoubtedly, post Jayalalithaa, Sasikala is the person to be watched in Tamil Nadu politics.