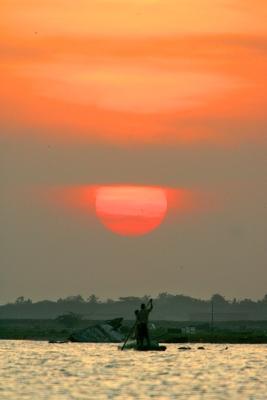 Sri Lanka's signals -- that it is ready for 'joint fishing' initiatives -- and Tamil Nadu fishermen's sticking to commitments have paved the way for a negotiated settlement on a long festering issue, says N Sathiya Moorthy
In a welcome and not wholly unexpected initiative, Sri Lanka has expressed willingness to consider 'joint/cooperative fishing' with India.
'We are ready to consider such a scheme,' the Tamil section of BBC Radio quoted Sri Lanka's Fisheries Minister Dr Rajitha Senaratne as saying, 'If the Indian side expresses difficulties in venturing out elsewhere for fishing.'
Senaratne indicated that the next round of talks between the two countries on fishing will be held in Colombo in the first week of March, as originally planned.
The earlier round, held in Chennai on January 27 at Tamil Nadu Chief Minister Jayalalithaa's initiative, involved a commitment from Indian fishermen to not venture out into Sri Lankan waters, and not using bottom-trawling and nets and gear -- banned in either or both countries -- for 30 days.
The two sides, with government officials present as observers, also decided to take forward the talks in Chennai in the first week of March.
Going by ground reports, Tamil Nadu's fishermen have held true to their commitment.
The one-month period was also sought by the Sri Lankan fishermen's representatives, particularly those from the Tamil-speaking Northern Province, to convince their colleagues back home that their Tamil Nadu brethren meant business this time.
Read in the context of the officially-enforced 45-day annual fishing ban that the Tamil Nadu fishermen would face from April 15, a 30-day voluntary 'fishing holiday' just a few weeks ahead should also reflect the seriousness with which they have approached the problem and the negotiations process.
The view from Colombo
BBC-Tamil Osai, as the channel is called, asked Senaratne if his proposal would not affect the Sri Lankan fishermen more than at present.
'That is why we are arresting Tamil Nadu fishers violating our waters,' he said. 'However, if a joint/cooperative fishing arrangement could be evolved, the two sides could sort out such issues.'
Senaratne reiterated that Sri Lanka would not allow (Indian fishermen to resort to) banned methods like bottom-trawling.
Senaratne, who met his Indian counterpart Sharad Pawar ahead of the bilateral fishermen's talks in January, said New Delhi was ready for such an arrangement.
'But we were not inclined towards such a solution as thousands of Indian vessels "invaded" our waters,' he said.
Responding to another question, Senaratne said European fishermen took away 47 per cent of the stocks in the Indian Ocean. 'Countries in the Indian Ocean Region have not benefitted from it in any way,' he said.
Owing to shortage of resources, he said, Sri Lanka had to invite non-regional fishermen operating in the Indian Ocean to export their catch through Sri Lankan ports.
'This has ensured that we benefit from the fish stocks available in our neighbourhood waters,' he explained.
Almost since the day he took over as Sri Lanka's fisheries minister, Senaratne has been saying that the island-nation's fisheries wealth has been under-exploited from the standpoints of trade, citizen's health and national revenue.
His efforts at licensing third-nation 'motherships' with processing, storage and long-term stay facilities for berthing and exporting off Sri Lankan shores were aimed at garnering a share in the forex earnings for the country.
A positive first from Lanka
This is possibly the first time that Sri Lanka has mentioned 'shared fishing' of whatever kind in dealings with Indian/Tamil Nadu fishermen.
Prima facie, Senaratne's proposal sounds clean, clear and positive. However, as he has indicated, details would still have to be worked out.
Those details would have to address the concerns of diverse fishing communities in the two countries, and also the attendant concerns of their security agencies, where there is some proximity, if not wholesale unanimity.
First, the 'positives'
In Chennai in November 2010, fisher-folk representatives from the two countries signed an NGO-facilitated agreement allowing the Palk Bay fishers and their immediate neighbours from the Rameswaram region of southern Tamil Nadu to fish in the northern Sri Lankan waters for 70 days a year, provided they did not venture beyond three-five nautical miles closer to the coast or resort to bottom-trawling, and refrained from using nets and other gear banned particularly by the Sri Lankan government.
The 2010 agreement even listed out the number of days every month that the Indian fishers could fish in Sri Lankan waters.
Officials from Lankan fisheries ministry were present at both rounds of talks as observers, and a representative of the Indian high commission was present at the review meeting in Colombo.
Therefore, Senaratne's current proposal for 'joint fishing' is an acknowledgement of the informal agreement, and a great improvement upon it.
Tamil Nadu fishermen do venture out into the northern Sri Lankan waters three days a week, ban or no-ban, arrests or no arrests.
The Tamil-speaking northern Sri Lankan fishermen's opposition flows from their 'umbilical cord brothers' resorting to banned methods, and violating mutually-agreed distances.
Such methods destroy the livelihood of northern Sri Lankan fishermen, and also the fishing fields in those waters almost forever.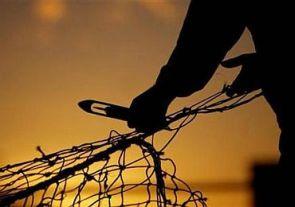 Imaginative initiatives
The Sri Lankan fisheries ministry has been taking imaginative and effective steps to increase incomes for the local traders, if not fishermen, and also revenues for the government.
The licensing of foreign vessels, including 'mother ships' to operate out of Sri Lankan ports, and for their catch, often processed on-board, was aimed at this.
However, local fisher-folk have lately begun complaining that these 'foreign vessels', from countries such as China and Taiwan, have either been transferring their catch mid-sea without reporting them to the Sri Lankan authorities, or were selling them in the local markets, or both -- thus affecting either the government or the fisher-folk of Sri Lanka, or both.
With a conducive environment created by the Chennai talks, Senaratne seems eager to rope in India and big-time Indian operators to float 'joint ventures' with Sri Lankan counterparts.
A clearer picture will emerge on 'joint fishing' when Sri Lanka comes up with its proposals --- whether it is confined to the Palk Strait fisher-folk, or it would include their Tamil-speaking brethren from the Nagapattinam belt in Tamil Nadu and the Eastern Province in Sri Lanka.
A larger, and an equally pertinent question, particularly from Sri Lanka's standpoint, would relate to southern Sinhala fishers from the country getting access to Indian waters, from the Andaman Seas to fishing fields off the coasts of Andhra Pradesh and Odisha, and parts of the Tamil Nadu coast.
Questions would relate to the kind of shared fishing that specific fishing communities in the two countries can work on, and the kind of compromises and exchange options that may be available to the two countries and their governments, particularly in identifying Indian partners, if any, for southern Sri Lankan fishers.
The maritime security forces of the two countries would also have to consider the emerging situation, and look up at their options to check against arrests and untoward incidents
Not why and how, but when
Media reports say Sri Lankan President Mahinda Rajapaksa is keen on Tamil Nadu fishermen taking possession of their boats which the Sri Lanka navy had seized along with arresting the men.
While those fishermen were freed ahead of the Chennai talks -- a move reciprocated by the Indian side, across the Tamil Nadu, Andhra and Odisha coasts -- further arrests were made almost from the day after.
If there are no arrests now on the Sri Lankan side, it owes to the continuing self-imposed 30-day trawler ban by Indian fishers across the International Maritime Boundary Line as part of the Chennai agreement.
With the Pawar-Senaratne meeting in Delhi ahead of the Chennai talks, reviving mention about the joint memorandum of understanding proposed by India for developing the marine resources in Sri Lanka, and the latter now indicating a need for joint exploitation of marine resources, the Colombo talks promise to be positive.
The MoU and the joint working group on the fishing issue between the governments concerned will go a long way in addressing these issues, and finding answers, much of which are obvious.
Earlier than expected, the Sri Lankan government may take the initiative to move forward with the talks through direct engagement at the official level.
The question is not any more about 'why' and 'how' of a negotiated settlement, but is more about the 'when' of it.
Image: Indian fishermen fish at a fishing hamlet at sunset in Nagapattinam, Tamil Nadu. Photograph: Kamal Kishore/Reuters
N Sathiya Moorthy, a veteran journalist, political analyst and a close observer of the Sri Lankan scene, is director of the Observer Research Foundation's Chennai chapter.