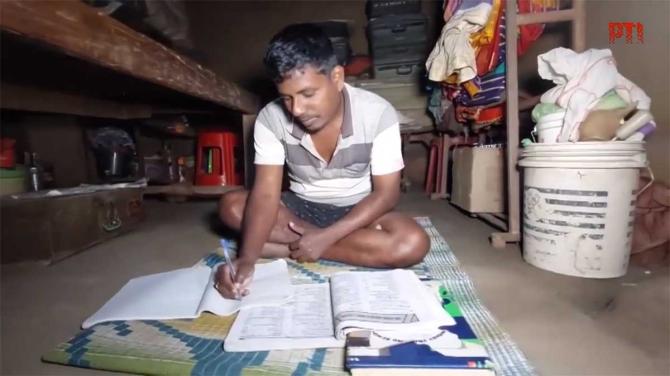 The bulls who won't retire.
The Top Videos of the Week, listed by Shailajanand Mishra.

Also see: Amazing cars.
A friendly bird.
And a doctor and his team who won't let anything -- not even an earthquake -- stop them from helping people.
Videos chosen by you through your likes on iShare.
---
These Bulls Refuse To Retire
Location: Lucknow
It's called the Nandi Rath and has been named after the celestial bull that is Lord Shiva's mount.
And it's the perfect solution to the problem of unwanted cattle being abandoned on the road by farmers who cannot or will not look after them any more.
Former IPS officer Shailendra Singh has come up with an idea which he says can solve this problem and become a boon to the farmers as well.
What do you think of this solution?
---
Wow! It's A...
Location: Durgapur
She doesn't go to school alone. Because her best friend won't let her.
Every morning when Ankita, a Class III student, reaches school, Meetu hops onto her head. And stays with her through the day.
Ankita understands Meethu's every gesture.
Their friendship is so deep that not just Ankita, even others miss Meethu if the bird ever fails to turn up.
---
Gosh! And She's Only 17
Location: Haryana
Srishtika is already preparing to do a PhD in English literature.
Why is this surprising? Because she's only 17.
Here are some other amazing facts about this child prodigy.
---
You Just Can't Stop Looking At Them
Location: Vadodara
A restored 1948 Bentley Mark VI that was specially made for the maharani of Baroda.
A 1947 Rolls Royce Phantom III which featured in the 1956 Ashok Kumar starrer, Shatranj.
And other such magnificent machines, some of which were the maharaja's favourites while some were custom-built for maharanis.
Over 200 such restored vintage beauties were displayed at the Lakshmi Vilas Palace in Baroda, courtesy the royal Gaekwad family.
Take a look.
---
Newspaper Vendor Becomes Teacher
Location: Jajpur
His father is a newspaper vendor.
And, while Bidyasagar Behera -- the six-member family lives in Jajpur's Bijharpur bloc Jajpur in Odisha -- started helping his father by selling newspapers, he didn't let go of his dream of becoming a teacher.
He funded his own education and went on to clear the Teacher Eligibility Test.
Today, this is what he does for a living.
---
They Buy Tickets, But Never Travel
Location: Dayalpur
Heard about ticketless travellers on trains?
Of course, you have.
But have you heard about those who buy train tickets, but do not travel?
Well, it happens at Dayalpur near Prayagraj pretty regularly.
Do you want to know why? Then you know what you have to do :)
---
Even An Earthquake Can't Stop These Doctors
Location: Kashmir
The room shook.
The lights went off.
Despite the earthquake's tremors, the doctor's concentration did not waver. Neither did that of his staff.
This dedicated team at Jammu and Kashmir's Anantnag hospital kept going carefully and, though Cesarean surgery, safely delivered the baby.
---
Bengaluru's 'Cherry Blossom' Season
Location: Bengaluru
After Mumbai, it seems to be Bengaluru's turn as the garden city takes on a pink hue.
The Tabebuia Rosea, also known as the Pink Trumpet trees, are showering the streets with their beautiful flowers.
Did you know that, besides pink, these flowers also come in shades of white, bright yellow and lavender-purple?
---
Feature Presentation: Ashish Narsale/Rediff.com