The Dalai Lama-led Kalachakra Puja in Bodh Gaya has drawn devotees from 92 countries.
Text and photographs: M I Khan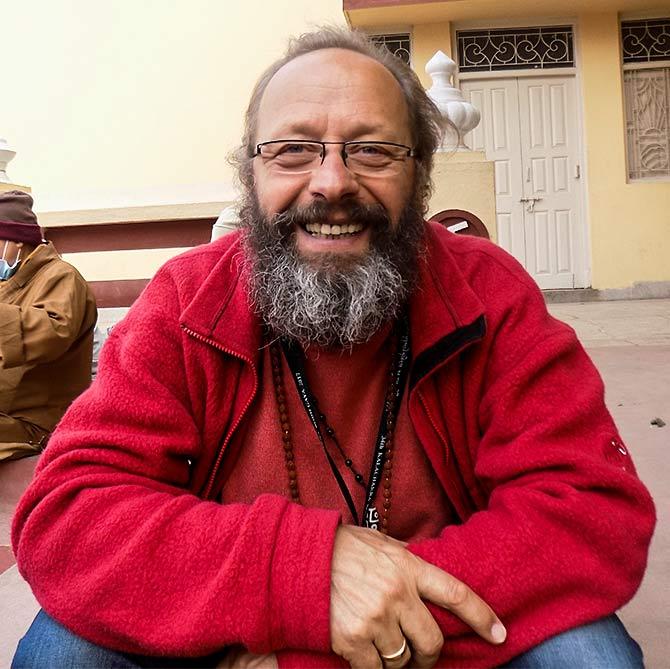 IMAGE: Hamlet Hass is in Bodh Gaya in search of "satya".
Hamlet Hass sits quietly on the floor, a gentle smile playing on his lips.
The winter does not seem to have chilled him as he waits, with other Buddhist devotees, to register himself at the ongoing Kalachakra Puja in Bodh Gaya.
Thousands of Tibetan devotees, along with hundreds of foreigners, mostly from Europe, America and South Asia, have arrived in Bodh Gaya to participate in the 12-day Kalachakra Puja led by the Dalai Lama.
Located about 110 kilometres from Patna, Bodh Gaya is where the Buddha is believed to have attained enlightenment over 2,500 years ago.
It is home to the 1,500-year-old Mahabodhi temple, considered one of the holiest Buddhist shrines.
According to officials, devotees from 92 countries are participating in the ongoing Kalachakra Puja which concludes on January 14.
Hamlet Hass, a German psychotherapist in his early sixties, says he is in search of "sayta" (the truth) and is here to listen to the Dalai Lama.
"I am very interested in Eastern philosophy and spiritualism, including Buddhism and Hinduism. Places like Bodh Gaya attract Westerners like me," he says.
Hass describes himself as a "universalist."
"I am neither an atheist nor religious. I am simply in search of truth."
He admires India's deep-rooted spiritual culture. "We have lost our spiritual culture in the West. In fact, wherever I travel in India, I find people in large number praying, worshipping, and bowing to a super power."
Hass has been a regular visitor to India since the 1980s.
"India's spiritual power attracts me. I first came here as a young hippie. I then followed Osho. My later visits to your country have been propelled by my search for the truth."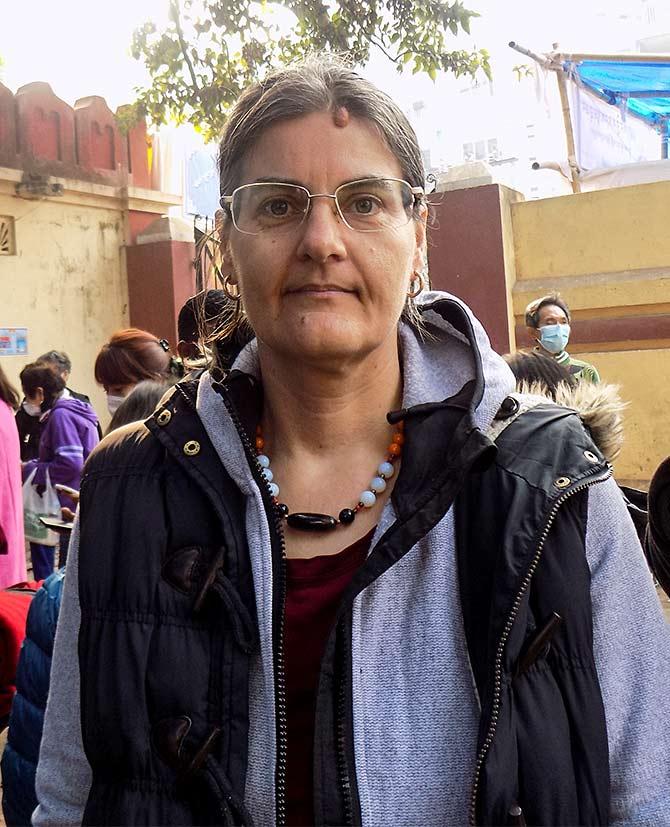 IMAGE: For Verena Mutschlechner, meeting the Dalai Lama personally was the fulfillment of a lifelong dream.
Verena Mutschlechner, who is from Italy, says she is hopes to learn more about the humanistic approach and to seek blessings from the Dalai Lama.
"It is amazing for me to pray together with a large number of people for world peace. We need peace because there are so many wars and so much aggression all around us, Mutschlechner, a physician, says.
She describes her visit to Bodh Gaya as a "beautiful experience."
"Unlike what we see in India, in Europe you will find large number of people only at music concerts or other such places. I strongly feel India is the real home of spirituality."
This is her second visit to Bodh Gaya; she first came here in 2011.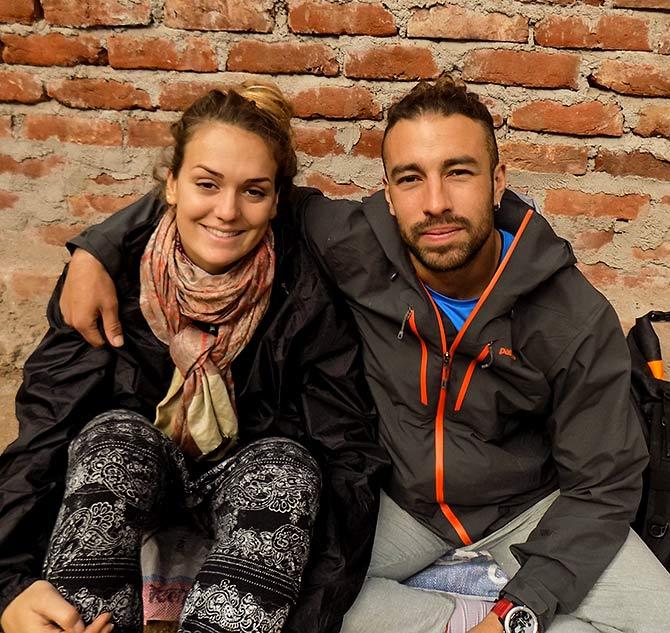 IMAGE: Jules Superllaque and his girlfriend Eva are interested in Buddhism's scientific side.
Jules Superllaque and his girlfriend Eva have travelled to Bodh Gaya from France.
Both love to meditate and enjoy listening to the Dalai Lama's sermons.
"We are attending the Kalachakra to learn more about Buddhism's scientific side. We are atheists and don't believe in dogma and prayers," says Jules, who works at the beach in his native France.
Eva, a business management student, loves travelling to spiritual places in India.
Uta, a college teacher from Germany, is thrilled to have fulfilled her dream of meeting the Dalai Lama.
"Initially, I listened to him from a distance, but later, I got the opportunity to meet him. It has been the experience of a lifetime," says Uta.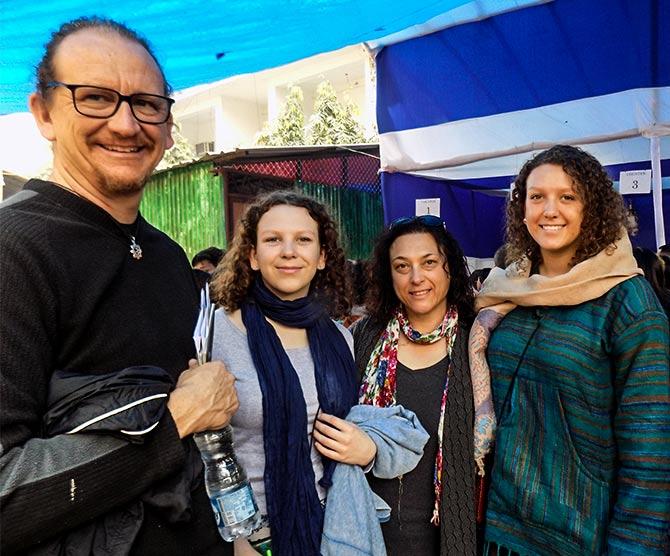 IMAGE: The Lockett family is planning a return visit to Bodh Gaya.
The Lockett family has travelled to Bodh Gaya from New Zealand.
"This is our first visit to this holiest of Buddhist towns," says Grace, who is here with her husband and two young daughters.
They have enjoyed the peaceful environment, she says, and are planning a return visit.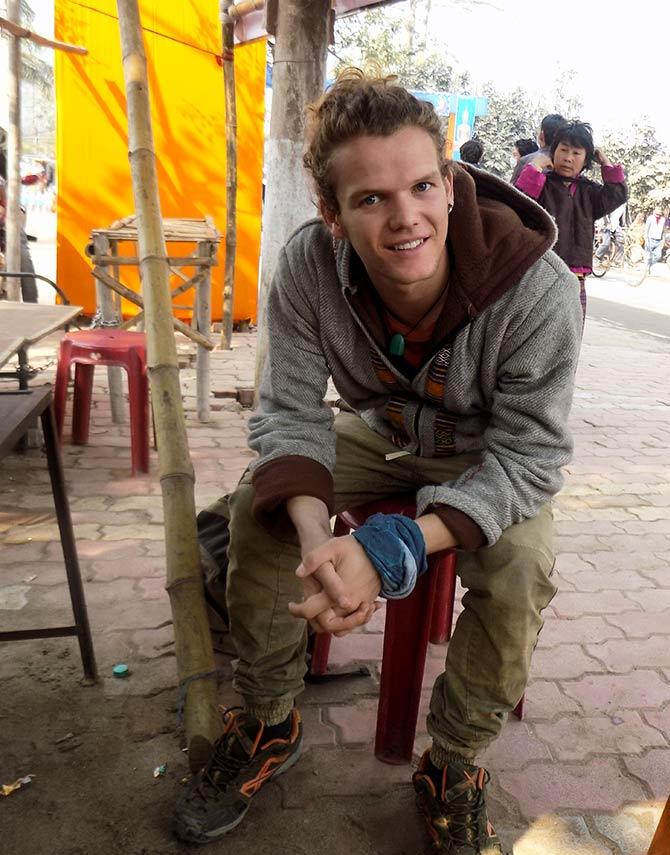 IMAGE: Simon Teichler is saddened by the poverty in the villages surrounding Bodh Gaya.
Simon Teichler, who is from Italy, says, "I am experiencing a different world here."
While he is thrilled he could finally watch the Dalai Lama preach in person, he is worried about the poverty in the villages surrounding Bodh Gaya.
"This is not good," he says. "We have to do something for them."