'Hate and violence are an ever-present threat to us.'
'The community is staying vigilant of their surroundings.'
P Rajendran reports.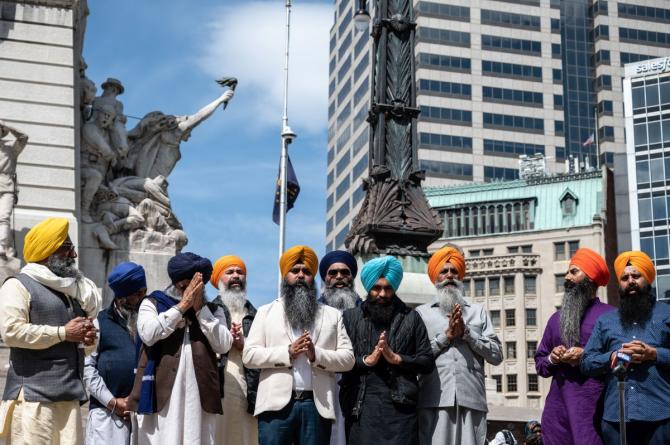 Amarjeet Johal was bone tired as she picked up her paycheck from the front desk.
It was late -- 11 pm on Thursday, April 15 -- and she had just finished the double shift.
Johal, 66, a worker at the FedEx facility in Plainsfield, Indiana, just wanted to get home and get some rest before prepare for her grand-daughter Komal's engagement om Saturday.
Amarjit Sekhon, 48, was nearly out the front door of the facility with her friend Jaswinder Kaur, 64.
One of them had held the door open for the other... Sekhon, a mother of two boys, 22 and 16, had been working there only since November.
Jaswinder Singh, 68, was there because he was bored of being sequestered during an interminable pandemic, even though he lived in an area that was home to hundreds of Sikh families.
A gregarious man who had joined his children in Indiana, Singh was well known at the local gurdwara.
He did not need the money, but the job kept him occupied and helped him make new friends.
Having finished his first shift ever at the job, Singh had picked up his paycheck and pocketed it.
He would never get to cash it.
When the shooting began, besides the four Sikhs, others in the area were Matthew R Alexander, 32; Samaria Blackwell, 19; Karli Smith, 19; and John Weisert, 74.
Brandon Scott Hole, 19, a dark hooded figure stepped out of his car, and began shouting as he fired with his two assault rifles.
He shot four people dead in the parking lot, and injured others before walking up to the main door and resuming his attack. Thereafter, he shot himself dead.
'There was no confrontation with anyone that was there,' Craig McCarrt, deputy chief of the Indianapolis Metropolis Police Department, said at a press conference.
'There was no disturbance. There was no argument. He just appeared to randomly start shooting.'
"We found out he was there to shoot his manager, but [ultimately] shot randomly," says Chirjeev Kaur, a member for board of the Sikh Santsang of Indianapolis.
"He wanted to confront the manager, but it so happened that Sikhs were there."
Hole had worked at the facility from August to October last year before being fired for not showing up.
Hole had a history of mental illness, his mother having called the police last March after her son told her that he would get the police to shoot him dead after pointing an empty shotgun at them.
When the police picked him up at his home, Hole reportedly became anxious and asked that power strip to his computer be pulled.
A police officer who went to his room reportedly saw white supremacist Web sites open, and reported the matter to the criminal intelligence unit.
While the police confiscated the shotgun, it did not enforce the 'red flag' law, called the Jake Laird Law in Indiana, which allows not only forfeiture of a weapon but also stops further gun purchases by a person who could be a danger to the community.
Hole bought assault rifles from a licensed dealer in July -- before he started working at FedEx -- and in September, the month before he was fired from the facility, where a clear majority of the employees are Sikh.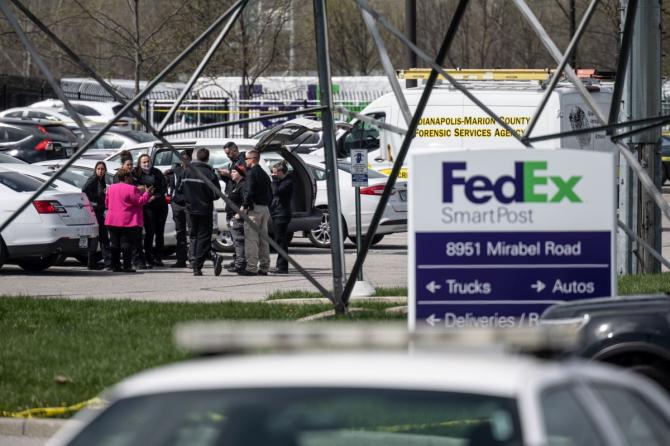 Janice Singh and her husband Kanwar Prakash Singh have seen the Sikh community grow in Indianapolis since 1967, five years after they moved to the city.
She is not convinced Hole's attack has anything to do with prejudice.
"The community is heart-broken," she says. "Everyone feels their family has been affected."
She addressed the shooter's history of mental illness, pointing out that Hole was troubled, "a 19-year-old boy."
Talking of her family's positive experiences, she said "KPS [her husband] founded the first sangat here. There are seven gurdwaras here."
She said Kanwar Prakash Singh had been on the Police Merit Board, and bee a public speaker, including at universities, for his understanding of Sikh culture.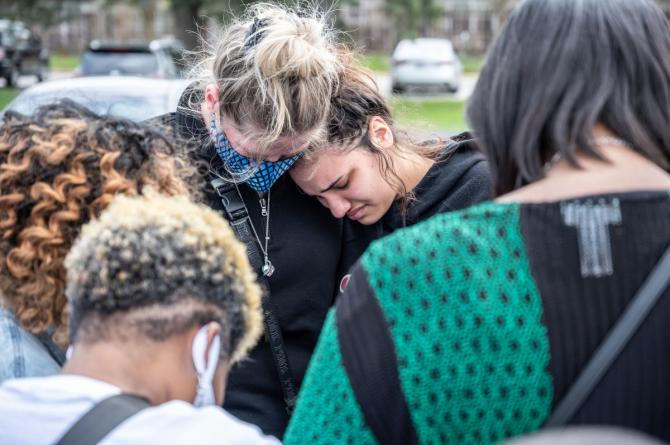 Hole's stepsister, who chose not to be identified, told WXIN-TV that their father had also killed himself -- in 2004.
'We do have a lot of mental illness in our family and he never got the help that he needed,' she told the outlet.
Meanwhile, the families of the victims grieved in their own ways.
Amarjeet Johal's grand-daughter Komal, who was to get engaged Saturday, spoke to the Sikh Coalition.
'I am heartbroken to confirm that my naniji (maternal grandmother), Amarjeet Kaur Johal, is among those killed in the senseless shooting at the FedEx facility in Indianapolis,' she said.
'I have several family members who work at the particular facility and are traumatized. My nani, my family, and our families should not feel unsafe at work, at their place of worship, or anywhere. Enough is enough. Our community has been through enough trauma.'
One source described Jaswinder Singh's son as being inconsolable.
'I told him not to work, but he was insistent,' he was quoted as saying.
The Hole family issued a statement expressing their own horror at the situation.
'We are devastated at the loss of life caused as a result of Brandon's actions,' a statement said.
'...We tried to get him the help he needed. Our sincerest and most heartfelt apologies go out to the victims of this senseless tragedy. We are so sorry for the pain and hurt being felt by their families and the entire Indianapolis community.'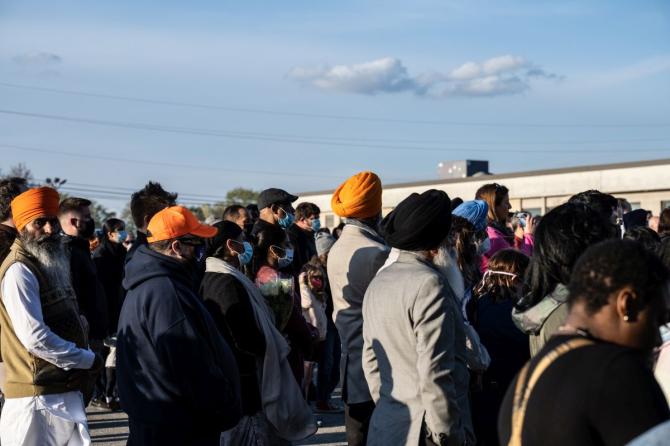 Inderpreet Kaur, community development manager at the Sikh Coalition, speaking before the content of Hole's Internet searches were known, said that while his motive was not clear, the "attack was a very violent one... affecting the Sikh community not in Indianapolis, but across the country. Sikhs are mourning."
She also addressed the latent fear in the community.
"In 20 years [since 9/11], Sikhs have faced hate time and time again... Hate and violence are an ever-present threat to us. The community is staying vigilant of their surroundings."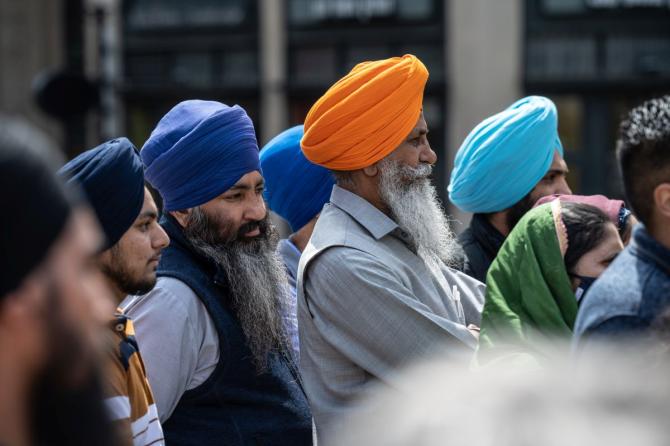 K P Singh, the local Sikh leader, spoke about a short memorial held on Sunday at the Sikh temple that US Senator Todd Young and Congressman Andre Carson attended.
"This meeting became almost an interfaith community for healing," he said, adding that those attending included Jews, Muslims, Christians and Hindus, Jewish, filling up the 250-300 seats available.
When people commiserated with him for the deaths of the Sikhs, Singh said he had responded, 'No, no, these are the lives of all eight.... Four happened to be Sikhs.'
Singh said. "The Senator and Congressman discussed how to keep place of worship safe and how to strengthen security.... They talked about the dangers of gun violence."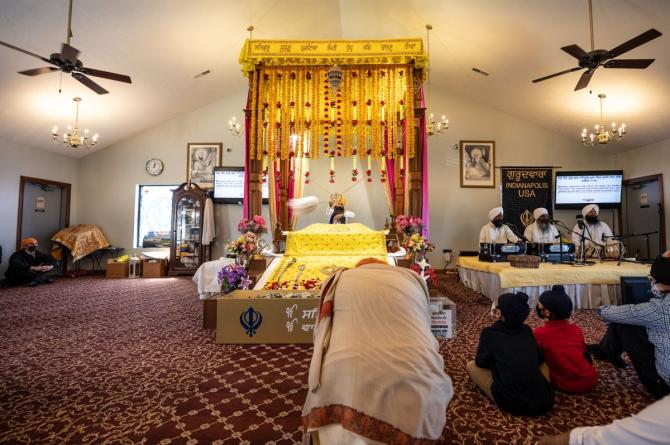 Singh declined to discuss the need for more gun control.
"You can see it how you like," Singh said. "The second amendment [gives you the right] to bear arms, so both sides may have an argument. What is not under argument [is the need to be] watching those who have mental issues."
He said the main concerns at the meeting were humanitarian, and about safety and culture issues -- to "save those who are left behind with the incredible loss."
He quoted from the Guru Granth Sahib:
"Sab mein jyot hai soyae. Tis dhey channun sab mein channun hoyae"
Or 'Everyone is a repository of the same divine light. It is god's light that gives illumination to each being'.
He added: "Manas ki jaat subheyae ek hee pehchan ho."
'Recognize all humanity as one race.'
Feature Presentation: Aslam Hunani/Rediff.com