Mark Tully on the India he loves.
Vaihayasi Pande Daniel listens in.
Photographs and videos: Hitesh Harisinghani/Rediff.com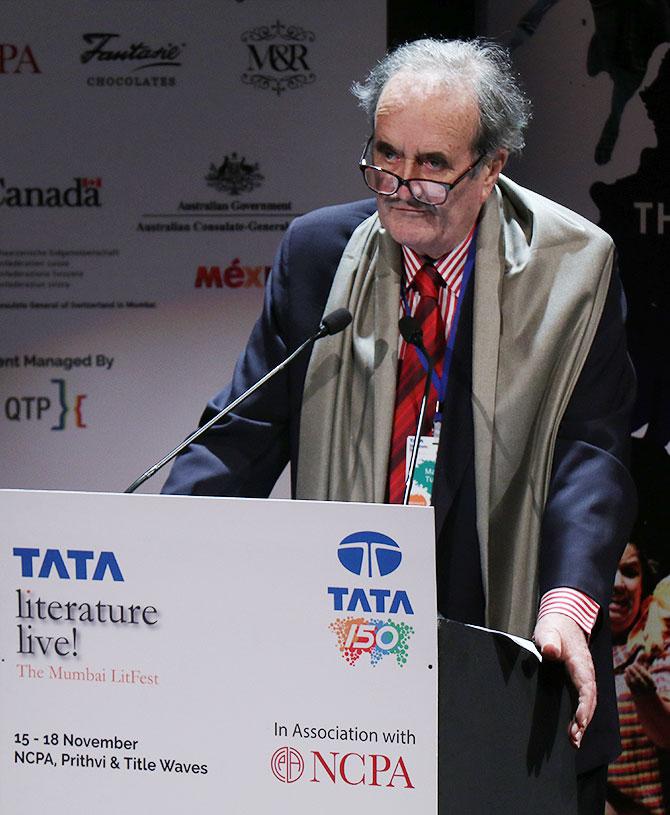 Seven words have always lived in the back of my head, never to be forgotten:
'This is the BBC, Mark Tully reporting...'
Back in the day when television was dominated by Doordarshan's krishi yojana programmes and government-monitored news, crisply read by Geetanjali Aiyar or Neethi Ravindran, we often turned to the radio for updates on the nation.
What a relief it was when the radio's scratchy, crackling air waves briefly parted to bring Mark Tully's reassuring, exacting voice, offering a bulletin of what we were sure was the 'real' news of the day.
What an honour it was to finally see that very same Sir Mark of reliable, soothing voice, live on stage receiving the richly-deserved Tata Literature Live Festival Lifetime Achievement Award 2018 some weeks ago in Mumbai.
Equally heart-warming was viewing Tully, now a grand 83, offering everyone a gracious namaste and speaking his delightful brand of Hindi.
As I looked into his lined, weatherworn face, leathery perhaps from the many days (30 years) he spent reporting under the scorching Indian sun, I remembered all the news breaks I had heard from him -- riots, elections, assassinations, deaths, Blue Star, Babri Masjid...
Which one of us Indians, who lived through the 1970s and 1980s in sleepy mofussil towns can now look at 'Tully Sahib', as he has been nicknamed, and not feel a poignant nostalgia.
For Tully brings back memories of another India.
A more difficult, less developed, India. For sure.
But in many ways a sweeter India, where life was simple and needs few. An India that then, still leaned much more on its "traditional wisdom."
Tully carried with him into the Tata Theatre distinctive fragrances that you imagined must envelope his grey suit, red striped shirt, red striped tie and flyaway grey hair -- the scent of days gone by, of mango trees, of warm monsoon rain hitting the sienna earth, of marigold flowers, of the smoke of morning choolahs...
After receiving his award plaque, and the grey silk shawl that was wrapped around his now-sloping shoulders, the journalist extraordinaire took the podium to speak about India -- His India -- in mellow, affectionate tones.
You hung onto his every word.
Why?
Because here was an honorary Indian -- nay, an Indian through and through, in spite of the Cambridge accent and pink face -- talking about the country he loved and always wanted the best for.
His factual reporter observations were gentled by perspectives of Indian history, philosophy and religion that he carefully introduced, while summing up the way India, the land of his birth, needed to head; always referring to India using the possessive "our" pronoun.
Kolkata-born Tully was destined to become a priest but dropped out of the seminary to pursue journalism and return to Hindustan. He eventually became, as former diplomat and author Pavan K Varma put it, who introduced him to audiences in Mumbai, "the high priest of Nizamuddin (in Delhi where he lives)" and "an objective, fearless, incisive and intrepid reporter, author and commentator... the 'foreign' journalist whose soul really always resided in India."
Tully holds overseas Indian citizenship and has written some nine books of which most have the word India in their titles (Varma pointed out). He was banned briefly from India during the Emergency by then prime minister Indira Gandhi but in later years received both the Padma Shri and the Padma Bhushan.
If you did not catch Tully speaking last month in Mumbai, we offer some of the best nuggets/anecdotes from what he said, in his thoughtful, understated manner, sometimes laced with playful humour, in a talk titled Straight Talk, No Full Stops in India to a devoted audience.
For Tully, full stops and India have no rishta (relationship) and if India is to forever remain inimitably India, they should never be allowed a connection: