'The humanity displayed by ordinary, lower middle class residents of north east Delhi -- Hindus, Muslims and Sikhs -- will be remembered perhaps even more than the evil wrought in the riots,' notes Jyoti Punwani.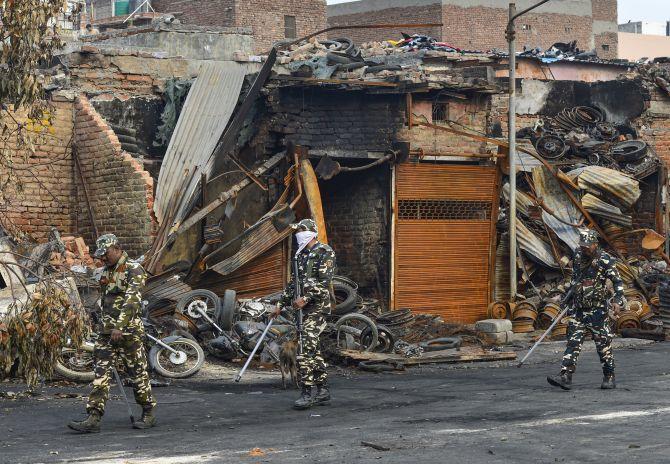 More than 50 dead in five days, most of them killed in mob violence. Roughly 75% of those dead belong to one community.
The horrors that Delhi witnessed are still unfolding. But this is not the first time ordinary persons have turned on their neighbours with shocking brutality.
Seen against our long history of communal riots, where does Delhi stand?
The savagery reported from Delhi in just five days -- burning people alive in their homes, lynching to chants of 'Jai Shri Ram', throwing living persons into bonfires, chopping off limbs, mutilation of bodies -- were seen also in the Mumbai riots of 1992-1993.
The cruelties of Gujarat 2002 surpassed even Mumbai. And the three days that Sikhs were hunted down in 1984, perhaps the only communal violence which was not just State-sponsored but also a 100% one-sided massacre, surpassed both Mumbai and Gujarat.
Like in Mumbai and other major riots such as Hyderabad (1990), Bhagalpur (1989), and Bhiwandi-Mumbai (1984), in which both sides turned on each other, the Delhi violence was also preceded by a sustained communal campaign.
However, the way such campaigns are conducted now is radically different.
While earlier, Indian language newspapers would inflame passions with exaggerated accounts of deaths and lurid, fake reports of rapes, and paint just one community as victim, today you don't need to be literate to be exposed to motivated half-truths.
Just like rumours find their way into people's ears, today, simply watching the 9 o'clock news or having a smartphone is enough for the hatred to reach you.
This poison comes at you non-stop, and it has been doing so for the past five years.
Given this, the many reports coming from Delhi of Hindus and Muslims risking the wrath of mobs and saving each other shows that the Hindutvawadis have not achieved their objective completely.
They achieved their main goal: Power at the Centre, with their cadres in all important posts, many of them openly displaying their hatred for minorities.
But on the ground, there are obviously enough Hindus who don't see their Muslim neighbours as their 'enemy', even when communal violence rages all around them.
The same goes for Muslims. Instead of seeing mobs of their own community as avengers of all the lynchings that have taken place in the last six years, all of which they have seen on their phones, north east Delhi's Muslims saw in their Hindu neighbours ordinary terrified people, not faceless evil BJP supporters.
There were instances of ordinary people risking their lives for the the 'other' reported from Mumbai in 1992-1993 too, but not to the extent we saw in Delhi.
One wonders why. Was the poison systematically spread by the Ayodhya movement that began in 1986 and kept growing in strength till 1992, more potent?
Was the Shiv Sena's rhetoric more powerful than the Delhi election campaign?
Or was the reason simpler -- the lack of social media then, that didn't amplify those instances?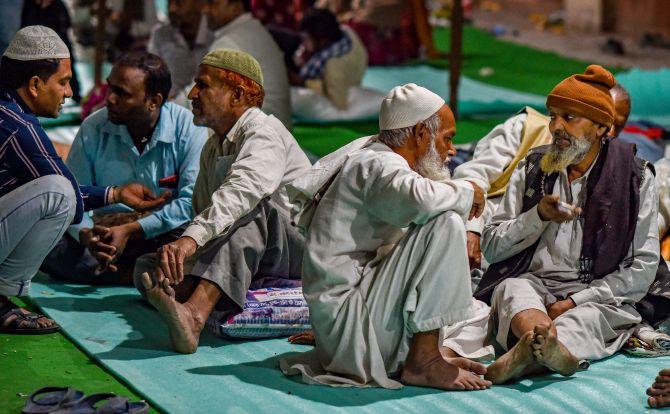 Whatever the reason, the humanity displayed by ordinary, lower middle class residents of north east Delhi -- Hindus, Muslims and Sikhs -- will be remembered perhaps even more than the evil wrought in the riots.
The toxicity of social media didn't affect these heroes and heroines. Indeed, Delhi has shown that social media can be a boon too.
The Delhi riots are probably the first to be followed on Twitter, and the platform is being put to maximum use. The AAP government is being alerted to those victims who are particularly in need of help, and the government is responding.
But it is in raising funds for the victims that a record is being set. Never before have people across the world, not just the country, rallied around for victims of communal violence as quickly as is happening for Delhi's victims.
Lakhs of rupees have been raised for a range of victims, including heroes such as 29-year-old auto rickshaw driver Premkant Baghel who sustained 70% burns while saving his Muslim neighbour's mother.
Those donating for medical expenses, education, rebuilding houses and livelihoods, belong to both communities. This itself is a big step towards lessening the bitterness and resentment towards the other community, that any victim of communal violence is bound to feel.
Normally, such attempts to bring the two estranged communities closer take years.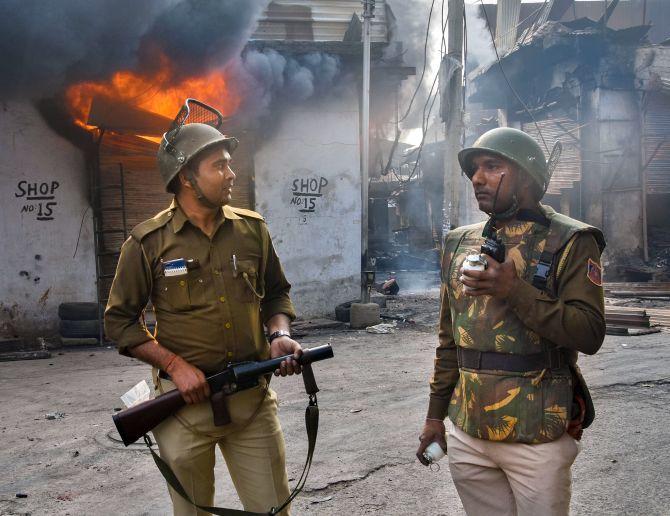 But while the good that the Delhi violence brought out will be remembered for long, so will one evil that has emerged from Day One -- the role of the police.
In this respect, the Delhi riots were no different from any other. For the nth time, the Hindutvawadis's old, triumphant slogan: 'Yeh andar ki baat hai, police hamaarey saath hai' has been validated.
A riot where 75% of those killed are from the minority community and the majority of deaths are due to mob violence, not police firing, can only lead to one conclusion: Rioters from the majority community were allowed a free hand by the police.
Statistics are enough to tell the story: 16 mosques were vandalised or burnt, not one temple was similarly vandalised.
But this time, we don't have just statistics. We have video evidence too.
There are videos of cops joining in the stone throwing, and letting a Hindu mob run riot. But the most telling indictment of the police's role is the video which shows five Muslims being tormented by the police as they lie wounded. One of them, 23-year-old Faizan, died later after spending two days in police custody.
Both Hindus and Muslims complained that the cops didn't respond to their calls for help. The cops couldn't even save their own: One of them was killed and another badly injured on the very first day, and another was killed the next day.
Maybe initially the police were outnumbered. But what stopped reinforcements from being sent later?
And how does one explain the videos? The usual anti-Muslim prejudice of policemen? Revenge for the killing of their colleagues? Cops are known to go berserk whenever one of them is killed in a riot.
Will the cops in the videos be punished?
In the 2013 Dhule riot, videos had surfaced of cops damaging Muslim stalls and motorbikes. Two cops were suspended and six arrested. It is not known what happened to them.
Last year, the police in UP destroyed vehicles of Muslims after the community protested against the CAA. Far from punishing the cops, the UP CM has expressed pride in their 'tough' stand.
Punishing cops for violence against unarmed citizens is not something governments do, unless the victims belong to the ruling party. In Mumbai, not even the indictment of 31 cops by a judicial commission manned by a sitting high court judge helped. 27 years later, the only case where policemen have been charged, has just picked up pace.
In Hashimpura, Meerut, it took 31 years for 16 policemen to be convicted of killing 42 unarmed Muslims.
So, it will be up to Delhi's riot victims to fight this long David versus Goliath battle.
In Gujarat, many of the worst cases of the 2002 violence got justice because a range of NGOs, the National Human Rights Commission and the Supreme Court went out of their way to ensure justice.
Given the situation today, Delhi's fight will be harder. But if we don't undertake it, Delhi too will be forgotten as just another episode of communal violence where the State and society failed the victims.