'Amit Shah and Modi have a disciple and guru relationship. But Modi and Jaitley's relationship was based on friendship. That's the difference.'
Veteran journalist Harish Gupta speaks to Rediff.com's Savera R Someshwar about his childhood friend Arun Jaitley, who passed into the ages on August 24, 2019.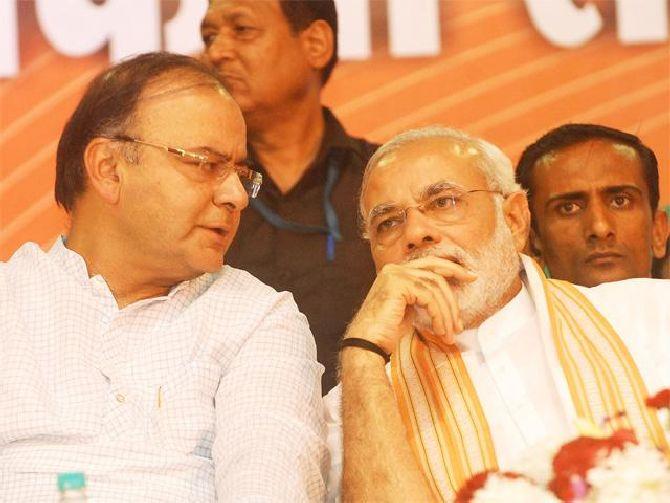 It was a friendship that began 49 years ago when Delhi's Shri Ram College won an inter-collegiate debate competition after many, many years.
The winning team consisted of a young Arun Jaitley and his friend, Raian N Karanjawala (now a well-known lawyer).
"Those debates were always won by St Stephen's College or Hindu College," recalls veteran journalist Harish Gupta.
"Jaitley and Raian created a record when they won the trophy because the Shri Ram College of Commerce and Science was not known for its debating skills."
Gupta, a student himself who freelanced as a journalist in his spare time, interviewed Jaitley for a Hindi newspaper.
"When I met him last," recalls Gupta, who is a year older than Jaitley, "he promised that we would celebrate the 50th anniversary of our friendship next year. It was a very emotional moment."
That last personal meeting took place nearly six months ago, soon after the dates for the 2019 general election had been announced.
"I have met him after that also, but only for a few minutes. I didn't want to take too much of his time because he was not well."
On March 5, Jaitley was not keeping well but he agreed to meet his friend at the Bharatiya Janata Party headquarters on New Delhi's Pandit Deen Dayal Upadhyaya Marg.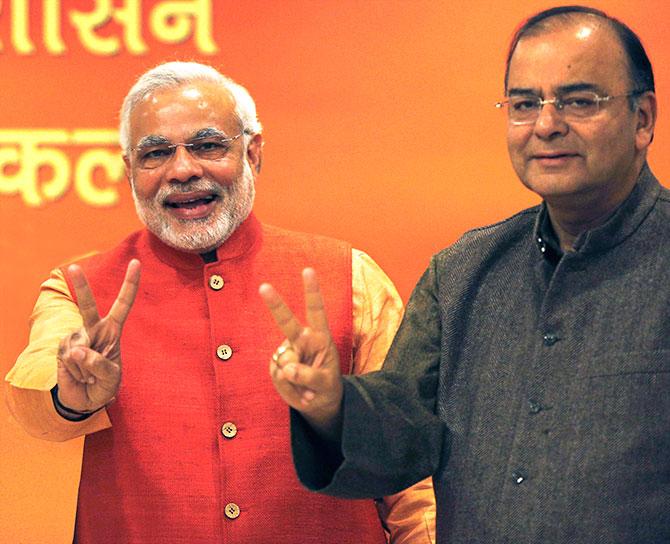 "I was worried. I told him he should not go to the party office because there would be a big crowd there and he could catch an infection," says Gupta.
"He said he had made arrangements on the ground floor for a sterilised room. 'People don't allow me to rest at home; this is the only place where I can rest'."
The room was huge, recalls Gupta. "It was just the two of us. He sat almost five metres away from me. We chatted for 30 minutes about my family, what my kids are doing...
"We talked about his family and he informed me that his son's wedding was fixed and would take place in November. He was very confident that he would beat his current health crisis," he said.
Jaitley, says Gupta, "was a first-rate father, a first-rate husband He used to spend a lot of time with his family."
Though he was a great foodie, says Gupta, he would avoid going out for dinner.
"He preferred that his family members have dinner at home; lunches were impossible because of his busy schedule.
"Though he was very talkative -- he wouldn't allow anybody to speak too much," laughs Gupta -- he would sit down and listen to what his children had to say. "He was like a friend to them."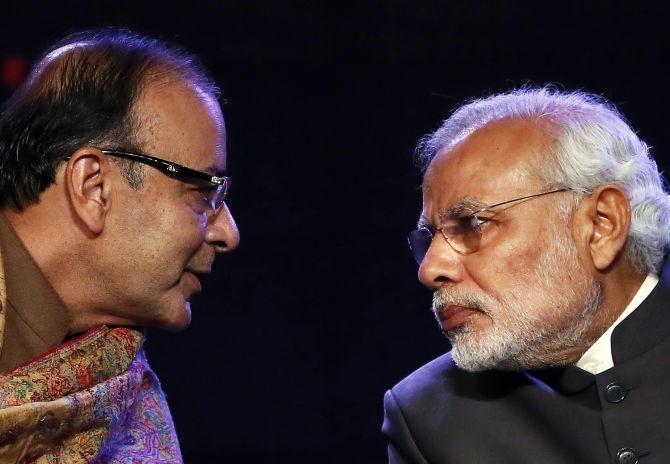 Recalling their college days, Gupta says, "The law department was our hub. We would sit there for hours everyday, sipping coffee, gupshupping.
"We saw a lot of movies together. He used to sing -- he liked old Hindi songs... Dev Anand, Guru Dutt -- but when you become a student leader, that life changes."
Still, there was always time for fun.
Like the time they decided they wanted to watch Bobby (the film, which released in 1973, was directed by Raj Kapoor under the RK banner and marked Rishi Kapoor and Dimple Kapadia's debut).
"For some reason, Bobby was not released in Delhi.
"One of our friends said he could arrange for tickets in Gurgaon (now known as Gurugram, in neighbouring Haryana) where the film had been released. It was probably the late Arun Khanna, who later worked for Screen magazine.
"Another friend said he had a car but we would all have to pool for the petrol; we didn't have too much money those days.
"We were joined by one his relatives, Jitendra Bhargava, who later became the executive director of Air India."
Jaitley contested the college elections as an Akhil Bharatiya Vidyarthi Parishad candidate -- he went on to become the president of the Students' Union of Delhi University in 1974 -- and that set him on the path to meet the man who is now India's prime minister.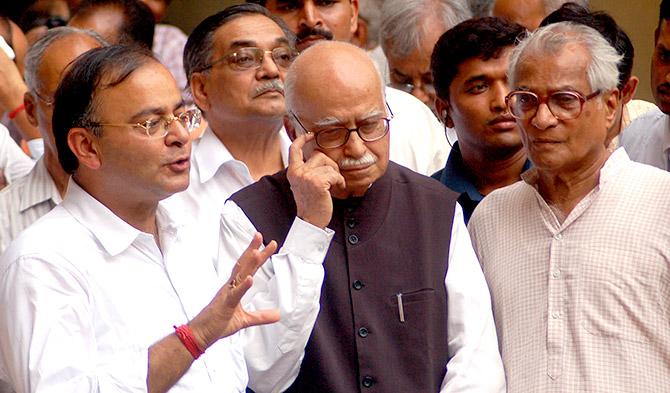 "Narendra Modi was in the RSS (the ABVP is affiliated with the Rashtriya Swayamsevak Sangh) and would stay in Maurice Nagar, which also housed the ABVP headquarters, when he was in Delhi."
Their association strengthened during the draconian Emergency imposed in 1975, Gupta adds.
Jaitley was jailed for 19 months and joined the Bharatiya Jan Sangh, precursor to the BJP, after he was released.
"Both developed a liking for each other and later became very, very close to each other. But Modi did not have too much of a hand in Jaitley's political rise because Jaitley was already a leader in his own right."
Jaitley, says Gupta, had a hand in making Modi the chief minister of Gujarat.
"(L K) Advani and (Atal Bihari) Vajpayee had taken the decision and Jaitley helped evolve the process.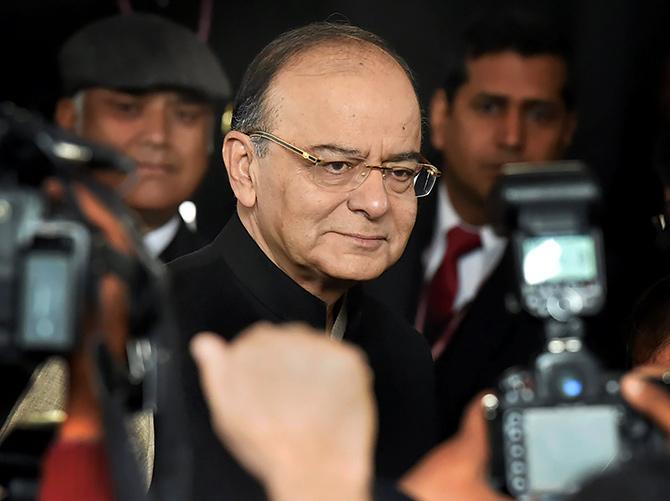 "But Jaitley played an even more crucial role when Vajpayee wanted to remove Modi as the chief minister after the Gujarat riots. Advani and Jaitley decided that Modi will not be sacrificed. Advani took the decision and Jaitley implemented it."
Once again, when Modi was declared the BJP's prime ministerial candidate in September 2013, Jaitley played a pivotal role.
"Having realised he would not make the cut because he had fallen out with the RSS after his infamous Jinnah remark, Advani threw his weight behind Sushma Swaraj. She was a mass leader, a perfect orator, a very tall leader in the party, a woman and very capable.
"Jaitley was Modi's friend and he thought Modi was a good leader. He was a natural choice for prime minister as far as Jaitley was concerned. Sushma never figured in his scheme of things. It was only Modi, Modi and Modi," Gupta said.
"Once Modi was named as the prime ministerial candidate, Jaitley was by his side, doing everything -- formulating strategies, handling allies..."
So why couldn't Jaitley ever win a Lok Sabha election?
"Because he didn't listen!" Gupta says.
While he was so prescient about Modi, Gupta is still a little angry that Jaitley was not as prescient about himself.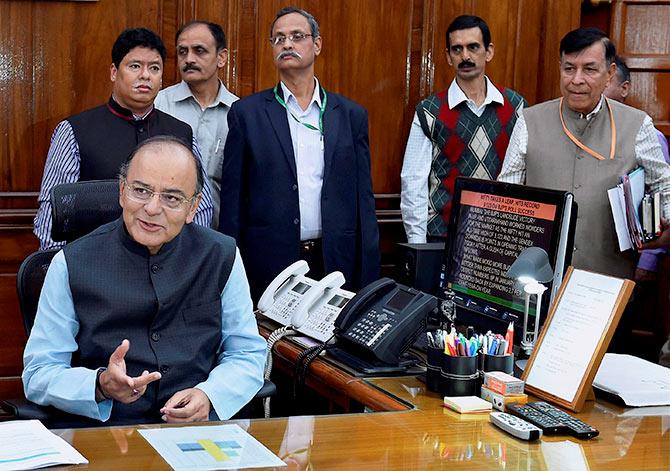 Ask him who was responsible for Jaitley's huge loss against Captain Amarinder Singh in the 2014 election from Amritsar, when most of the county was enveloped by the Modi wave, he replies curtly, "Jaitley himself."
"He didn't listen to anybody. That's the only sore point.
"It was a very difficult seat in the first place. It was a Congress stronghold and Navjot Singh Sidhu, as the BJP candidate, won that seat with great difficulty, with a very, very slender margin in 2009. And he was a Jat Sikh.
"You have to remember that the seat is Punjabi only in terms of Amritsar city, but the peripheral areas are dominated Jat Sikhs and other castes.
"Since there was such a strong Modi wave, Jaitley thought he would win Amritsar and Sidhu could be brought to the Rajya Sabha later.
"A lot of friends, including myself, suggested Amritsar was not a cakewalk and he should consider Chandigarh, Delhi, Jaipur or any other seat... But he believed the people loved the Akalis. He thought he could file his nomination papers, hold a couple of rallies and then be free to campaign across the country.
"He took a wrong political decision; he selected the wrong political constituency and he did not listen to anybody though there were plenty of people who advised him to reconsider his decision," Gupta says.
Jaitley's demise, he says, has left a huge vacuum in the lives of many people that cannot be easily filled.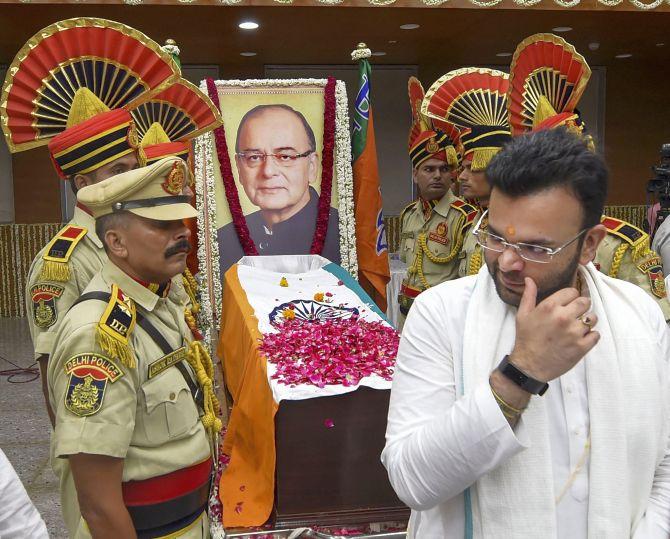 "The country will need another Jaitley but I cannot foresee anyone filling his shoes in the immediate future. His void will be felt in the BJP for a long time."
While the party will miss Jaitley, Modi will miss him more, says Gupta.
While Modi hated Lutyens Delhi, Jaitley -- a Lutyens product -- was his best friend.
"Besides, Jaitley was very intelligent and had immense and quick grasping power. His memory was both photographic and elephantine. He was a voracious reader.
"Modi will find it very difficult because he used to take advice from Jaitley on so many issues. Jaitley was capable of advising him about everything. He was so versatile, so in-depth... Nobody has that quality and that spread has in Delhi. You pick up the list, na, of partymen and ministers.... who's there who can replace Jaitley?" Gupta said.
In a rare show of emotion, Modi -- mourning his friend during his visit to Bahrain, part of a three-nation tour he didn't cancel at the insistence of Jaitley's family -- posted on Twitter, 'My friend Arun Jaitley loved India, loved his party and loved being among people. It is upsetting and unbelievable that a person I have known since our youth is no longer in our midst.'
WATCH: PM Modi remembers Jaitley
Gupta says, "Modi lost a voice that could speak to him with equal stature. In a party that has disciples, Jaitley was a personal friend. They were friends for more than 40 years.
"Modi does not have too many friends in Delhi. People have fought cases for him. People have helped him. He has helped people. But a friendship is different. Friendship happens when you have no axe to grind, when you have nothing ask, no favour to seek...
"I've met Modi many times at Jaitley's house because Modi would just walk in... or he would call and say, 'Bhai, main aa raha hoon, khana khayenge tere yahan (I'm coming to your house, we'll eat together).
"The kind of relationship Modi had with Jaitley, he does not have with anybody else in Delhi.
"Jaitley had his own way of saying things, of showing the mirror...
"He was the only person who could tell Modi, 'Modiji iske upar zara ek baar aur hum baitenge... toh shaam ko phir karte hain... (Modiji, we'll think about this once more, let's meet in the evening)'
"Or... 'Aap kah toh theek rahe hain (If you are saying it, it must be right) but by evening I'll come back to you again.'
"That was Jaitley's style.
"And Modi would realise Jaitley wants to convey some message," says Gupta.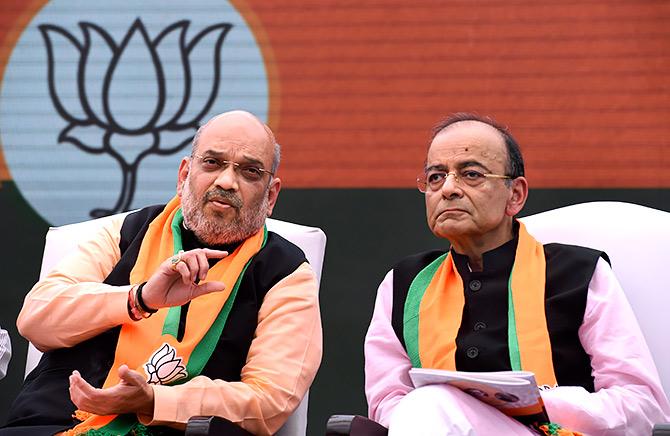 What about Amit Shah?
"Amit Shah is 54 years old. Jaitley was 66. Modi is 68. Look at the age difference!
"Amit Shah and Modi have a disciple and guru relationship. He remains Modi's Man Friday. They have been together since Gujarat.
"But Modi and Jaitley's relationship was based on friendship.
"That's the difference."