Though the government says public and private shipyards compete on equal terms, public shipyards feast at the high table with the defence ministry, with only scraps being tossed to private shipbuilders, discovers Ajai Shukla.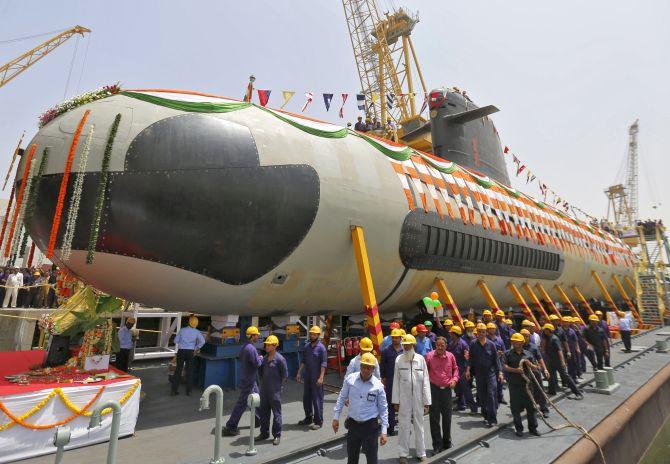 IMAGE: The Indian Navy's first Scorpene submarine being undocked from Mazagon Docks Ltd, a naval vessel ship building yard, in Mumbai.
An analysis of shipbuilding orders in the last 20 years indicates that 90 per cent by value, worth Rs 2,231 billion, were 'nominated' to PSUs like Mazagon Docks Ltd. Photograph: Shailesh Andrade/Reuters
An hour's drive north of Chennai, Larsen & Toubro's shipyard at Kathupalli sprawls over 900 acres, a spacious, modern facility vastly different from the cramped precincts of defence public sector undertaking shipyards like Mazagon Dock Ltd and Garden Reach Shipbuilders & Engineers.
A fortnight ago, Kathupalli delivered to the navy a Rs 4.68 billion floating dry dock, which is now operationally deployed, repairing naval warships in the Andaman and Nicobar Islands.
Meanwhile, the first of seven offshore patrol vessels that L&T is building for the Coast Guard has concluded successful sea trials.
Vice Admiral B Kannan, who headed the navy's nuclear submarine project before he retired and now oversees L&T's shipbuilding business, points out that both vessels were completed before the contracted time and within budget -- a rarity in defence shipyards.
Further, both were constructed entirely in-house, and designed in L&T's Warship Design Centre at Manapakkam, Chennai.
Yet, despite conforming fully to the Make-in-India initiative, Kathupalli is struggling to win defence orders.
In three navy tenders opened in September, public sector shipyards outbid L&T, leaving its order book worryingly depleted.
In the tender for building 16 anti-submarine warfare shallow water craft, L&T put in a bid of Rs 12.34 billion.
Public sector rival Goa Shipyard Ltd quoted Rs 7.97 billion and Kerala state PSU, Cochin Shipyard Ltd, won the order with a bid of Rs 6.74 billion -- a whopping 45 per cent lower than L&T's.
In the simultaneous tender for building five survey vessels, L&T quoted Rs 7.42 billion. Public sector shipyards -- CSL, GSL and GRSE -- bettered that with intriguingly similar bids. GRSE won the contract with a Rs 5.2 billion quote -- 30 per cent lower than L&T's.
Finally, in the tender for building two diving support vessels, L&T quoted Rs 7.92 billion. Beating it comprehensively were three public sector shipyards, CSL, GSL and Hindustan Shipyard Ltd, with the latter's winning bid of Rs 5.05 billion being 36 per cent lower than L&'s bid.
Why did L&T bid so high?
Photograph: Maxim Shemetov/Reuters
Amongst defence industry analysts, the first question this raised was: Is L&T running Kathupalli so inefficiently that public sector yards can build warships 30 to 45 per cent cheaper than them? How did PSU shipyards win so conclusively?
Confronted with that question, Jayant Patil, L&T vice-president who oversees its defence vertical, explained how his company structured their bids.
Working off a 'basic material price', L&T added to that labour cost and services, escalation, yard recovery, working capital costs, contingencies and a provision for warranty.
"Our final quote was about 1.7 times the basic material price, to cover the other costs. But our public sector competitors' quotes were just 1.1 or 1.2 times the basic material price. Clearly, they did not need to factor the costs that we did," says Patil.
What Patil left unsaid was what everyone in the industry knows: That public sector shipyards, which get most of their income from 'nominated' orders from the defence ministry, enjoy enormous financial advantages in bidding against private shipyards.
Defence Public Sector Undertakings have financial buffers that accumulate from being able to cost 'nominated' project lavishly, in a single-vendor environment, and obtain advance payments from the defence ministry that pile up into large cash reserves.
Consequently, PSU shipyards incur no working capital costs and, in fact, earn billions in interest on their cash reserves.
Last year, MDL's cash reserves of Rs 83.63 billion generated Rs 7.65 billion under 'other income' turning an operating loss into a net profit.
Meanwhile, GRSE's 'other income' of Rs 2.27 billion enabled the shipyard to squeak out of the red and show a profit of Rs 120 million last year.
Nor are PSU shipyards burdened with infrastructure costs, since those have been built up over decades with taxpayers' money.
In contrast, private shipyards like Kathupalli and Reliance Defence's shipyards must service debt of Rs 50 billion to Rs 100 billion, which drives up their bids.
The cost of commercial borrowings, which exceeds 15 per cent per annum, amounts to over 40 per cent of the cost of multi-year shipbuilding contracts.
Also, allowing public sector shipyards to get away with quoting low is the permissive oversight of the defence ministry, which has never penalised them for time and cost overruns.
Parliament's Standing Committee for Defence reports show CSL's budget to build an indigenous aircraft carrier swelled from the originally sanctioned Rs 32.6 billion to Rs 193.4 billion, while the build time rose by six to nine years.
Similarly, in Project 15A to build three destroyers, MDL's cost burgeoned to Rs 116.6 billion, 325 per cent higher than the originally sanctioned Rs 35.8 billion.
In many such cases the defence ministry justified, and quietly paid, the excess.
Private shipyard executives are confident that, with adequate orders, they can stabilise their finances and compete on equal terms with the DPSUs.
But the high-value contracts for capital warships -- corvettes, frigates, destroyers, aircraft carriers and submarine, with their advanced sensors and weaponry -- are 'nominated' to DPSUs.
The defence ministry says this is because private shipyards have no experience of building capital warships.
A top navy admiral says "it would be too risky" to entrust a private shipyard with the impending Rs 100 billion contract to build two Russian-designed Krivak III frigates for the navy because "the Krivaks are too complex and weapons-intensive."
Arguing that private yards should "build their skills in a graduated and calibrated way", the admiral says private shipyards would be allowed to compete for building the eponymous Next Generation Missile Vessels, for which the tender is soon expected.
Meanwhile, GSL is being entrusted with building the Krivak III frigates, even though it has never built a frigate before.
"Different logic for the public and private sector," rues a private shipyard executive.
This is not the first time GSL has benefited from ministry largesse.
Manohar Parrikar, as defence minister in 2015, did his home state shipyard a favour by 'nominating' it for a Rs 320 billion order to build 12 minesweepers -- a contract worth 30 times GSL's turnover.
Since then, GSL has made little progress in discharging the order.
While the combined turnover of five public sector shipyards for the year ending March 31, 2017, was Rs 81.85 billion, their order book adds up to Rs 1,800 billion -- that is 22 years of production.
Defence ministry officials, in public interactions with industry, claim the days of 'nomination' are over, and that public and private shipyards now compete on equal terms.
But the figures tell a different tale, in which public shipyards feast at the high table with the defence ministry, with only scraps being tossed to private shipbuilders.
An analysis of shipbuilding orders in the last 20 years indicates that 90 per cent by value, worth Rs 2,231 billion, were 'nominated' to PSUs, while private players were allowed to compete for contracts worth only Rs 256 billion.
Even for that tiny slice of the shipbuilding pie, private shipyards had to compete with the DPSUs, eventually winning contracts worth only Rs 103.5 billion.
'We don't need orders for Rs 1 billion to Rs 2 billion vessels. We have invested Rs 50 billion to Rs 100 billion into state-of-the-art shipyards. We need commensurate orders,' private shipbuilders have repeatedly told the ministry, to no avail.
In December, Indian Navy chief, Admiral Sunil Lanba, said: 'We have also identified Rs 400 billion worth of (shipbuilding) projects for private shipyards.' But the wait continues.
Admiral Lanba stated that 23 private sector shipyards are qualified for defence shipbuilding.
Amongst these, there are just four shipbuilders -- L&T, Reliance Defence, Bharti and ABG. The others, some of which have potential, are really boat building yards.
Of the four large, private shipyards, two -- Bharti and ABG -- are insolvent, and there is little serious interest from buyers.
The other two, L&T and Reliance Defence are kept afloat by their parent companies' deep pockets.
According to Parliament's Standing Committee, the defence ministry has 53 warships and six submarines in the procurement pipeline.
This number could increase if the government utilises shipbuilding capacity to build naval craft for our regional maritime partners.
How these orders are distributed and tendered could determine the future of India's private warship building industry.