'When incidents of stone pelting at the aircraft occurred, the boys were careful that they continued with the rescue because finally we had to save lives.'
A senior Indian Air Force officer, who is a veteran of flood rescue ops in Uttarakhand, Bihar, Gujarat and the Mumbai deluge, tells Archana Masih/Rediff.com about the rescue operations in Kashmir, one of the first such efforts in a densely populated and urban area.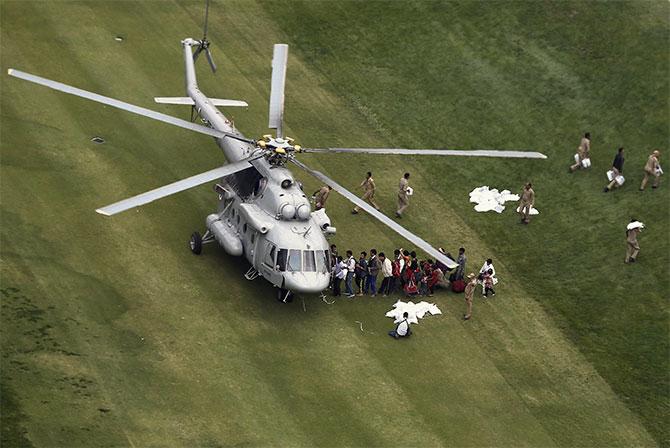 Image: Flood victims board an Indian Air Force helicopter after being rescued from a flooded area in Srinagar. Photograph: Adnan Abidi/Reuters
There were difficulties of flying under circumstances where the water level was high, and that too in populated urban areas. It was tricky because there were lots of buildings, obstructions and high population density.
The numbers of people to be rescued were also very high. Crowds had to be controlled during rescue and we also had to be careful while dropping food, so that it didn't fall into the water or hurt anyone below.
When incidents of stone pelting at the aircraft occurred, the boys were careful that they continued with the rescue because finally we had to save lives.
People were marooned and stuck in all sorts of places. Whatever elements were throwing stones, because of their actions others who needed help should not be deprived -- that was our main aim.
We were not flustered by the stone pelting. We had to devise ways to be careful because whoever was indulging in that (throwing stones) was misguided. We had to take preventive measures, but work had to continue.
We were also getting certain amount of input and advisories from the state government about the critical areas (prone to stone pelters).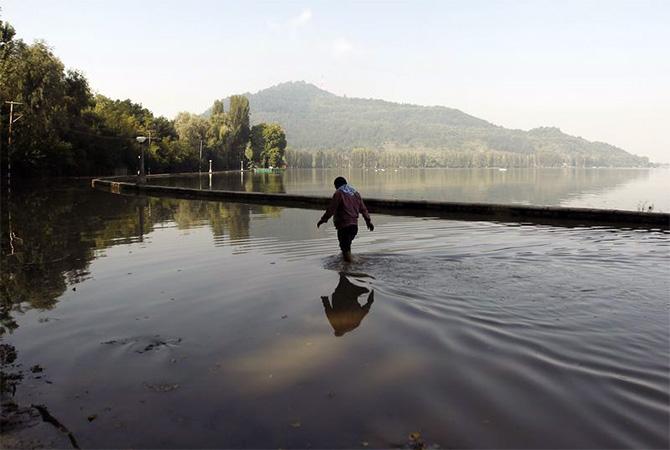 Image: A man wades in the flood waters along the banks of the Dal Lake in Srinagar. Photograph: Danish Ismail/Reuters
The water has now receded, except for few pockets. Aid has been able to reach everywhere, now the focus is on rehabilitation and resurrection.
The situation was very bad during the floods. The main Srinagar town was in very bad shape. Infrastructure, especially civic infrastructure like hospitals, roads, schools etc were under water. People, crops, tourism -- everything is badly affected.
I have conducted rescue operations in the Uttarakhand floods and during the floods in Bihar, the Mumbai deluge -- but this was not comparable. This is huge and beyond.
In Uttarakhand, it was a mountainous region where stranded pilgrims needed to be rescued from one end of the valley, but this was an urban area.
Here, the water level was very high and people were marooned in all kinds of places. It was very difficult to reach certain areas even by choppers. It is not easy to hover over large expanses of water levels and even more over flowing water.
This was definitely such a first effort in such a densely populated area. We have done rescue work during the floods in Surat and Baroda in 2004-2005.
We are standing by depending on what the state administration wants us to do. After the rescue efforts, we were dropping shelter equipment, food packets, blankets etc and whatever was required.
How soon Kashmir will recover will depend on how quickly the state will be able to restart civic amenities, repair infrastructure -- this will automatically bring back tourism.
The water level has receded to the extent that people can be reached by road, our effort will only be according to the need-based requirement by the state government.
We are trained for all adversities and are back to normal ops at our base.