Rahul would know that fealty can be a fickle thing, and that if the Congress bucks the trend and actually wins the next national election, selfies with him would find their way from phones to walls, replacing those taken with Modi.
P Rajendran reports from the Marriot Marquis in Times Square, New York.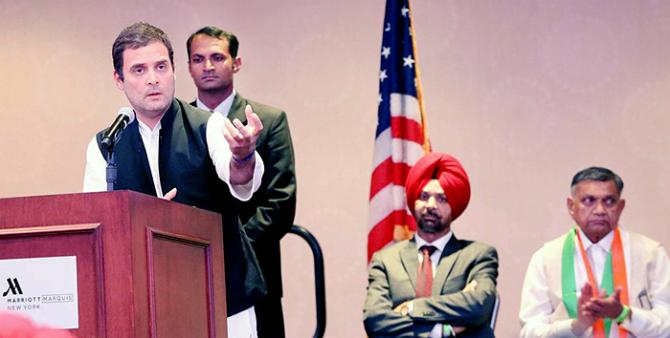 Is Rahul Gandhi back?
Has he shrugged off the slings and arrows of outrageous ridicule? That was really the question for those attending his first big public event in the US.
A yellow string marked the line dividing the seats occupied by the most ardent Congress supporters up front from the curious and the hopeful behind it.
Those behind the line, either former Congress backers or those seeking an alternative to the ruling Bharatiya Janata Party in India, were there to watch and gauge.
Most sat in varying attitudes of wary optimism, too used to disillusionment as they were, and yet not quite inured to hope.
For an event intended to start at 5 pm, there were only about 200 people to occupy the 1,554 seats in the Westside auditorium at the Marriot Marquis in Times Square, New York.
But other, cannier people apparently knew the drill -- the one that says come at least an hour later for a quintessentially Indian event. So by 6:30 pm nearly all the seats were occupied.
Other than the Congress supporters who sported tricolour shawls, most of the men were dressed in semi-formal Western outfits, with the women alternating between the semi-formal and light desi chic. Saris hard to find in front of that defining yellow string.
There was a minor kerfuffle over the organisers refusing to let the television crews record, asking them to draw from a YouTube feed.
The journalists milled around, plotting a walkout, but the matter was resolved, ruffled feathers smoothed and the outraged mollified.
Though the 'grand reception' was organized by the NRIs for a Better India and the Indian National Overseas Congress, some of the most vociferous supporters were from the Indian state of Telangana, holding up placards saying, 'Justin Trudeau of the East', 'Telangana is 4 Rahul' and 'Rahul is next PM' and standing up on the chairs holding up a banner saying, 'Jai Bharat, Jai Telengani, Jai Congress,' letting everyone know loudly that they backed Gandhi.
After each sortie, they would settle down and then pop up yet again to repeat the performance every time there was a commotion near the door that could be interpreted as the arrival of their leader.
Devender Gade, a software engineer who is from the state, explained his enthusiastic support. "They (the Congress-led government in 2014) gave us Telangana," he said. And despite some misgivings about K Chandrashekhar Rao, the current chief minister, and head of the Telangana Rashtra Samithi party that led the effort for statehood but backed the BJP for a while, Gade is still grateful to the Congress for carving out his state.
Congress supporters from Gujarat also held up a banner but were less voluble in their enthusiasm.
But others were more circumspect.
Monali Chowdhurie-Aziz, a political economist who used to work at the World Bank, was distributing small placards that said 'Women for Rahul'.
Was she a supporter? "No, I'm helping my friend," she said, adding with a laugh that she was doing it because "I'm a busybody."
Hargobind Gupta who drifted by handing out placards saying 'Youth for Rahul' said he was not really a Congress supporter.
"Somebody gave it to me (to hand out)," he said.
Bala Ganesan, an IT professional based in Edison, New Jersey, said he wanted to hear what Gandhi had to say, despite some misgivings describing the Congress MP and scion of the Nehru-Gandhi clan as a "charismatic leader."
Emcee Bindu Kohli finally got up on stage and began asking everyone to sit down. Nobody in front appeared to care.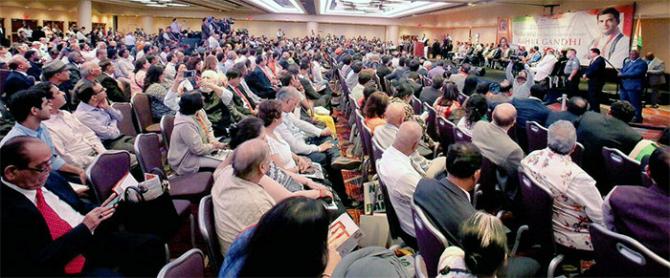 This was the first time in a long while that the Congress party was getting some traction in the US, and they were loving it, milling around and taking selfies against the backdrop of the banner on stage.
Finally, she tried a slightly stronger tone.
"I'm known to be a very nice person," she began, perhaps to cajole people into listening. It did not work and she gave up the effort for a while.
There were classical dances that people dutifully clapped to, while some expressed some bewilderment about them being put up at all when all the attention was on the upcoming speech.
Kohli called on the party dignitaries on stage: National President Shudh Prakash Singh, National Vice President Ravi Chopra, Vice President Phuman Singh, Executive Vice President Chakot Radhakrishnan...
Slowly the stage filled up with men -- and one woman.
Finally, Kohli received some news that Gandhi was in the building and asked everyone to stand up.
People did -- enthusiastically, doubtfully or reluctantly. The supporters from Telangana waved some more placards and shouted "Rahul Gandhi zindabad."
After an uncomfortable minute, it was clear that the excitement was premature.
"Where'd you go?" called out one guest, referring to Gandhi, apparently not very kindly.
And then suddenly he was there, and to the chorus from the euphoric Telangana group Congress leaders clustered around Gandhi and trailed him till he took a seat on stage.
Once things calmed down, the two national anthems were sung. Though not many joined in to sing the American anthem, unfamiliar to many Indians on work or student visas there, there was almost defiant participation for the Jana Gana Mana.
There were some expectations about Gandhi, who has often been reduced to the nub of jokes in India, a process his mentor technocrat Sam Pitroda has described as part of the "system," a collaboration of the media and those in power.
In the US he has had a relatively good run, with academicians and bureaucrats expressing their pleasure in meeting a politician with some understanding of policy and not limited to Kautilyan deals that only care about holding power.
Or perhaps it was just the advantage of having the handicap of low expectations.
Shudh Parkash Singh, the national president, in a brochure had tried to describe Gandhi as humble because he had seen 'Rahul Ji standing in a queue for a yellow cab outside the JFK airport, carry his own luggage, wear simple clothes that did not have his name screaming from his seams' (an allusion to Narendra D Modi, the Indian prime minister who wore exactly such an outfit and earned some ridicule himself).
He belaboured the theme some more until Pitroda took the stage and took a more high-minded approach, suggesting that there was more to the Congress than having a leader who behaved like most other Indians.
Pitroda spoke of the Congress's 130-year history, its role in India's independence and the leaders that defined its inclusive philosophy -- Mahatma Gandhi, Jawaharlal Nehru, Vallabhbhai Patel, Subhas Chandra Bose and Maulana Azad.
He spoke of his first meetings with Indira Gandhi in 1985, and working with her son Rajiv Gandhi, who he had never met before.
In arguing that the party stood for truth, sacrifice, self-reliance, Pitroda set the mood for Rahul Gandhi's speech to follow.
He said the party relied on non-resident Indians. but what it needed was a "sense of sacrifice."
At a time populism and nationalism were rising, Pitroda said, "I am very worried about the sense of direction around the world."
He said that if attendees sought to help the Congress, "tech, investment, ideas were not enough"; what was needed was the willingness to "stand up for the right cause."
He described Rahul Gandhi as well read, as someone "who thinks a lot, not what the (Indian) media wants you to believe."
Finally, Pitroda asked people to work with the Congress to spread its values, and spread the word through social media, adding, "Don't spread gossip."
He wound up saying that though all help is welcome, "We don't need advice for Rahul Gandhi."
The ground being set, Rahul Gandhi stepped up and used an anecdote about his father and Pitroda getting staff at the prime minister's office to choose to move from typewriters to computers, to argue that "ideas take time to travel into India. But, when an idea is good, India understands it very quickly, and uses it and shows the world how it can be used."
While Pitroda had described the Congress as having been around for 130 years, Gandhi said its philosophy of standing up for the truth went back thousands of years in India.
He went on to talk about the value of NRIs, describing them as the backbone of India, pointing out that all the leaders he had earlier named were NRIs, having learned of how the outside world worked before returning to transform their own.
He said that he had met a lot of people in academics, politics and administration, and from different political persuasions, and apparently all of them asked him, "What has happened to the tolerance that used to prevail in India? What has happened to the harmony in India?"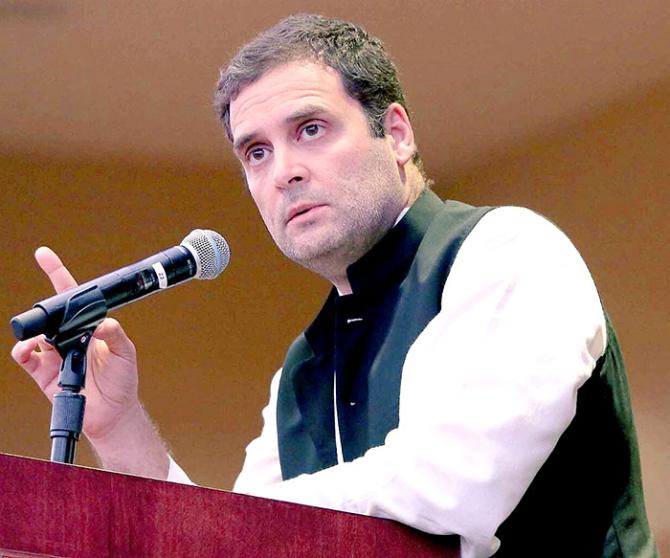 Gandhi then took off the political hat and wore the administrator's cap, citing India's primary problem as being the dearth of opportunities for new people entering the job market: 30,000 every day of which only 450 get jobs.
He said another problem was that 40 percent of India's agriculture rotted away due to lack of preservation.
He argued that cold storage facilities near farms would alleviate the problems of farmers, protect the food supply and increase the number of jobs available.
Gandhi spoke of the opportunities to develop the healthcare industry beyond one of health tourism, and went on to argue that American universities acted as networks and crucibles for new industry, an idea that India's IITs, IIMs and other institu+tions could use to good effect.
And then he came back obliquely to the BJP and ultimately Modi, clearly He Who Cannot Be Named, and said, "India has always shown the world how to live in harmony. For thousands of years India has had a reputation of peace and harmony. This is being challenged. There are forces in our country that are dividing the country and it is very dangerous for the country and it ruins our reputation abroad."
Asserting that in unsettled times, "many countries in a violent world are looking to India and saying maybe, India has the answer to the 21st century. Maybe India has the answer for peaceful coexistence in the 21st century. So, we cannot afford to lose our most powerful asset."
"Our most important asset is that 1.3 billion people lived happily, non-violently, peacefully and the world respected us for that."
He hit a moral crescendo, asserting, "India is a country that belongs to all its people. Doesn't matter who they are... India does not belong to any ONE of you."
"India belongs to this entire room and India belongs to every single one of us..."
The effect was a little weakened when he wound up by apologising for not taking all the selfies sought of him and promising to do better next time he came around.
He would know that fealty can be a fickle thing, and that if the Congress bucks the trend and actually wins the next national election, selfies with him would find their way from phones to walls, replacing those taken with Modi.
And yet he might not have had the time to think all that since he had to rush off with Pitroda to catch a flight...
Judging the speech later, Professor Padala Prasad of Osmania University, visiting from Hyderabad, said, "His vision is good."
Rishi Chinthala, a student, was unequivocal in her admiration.
"It was impressive. I did not expect this from Rahul Gandhi," she said.
When it was pointed out that despite Gandhi being described as being a leader of youth and women, there was just one woman on stage, Chinthala defended the situation, even asserting that women may not wish to take on political roles like the men did.
Gandhi may have convinced others that he is not the callow ingenue his opponents have made him out to be. But he still appeared some way away from convincing the NRIs that he can lead his party to victory.
IMAGES: TOP AND BOTTOM: Congress Vice-President Rahul Gandhi at the New York event.
MIDDLE: A view of the audience at the Westside auditorium at the Marriot Marquis in Times Square, New York.
Photographs: Kind courtesy OfficeOfRG/Twitter