Vicky Toppo is a young man who transforms into a woman each time he takes to the stage to dance to Bhojpuri or Bollywood songs. He tells Archana Masih about life as an entertainer in Bihar's villages.
As Bihar goes to the polls, Rediff.com looks at the state through the lives of its diverse people.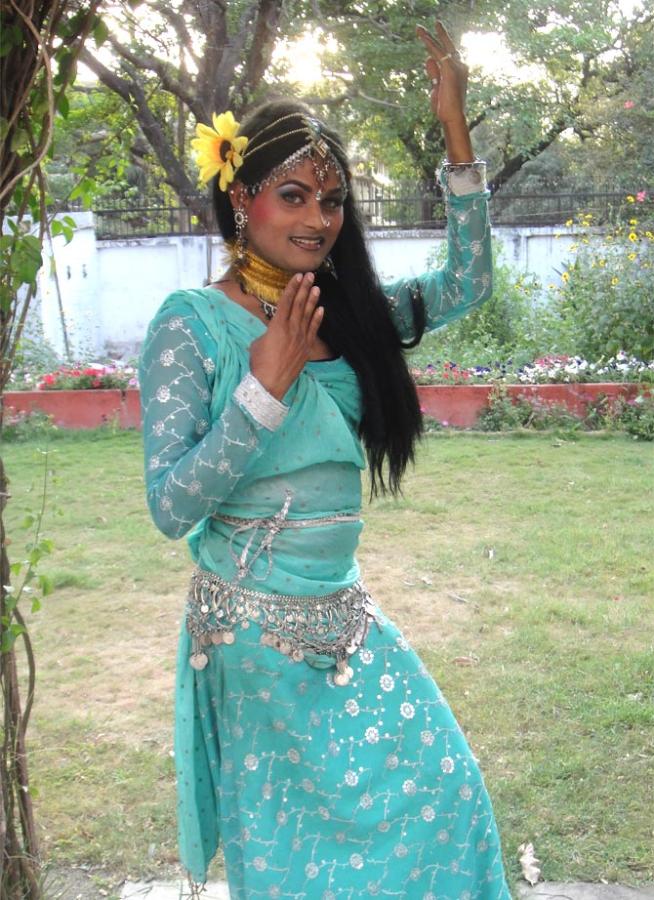 IMAGE: Vicky Toppo dances at stage shows in Bihar's towns and villages. Photograph: Archana Masih/Rediff.com
It has been a busy week for Vikrant Toppo and his body is aching. He is also running a fever. It is festival time and he has been performing in stage shows almost ever alternate day.
He is a boy, 24 years old, but dresses up as a girl and dances to hit Bhojpuri and Bollywood songs, deep in Bihar's villages.
His family and friends know him as Vicky.
He wears contact lenses, does an elaborate hairdo, puts on a gajra, wears a shimmering lehenga and does perfect make-up. His arched eyebrows are touched up with an eyebrow pencil and he strikes a dainty pose when the camera is upon him.
When he sings, his voice is sweet and feminine.
His audience does not know he is a man. His fellow performers do. They are used to him now because he has been around a while and has given them a run for their money.
Last week, he earned around Rs 12,000 singing jagran (religious songs) at festival time.
Next month, he hopes to earn Rs 20,000 in rangarang (filmi) performances. November is the time for weddings. "They pay more for 'filmi' dances," he says. The performing troupe is commonly referred to as 'orchestra.'
IMAGE: Vicky has learnt make-up and hair-do and has performed in several states. Photograph: Kind courtesy, Vicky Toppo.
Both men and women come to watch jagrans. They have different enclosures, but the rangarang progamme is an all-male affair. The well-to-do have chairs laid out for them to sit, while the rest sit on durries on the ground.
Hindi songs like Radha Teri Chunri, Mere Dholna, Dhai Sham Rok Lai, UP Bihar Lootney are big hits. There is more money to be made in the rangarang programmes, but it also comes with some caveats.
Sometimes the village heavyweights demand an encore and the performers have to dance some more.
"Once someone fired a gun in my show," he says. "They were two cousins. One brother wanted me to repeat a dance; the other wanted another girl to dance."
"There was firing and one brother shot the other in his foot."
The rangarang shows starts late, sometimes after 10 pm, and goes on till the wee hours of the morning. Vicky is introduced as Nisha, Rupali or Priya.
'Ranchi se Nishaji chal ke aa rahi hai aapke saamney (Nishaji has come from Ranchi to dance before you)' the compere announces before Vicky's performance.
On one night, he dances three or four times, interspersed between other performances. On a good night, he can get bakshish of around Rs 1,500, but that is rare.
Vicky likes dancing to famous mujras picturised on actresses Rekha and Meenakshi Seshadri in his elaborate lehenga. He has 5 or 6 of them, some he has bought from hijra (eunuch) markets, where lehengas from Rajasthan made of 5 metres of cloth are sold for s aless as Rs 1,500, which is a steal.
"I do not do vulgar dances, there are girls who wear mini skirts and do that," he says, "When I have to wear short costumes, I wear stockings."
Among the performers, he says, there are girls he calls "tawaif" who do ashleel (vulgar) dances, "unmey kala aur hunar nahi hai (they don't have talent or grace)." He may differ with them about art, but is friends with them neverthleless.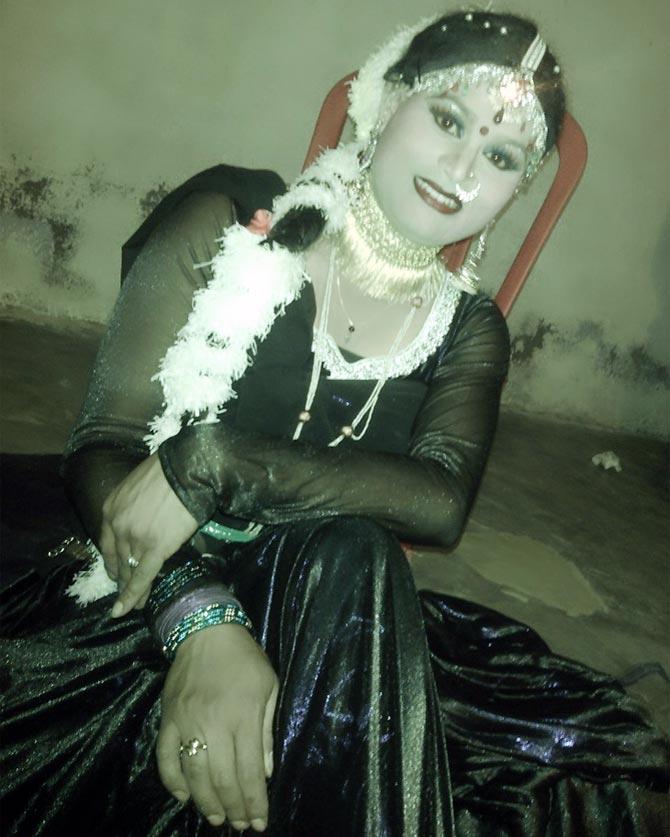 IMAGE: Vicky got this lehenga stitched for Rs 500. He dances to Bhojpuri and Bollywood songs. Photograph: Kind courtesy, Vicky Toppo
The most vulnerable time for the girls during a show is when they go the bathroom. "Us samay sabse adhik chhed-khani hota hai (that's when people misbehave)," he says and that's why he goes to the bathroom before the show and quickly wears his trousers, shirt, wipes his make-up and gets back into his male self after his dancing concludes.
He carries his costumes and accessories in two suitcases which he keeps locked so that co-performers don't steal his clothes and makeup.
The family moved from Chapra in north Bihar after his father, an assistant train driver, retired from the Indian Railways. His mother used to give him hot water with salt to soak his legs after a tiring performance, but this time he is staying in a friend's house with no one to look after him.
That is why he has taken ill, he feels.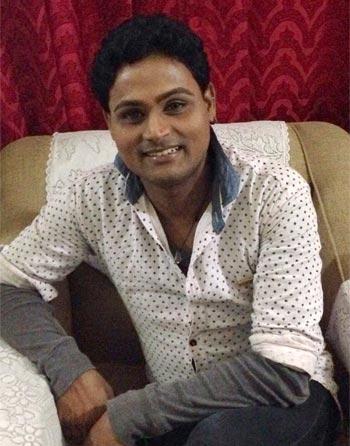 Vicky started performing when he was a boy -- around 10 or 12 years ago. He loved singing and dancing. He was noticed by Bhojpuri folk singer Devi and danced to her music videos.
He would get Rs 500 for every shoot -- he now makes Rs 7,000 a shoot and has danced in a Bhojpuri film. But it is not easy to get such assignments, he says. Sometimes he gets 4 or 5 shoots a month.
Left: Vicky when he is not in costume.
He does not have a bank account yet and deposits the money he earns in a relative's bank account.
His dancing has taken him to Assam, Manipur, Tripura, Sikkim, Chitrakoot, Azamgarh, Lucknow, Siwan, Chapra and Gopalgunj. Among the dance reality shows on television, he feels the best ones are Dance India Dance and Jhalak Dikhla Ja -- he picks up many of his dance steps from those programmes.
"I know I will not remain like this -- my rang, roop (physical features) will change, so I have to think of an alternative career." He has decided to enrol in a three-year programme to train as a male nurse.
Vicky currently makes the most money in his family as his father has not started getting his pension yet. At home, he says, he does all the house work -- cooking, cleaning, washing -- and also helps his brother who sells momos on a cart, for which he makes the dough and filling.
"Dancing is my passion," he says. But before the busy season begins, he has to appear for his BA final exam. To be a male nurse, he has to be a graduate. Till then the lehengas have to be put aside for books.
I AM BIHAR SERIES