Rather than going through the tedious, hit-or-miss process of physically designing hull forms and superstructures for warships and then determining how visible they are to radar, the company will simulate this process on supercomputers.
Ajai Shukla reports.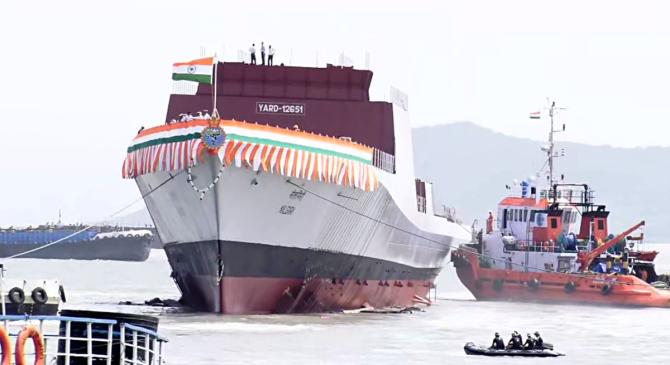 When a micro, small or medium enterprise called Zeus Numerix was declared winner of the iDEX (Innovation for Defence Excellence) challenge during the Aero India 2021 air show in Bengaluru for developing simulation software that would make warships invisible to radar, there was little surprise.
The Pune-based Zeus Numerix was already a serial winner. In 2004, its founders, Basant Kumar Gupta, Irshad Khan and Abhishek Jain had made a name at the Indian Institute of Technology- Bombay by becoming the first start-up to obtain incubation from the Society for Innovation and Entrepreneurship, which nurtures tech start-ups by helping convert research activity into entrepreneurial ventures.
Now the company has been granted Rs 1.5 crore (Rs 15 million) from the ministry of defence to partner the public sector Goa Shipyard Ltd in making India's future warships -- the so-called next-generation offshore patrol vessels, missile vessels, frigates and destroyers -- almost invisible to radar.
Zeus Numerix has just 42 employees but 50 defence customers and has completed more than 225 defence projects.
Zeus Numerix works in the field of computer simulation. Rather than going through the tedious, hit-or-miss process of physically designing hull forms and superstructures for warships and then determining how visible they are to radar, the company will simulate this process on supercomputers.
There are enormous savings to be made by computer simulations. Simulation models mimic the exact behaviour of the systems they are modelling, especially if developed by skilled personnel.
In contemporary missile or bomb development, simulation is used before actual firing to ensure that a missile being fired from an aircraft can separate safely from the mother craft.
Carefully created simulation models can predict the trajectory of bombs/missiles with 95 per cent accuracy. That creates confidence about the safety of the aircraft and pilot when moving on to actual flight trials.
Simulation is extremely useful in cases where testing is either prohibitively expensive or even hazardous.
In 2010, Zeus Numerix began work on a key Indian Air Force project that involved integration of the BrahMos missile with the Sukhoi-30MKI. With the firm successfully validating the separation of the BrahMos from the fighter, the BrahMos is now one of the IAF's most potent weapons.
Former HAL chairman R K Tyagi says that Russia asked for Rs 1,300 crore (Rs 13 billion) to integrate the BrahMos missile with the Sukhoi-30MKI, but Zeus Numerix did this for Rs 80 crore (Rs 800 million).
During this project the highest levels of aerospace certification were accorded to Zeus by the Defence R&D Organisation's certification agency -- the Centre for Military Airworthiness and Certification.
Over the years, Zeus Numerix has worked on safe separation of more than 15 types of bombs, missiles and equipment from the IAF's frontline fighters and helicopters. In recent days it has done simulation studies for lifting artillery guns to forward areas on helicopters.
The advantages of simulation are evident from its use in testing the armour-piercing ammunition -- called 'fin-stabilised armour piercing discarding sabot' (FSAPDS) -- which is fired from tanks.
Physical testing requires 500 rounds to be fired to ascertain its consistency and accuracy. Simulation reduces the physical firing requirement to just 50 rounds.
With the cost of one FSAPDS round approximately Rs 350,000, saving of Rs 16 crore (Rs 160 million) will accrue from firing 50, rather than 500, rounds. In addition, two tank barrels complete their life cycle in firing 450 rounds, so simulation saves an additional Rs 5 crore to Rs 6 crore (Rs 50 million to Rs 60 million) on that count.
In comparison, simulations of the firing cost just Rs 2 crore-Rs 3 crore (Rs 20 million to Rs 30 million), reducing the cost to one-tenth and also saving time and logistical requirements.
Having developed prediction software for warship stealth, Zeus Numerix can adapt that for aircraft as well. It has already developed similar software for predicting the radar cross-section of the Tejas fighter.
Autonomous systems of the future will rely on sensors and signatures. Following that trend, Zeus Numerix is graduating up the modelling pyramid by delivering simulations that replicate engagement and mission scenarios, says Jain.
"Built on accurate physics models, such simulations will form the digital twins around which artificial intelligence or machine learning models will be developed," Jain says, adding, "It is the right time for agile and nimble MSMEs and start-ups to take advantage of these schemes such as iDEX, and convert 'Make in India' to 'Made in India' by owning the intellectual property that resides in the design process."