The BJP doesn't want to focus entirely on an anti-Mamata campaign.
Ishita Ayan Dutt reports.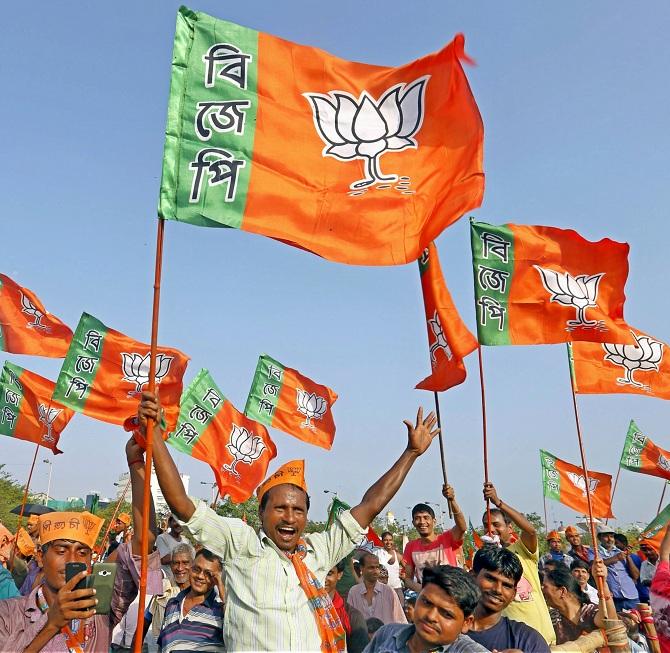 IMAGE: BJP supporters in Kolkata. Photograph: Rupak De Chowdhuri/Reuters
Bengal woke up to shock and disbelief on Ram Navami last month as saffron clad, sword-wielding youths chanting 'Jai Shri Ram,' 'Jai Bajranj Bali,' and 'Har Har Mahadev ' led processions across the state, including Kolkata, a city that conjures up images of a liberal intelligentsia.
Tableaus, processions, slogans -- the Ram Navami celebrations in Bengal, organised by the Vishva Hindu Parishad, Hindu Jagran Manch and various other affiliates of the Rashtriya Swayamsevak Sangh, had gained truly epic proportions.
As the city was coming to terms with the images, the Kanthi by-election took place, and the result was yet another eye opener.
Trinamool candidate Chandrima Bhattacharya won by more than 45,000 votes, no surprises there. But the Bharatiya Janata Party's Sourindra Mohan relegated the Communist Party of India-Marxist and the Congress to the third and fourth positions.
Clearly, the saffron party is spreading wings in Bengal, right now at the expense of the Left.
The numbers confirmed the chatter in public nooks and corners for a while now.
"In my neighbourhood there is a park. Every day, a small group of RSS workers used to come for training. Some people used to stand and watch. Now most of those bystanders have joined the group," says a person at a neighbourhood shop.
It's a story to narrate how the BJP-RSS are quietly penetrating Bengal.
---
---
The by-election results have obviously enthused the BJP leadership.
BJP national president Amit Shah left West Bengal after a three-day visit, promising to be back in September.
Unlike his last campaign that relied on political rhetoric, this one was strategic and symbolic: He had lunch on a banana leaf at a tribal home in Naxalbari, once a hotbed of Left politics, visited a slum in Bhawanipore, Chief Minister Mamata Banerjee's constituency, coined a simple tagline, Ebar Bangla.
Chandra Kumar Bose, Netaji Subhas Chandra Bose's grand nephew, who took on Banerjee in 2016, says Shah chose to visit booth 269 in the 82nd ward of the constituency where the BJP had particularly performed badly in the assembly elections.
"We could have chosen one where I had won. But we deliberately chose this one and the response was spontaneous."
Since no change in West Bengal is possible without the influence of the intelligentsia, Shah also interacted with Kolkata's most important stakeholders.
In 2011, Mamata Banerjee had issued a clarion call, Paribartan Chai (We Want Change), with the support of the Bengal intelligentsia to topple the 34-year Left government.
Iconic cultural personalities: writer and social activist Mahasweta Devi; painters Shuvaprasanna and Jogen Chowdhury; theatre personalities Bratya Basu, Bibhas Chakraborty and Shaonli Mitra; actor and film director Aparna Sen; poet Joy Goswami had come together to shape public opinion and to what effect.
Shah too has kept his tagline simple: Ebar Bangla.
So, what is the reason behind the BJP's rise in Bengal?
Painter Samir Aich, one of the supporters of the Paribartan Chai campaign, says it's the Trinamool Congress.
"People are fed up with the Trinamool Congress. There is so much factionalism that even TMC workers are being attacked by their own partymen. There is no development. Whatever changes have happened are just cosmetic."
Aich has switched camps since. In 2014, he contested the Lok Sabha election on a Congress ticket.
Political analyst Sabyasachi Basu Ray Chadhury explains that the other parties in the Opposition have lost their mojo.
"The CPI-M has the same old faces that were rejected by the people in the last two assembly elections. The Congress has too many leaders."
That apart, the BJP's biggest weapon is Banerjee's appeasement policy.
Her monthly stipend for imams and muezzins, scholarships for students from minority communities, and above all, a poor law and order situation have had even the most secular Bengalis seething with quiet resentment.
The BJP always had the support of a pocket of trader community, but now there is growing support from a new middle class Bengali.
The Trinamool manifesto in 2016 pledged to protect the minorities and backward classes. 'We will pay special attention to protect the minorities, the SC/ST/OBCs and tribal people from communal and social oppression,' it said.
Banerjee's pledge has earned her undivided support from the 27 per cent Muslim community in Bengal.
"There was always this latent resentment against the Muslim community in Bengal. Now that is coming to the fore and this is very apparent from the conversations on social media," points out Basu Ray Chaudhury.
Much before she became chief minister, Banerjee got a life membership card of the Matua Mahasangha.
The Matua community numbers about 10 million and even the Left leaders had once hobnobbed with the community leader, Baro Ma.
"Identity politics is not new to Bengal, but it used to be based on ethnic and religious communities. The BJP's approach is more antagonistic, possibly to reap greater dividends," says Basu Ray Chaudhury.
---
---
The BJP has goals to achieve. The panchayat election is in 2018, the general election in 2019, the semi-final municipal election in 2020 and assembly election in 2021.
Will Ebar Bangla happen?
Amit Shah has said the situation in Bengal is far more favourable than he thought it was, and he would be back in September for a similar exercise. Shah, Bose says, has shown the path.
"Shah has shown that you need to do grassroot work. As a national leader if he could do it, everyone in the party should be able to do. Bengal politics is different. People are subtle. They don't like loud noise."
The BJP did stupendously well in the 2014 Lok Sabha elections in Bengal with a 17 per cent vote share, but squandered it away in every subsequent election.
"The problem is the BJP doesn't have a base here and they don't have any local leader who will be able to mobilise people," Basu Ray Chaudhury says.
"The BJP's chances will ultimately depend on whether they can woo voters from the TMC. Right now," he adds, "the desertion is from the Left and Congress. But if they can manage some heavyweight leader from the TMC then they will probably get many seats in the upcoming elections."
After the Lok Sabha elections, the only strategy the BJP used to fight elections was to combat the TMC by engaging in verbal duels in television studios.
But Banerjee knows better. She makes frequent visits to districts, holds administrative meetings in districts and hence knows the pulse of the people.
The BJP has learnt from its mistakes. It doesn't want to focus entirely on an anti-Mamata campaign. Rather, it will focus on the development agenda.
As Bose says, "The BJP cannot bank on Mamata's failure. That way, we can be a second alternative and we are already eating into the Opposition's vote share. But we need to show results to win elections."
Bose, for instance, will now endeavour to build toilets in the Bhawanipur slum that Shah visited. He would also like to build houses under a central scheme, but for all this, he will need support from the local Trinamool councillor.
There is scope for work. Shah has given a host of data to punch holes in Bengal's development story.
The most important among which is that every fifth person in Bengal is in the BPL category.
Finance Minister Amit Mitra, however, has countered Shah's set of data with another set of data to show that Bengal scores better than the country on many parameters.
Ultimately, when the parties go to the polls, it's the deliverables that will matter.