The horses on Chennai's Marina beach were slowly starving to death because of the lockdown until Shiranee Pereira decided to take a hand.
Aditi Phadnis reports.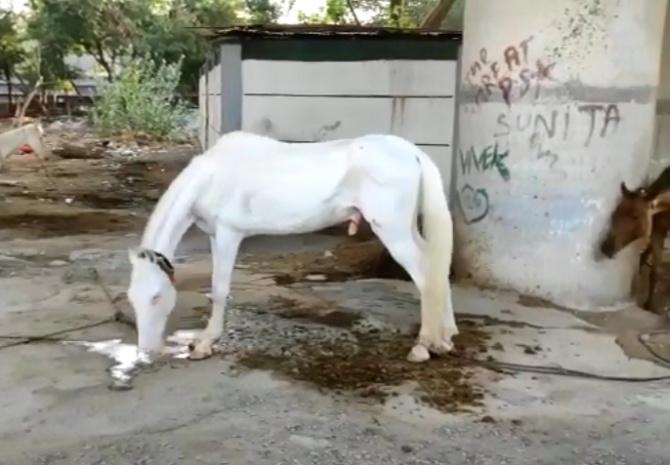 Everyone who has grown up in Chennai knows about them.
They are beautiful piebald horses that clip-clop along the Marina Beach on breezy evenings, their heads down, ears up as the children on their backs squeal with delight.
They are wonderfully tame and will nuzzle children if allowed to. On good days, you can actually see the sea smiling at the sight.
The pretty picture comes at a cost. Joy-ride horses on Marina work hard to earn their keep.
Owners can earn up to Rs 300 to Rs 500 a day from joyrides and offer the horses at weddings, etc.
From the earnings of Rs 15,000 or so per month, the horses have to keep themselves and their owners fed.
At the best of time, they never get enough to eat, though they work in the morning and evening and again, late at night.
In normal times.
But this is the age of the lockdown. There are no children, the beaches are empty and there's no work for the horses.
The owners's stock of feed is finished and there's no way to replenish it.
The horses are standing tethered all day and all night, both fore and hind limbs standing on stone and garbage in the sweltering heat.
And basically, starving to death.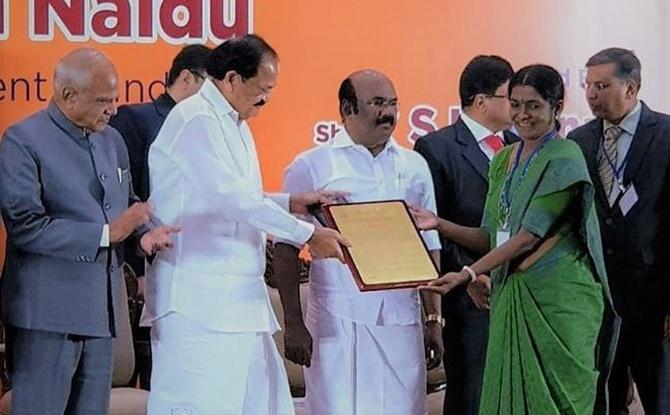 Shiranee Pereira runs the Chennai chapter of People for Animals and she just couldn't stand it.
Truth be told, she has been thinking about the rehabilitation of these horses for months, she confessed.
'While we are certain that this misery of using these horses for joy rides should end forever and we hope to rehabilitate these horses to better environs, you will agree that to attend to their hunger and thirst is a priority at the moment,' she tweeted, hoping to raise money via crowdfunding for the animals.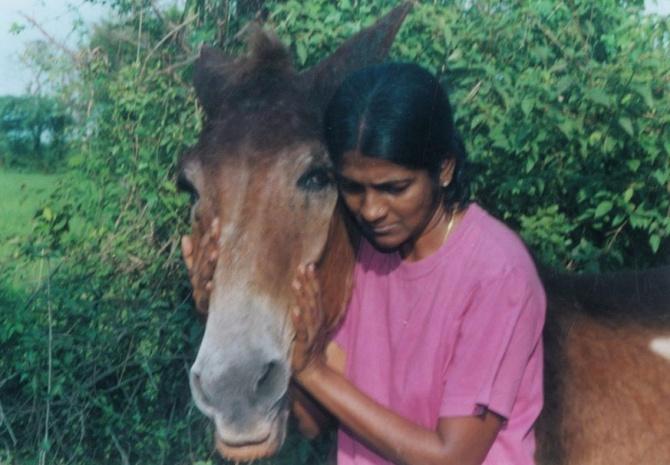 In the meantime, she managed to put together 40 bags of wheat bran for immediate feed.
Wheat bran is -- each bag costs around Rs 1,100. But then another problem arose: How to get it across to the horses.
A long rigmarole followed as she petitioned police stations with the name of each horse to be fed (there are 117 of them) painstakingly written out in quintuplet so that passes could be issued to the PFA van which could then drive down to the beach and dole out the food.
Wheat bran stocks in Chennai also ran out and it had to be ordered from outside the state. But the state borders had been sealed.
So the next best solution was to cut the grass at the animal shelter she runs outside the city and feed that to the horses.
For Pereira, it was enough that the hungry horses managed to eat at least something.
Jessie, a brown and white piebald, had a foal two weeks ago. He is called Alex.
Mother and child dug into the buckets of oats and wheat bran and Pereira felt she had got her reward: There was visible improvement in the health of the horses after a week's feeding.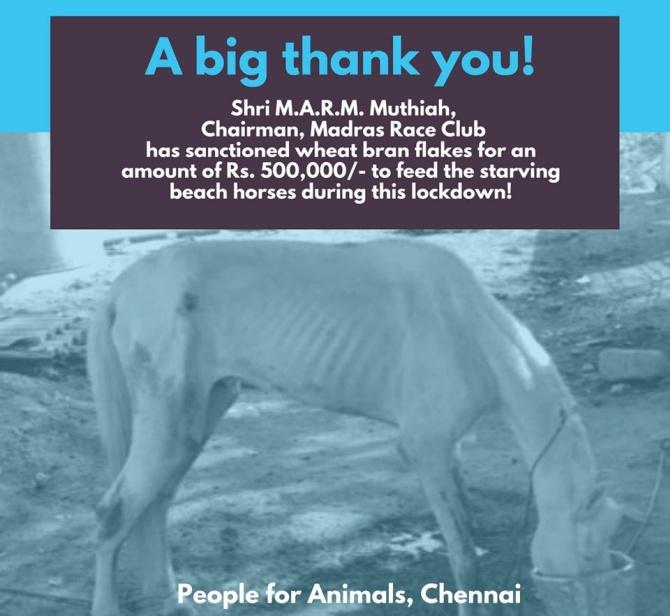 Then the PFA caught a lucky break.
Responding to her appeal, M A R M Muthiah, chairman of the Madras Race Club, sanctioned Rs 5 lakh towards wheat bran flakes for the horses.
"I can't tell you how happy I feel," says Pereira. "A great weight has rolled off my mind. This is an incredibly kind and compassionate gesture".
Pereira's ultimate plan for the horses is to relocate them so that they can retire with freedom to graze in green pastures and live out the rest of their lives with lots of love and care.
But she is conscious that this is a life-versus-livelihood issue and has to be approached with sensitivity.
The horses are the only source of livelihood for the owners.
In fact, when some slum clusters from the beach were relocated to housing elsewhere for a better quality of life for the inhabitants, many horses were simply abandoned because obviously the owners could not take them along in a block of flats!
Pereira is, however, appealing to the conscience of the city as a collective.
"Namma Chennai should be a city that the world will look at, as a city of compassion and care. We can't close our eyes to our backyard," she says.
She is hoping that with a buy in from owners and the government (and she accepts it will be a complicated negotiation), the horses will eventually be rehabilitated.
But till then, at least there's something to eat -- and on a good day, even carrots!