'Modi's China diplomacy signals a great change in India's attitude towards that nation -- from a defensive posture maintained over several decades to that of equal, controlled aggression,' reveals Uday Mahurkar in his fascinating new book, Marching with a Billion: Analysing Narendra Modi's Government at Midterm.
The first of a two-part series: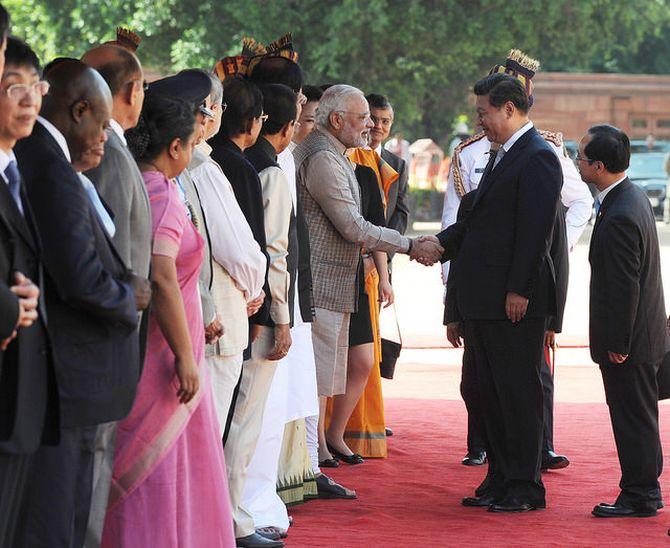 IMAGE: Prime Minister Narendra Modi greets Chinese President Xi Jinping at the ceremonial reception at Rashtrapati Bhavan, September 18, 2014. Photograph: MEA/Flickr
China is, of course, blocking India's entry into the Nuclear Suppliers Group by using its veto (in the 34-member body, the entry is through a unanimous resolution by the member nations).
The chances of India getting into the NSG in the near future appear weak despite the fact that the US has publicly committed to make India a member.
As a result of India's strident stand against China on many issues, the Communist nation is sullen with India and not going to yield easily on India's NSG bid.
Many observers believe that despite China's hard position against India, Modi is building up enough pressure on China to get a good bargaining position with it in the times to come.
But this view is severely contested by another set of observers who think China is too commanding in every way to allow India any bargaining power.
According to Daniel Twining, a foreign policy expert and director for Asia at the German Marshall Fund of the US, Modi is making all the right moves in the diplomatic arena, including in developing the India-US relationship vis-à-vis China.
As he puts it: "Modi is demonstrating the right vision against the backdrop of the emerging Chinese hegemony, the Russian stance and the growing terror threat."
"India and the US together can be great pace-setters. But to realise India's full potential in the international arena and against China, Modi has to raise India's woefully low defence spending of around 1.62 per cent of its GDP and take it at least beyond 2 per cent at a time when countries like the US spend 4 per cent on defence."
Walter Anderson, an expert on India at Johns Hopkins University who has studied the growth of the RSS, observes: "The most important factor in Modi's diplomacy is the recognition he has given to trade, which is reflected in the highest-ever FDI he has secured for India."
"He has made the right approach to the US, but he has to realise that getting closer to the US and signing the communication agreement could distance him from China beyond redemption."
But few would contest the observation that Modi's China diplomacy signals a great change in India's attitude towards that nation -- from a defensive posture maintained over several decades to that of equal, controlled aggression.
India's approach to China has so far been marked by a meek kind of diplomacy where the big brother could take undue liberties with the younger brother who found himself powerless to act.
The Indian approach to China was based on platitudes like 'good brotherly relations' -- denoting a soft diplomacy, which, in the parlance of foreign affairs, rarely succeeds when not backed by hard power, particularly against a ruthless China.
The effort so far has been to engage China on a moral high ground at the cost of hard deal-making, which involves deterrents and checkmating moves.
That soft diplomacy never pays is best displayed by the India-China story on the issue of a permanent seat in the UN Security Council.
In the early 1950s, when the US wanted India to be a permanent member of the council, India backed the Chinese claim to the seat despite severe opposition from many Western democratic powers and in spite of the fact that the Chinese had already intruded in Tibet.
Today, one of the main factors in the way of India becoming a permanent member in the UN Security Council is China's hostility.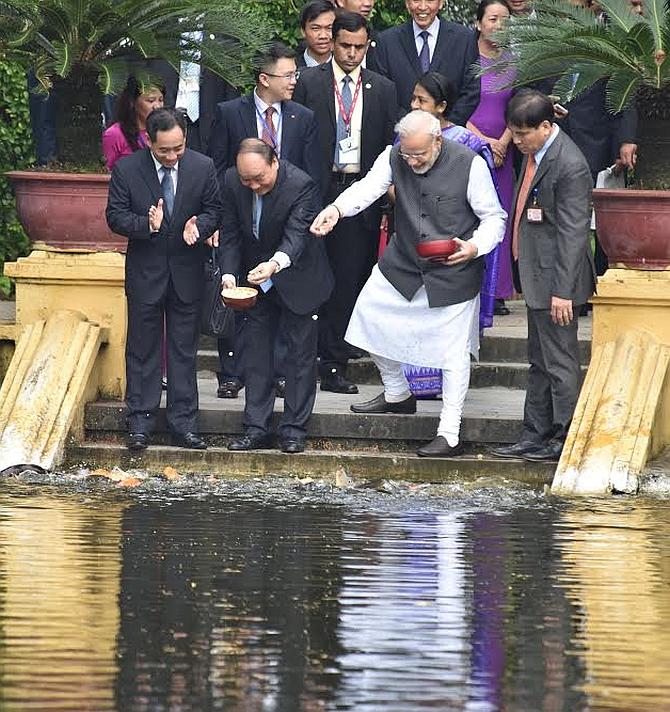 IMAGE: Modi and Vietnamese Prime Minister Nguyen Xuan Phuc feed fish in Uncle Ho's pond in the presidential compound in Hanoi, September 3, 2016. Photograph: Press Information Bureau
But Modi is slowly changing the rules of the game, not just by appearing as a hard negotiator, but also by bringing in the powerful angle of cultural diplomacy by engaging in a skilful manner with the people of the Buddhist nations that affect China.
India is no longer China's underdog. India's new confidence in tackling the dragon was evident in Modi's visit to Vietnam, China's rival in the South China Sea, and the signing of the defence cooperation pacts with Hanoi when he was on his way to China for attending the 2016 Group of Twenty summit in Hangzhou.
It was perhaps the strongest signal to China that India won't take its bullying lying down any more.
Modi gave another sign of India's new stance soon after the G20 summit in the way he chose to react to the China-Philippines dispute in the South China Sea at the summit of the Association of Southeast Asian Nations at Laos.
On the topic of the award given by the International Court of Justice at The Hague to the Philippines, Modi unambiguously called for accepting and respecting the decision in the letter and spirit of the UN Convention on the Law of the Sea. It is a different matter that the Philippines has, of late, moved closer to China.
All these years, China has practised an encircling policy against India -- what is called China's 'string of pearls' strategy -- to surround India with strategic bases by befriending its neighbouring nations and countries in the Indian Ocean and the Pacific regions to check Indian interests on multiple fronts.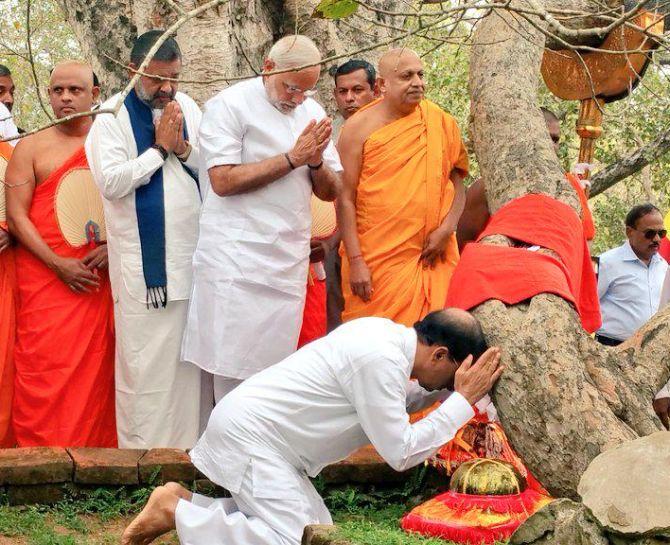 IMAGE: Modi and Sri Lankan President Mathripala Sirisena (kneeling) worship at the sacred Mahabodhi tree in Anuradhapura, March 14, 2015.
Legend has it that the southern branch of the holy Bodhi tree in Bodh Gaya in India under which Lord Buddha attained enlightenment was brought to Sri Lanka in 288 BC by Princess Sanghamitta (Sanghamitra in Sanskrit), Emperor Ashoka's daughter.
It was planted in Anuradhapura and is venerated to this day by Buddhists from many countries.
Photograph: @PMOIndia/Twitter
Modi is now using his own disentangling strategy to counter China's scheme that has on its radar strategic spots in Pakistan, Sri Lanka and Myanmar, and coastal points in Thailand and Indonesia.
It can be labelled as Modi's China doctrine.
In following this policy, Modi has used multiple means, like a true Chanakya -- friendly gestures, economic cooperation, military and strategic partnerships and backdoor moves like the one in Sri Lanka.
The China-friendly President Mahinda Rajapaksa, who had allowed Chinese military ships to anchor on the Sri Lankan coast, lost the elections to the India-friendly Maithripala Sirisena, reportedly with a good degree of Indian intervention. India, however, strongly denied the charge.
However, Modi's Sri Lanka challenge for tackling China hasn't ended, with China trying to woo the island nation with redoubled vigour.
Modi is intelligently using cultural diplomacy to connect with the people of South-East Asian nations, who are mostly Buddhists.
In 2016, his government organised the World Buddhist Conference which was attended by religious heads of Buddhist nations from East and South-East Asia, in addition to Sri Lanka and Bhutan.
The move was a part of India's China strategy in the cultural domain, aimed at engaging with the people of these Buddhist nations to build a pro-India pressure on their governments in the long run.
The HRD ministry has also started a contest called Shodh Yatri that as a reward aims to send the winners to Cambodia, Vietnam (where the second biggest religious group are Buddhists), Thailand, Sri Lanka, Myanmar and other Buddhist nations, in an attempt to increase people-to-people contact.
Modi hasn't ignored the importance of even a small country like the Seychelles in the China game plan. He visited the island nation to guard against Chinese penetration in the Indian Ocean.
In 2015, he became the first prime minister to visit it in two decades. India gifted a high-capacity radar to the Seychelles on the occasion.
Myanmar, a nation seen as being in the Chinese sphere of influence, is also being wooed with skilful diplomacy, which is giving good results.
IMAGE: Modi and Japanese Prime Minister Shinzo Abe at a tea ceremony at the Omotesenke Tokyo Hall, September 2, 2014. Photograph: MEA/Flickr
With Japan, India is on the strongest wicket in the economic and technology arenas, thanks to the personal relationship Modi has established with Prime Minister Shinzo Abe since his days as the chief minister of Gujarat.
It is being termed as a dynamic partnership between the world's largest democracy and the Land of the Rising Sun.
The close cooperation between the two countries is helping India counter China, with which Japan has major differences in the East China Sea.
Such is the level of cooperation with Japan that China has openly said that India is trying to encircle it with the help of Japan and the US.
But the China road is still rocky for Modi, as recent developments show.
IMAGE: Modi welcomes Bangladesh Prime Minister Sheikh Hasina at Palam airport, April 7, 2017. Photograph: Atul Yadav/PTI Photo
A fresh challenge has emerged in the form of a new relationship between China and India's key ally, Bangladesh.
Xi Jinping, in his 2016 visit to Dhaka, the first by a Chinese president to Bangladesh in three decades, pledged aid of $10 billion, which is ten times what India had given Bangladesh during Modi's 2015 visit.
Next, Bangladesh took the delivery of a submarine from China, causing flutters in the Indian camp and indicating the monumental challenge Modi faces while tackling Xi Jinping.
Modi has tried to handle this with some warm diplomacy.
When Bangladeshi Prime Minister Sheikh Hasina Wazed visited India in March 2017, Modi broke protocol by going to receive her at the airport and then took a special initiative for solving the Teesta river-watersharing problem with Bangladesh, a bone of contention between the two nations.
China's moves vis-à-vis the Maldives pose a challenge to Modi, who also has to find ways to contain the spread of Wahhabism in the Maldives by Saudi Arabia, which is increasing its influence on the tiny nation by pumping in huge amounts of funding.
Getting China to support the UN resolution declaring Pakistan's Masood Azhar as a terrorist and to approve India's entry into the NSG is turning out to be the ultimate test of Modi's brand of multi-faceted diplomacy.
It is proving to be difficult to get China to deviate from the path of backing Pakistan on Azhar. This was proved during the 2016 BRICS summit hosted by India in Goa, where China put its foot down when it came to naming Jaish-e-Mohammed and Lashkar-e-Tayiba as terrorist organisations in the joint declaration that had otherwise named Al Qaeda and the Islamic State.
Xi Jinping went a step further and unabashedly advised India to solve the Kashmir problem through dialogue.
He used the term 'regional 'hotspots' and hinted that India should tackle the root causes of such issues before taking a hard line.
IMAGE: Modi with BIMSTEC leaders in Goa, October 17, 2016. Photograph: Press Information Bureau
Other than this, the BRICS summit and the subsequent BRICS-BIMSTEC (Bay of Bengal Initiative for Multi-Sectoral Technical and Economic Cooperation -- a group of seven countries, including India) outreach summit proved to be another master stroke by Modi, securing India's interests and achieving two objectives at one go -- isolating Pakistan, which isn't a member of BIMSTEC, and tackling China's encircling policy towards India.
BIMSTEC nations include Myanmar, Sri Lanka, Thailand and Bangladesh, the very nations China is eyeing as part of its strategy.
Modi, who described Pakistan as the 'mothership' of terrorism without naming it, managed to get all the four member countries of BRICS except China and the seven BIMSTEC nations to take a strong stand against terrorism.
Modi's plan of hosting the first-ever BRICS-BIMSTEC outreach summit also pre-empted Pakistan's efforts to have a larger summit of the South Asian Association for Regional Cooperation (SAARC) by roping in Central Asian nations and Iran with the help of China to counter the cancellation of the 2016 SAARC summit in Pakistan.
That cancellation had been brought about with the application of pressure by India, which used diplomatic strong-arm tactics after the Uri attack.
Using the occasion, India managed to bring around Brazil, which too had been opposing India's entry into the NSG, under pressure from China.
India's suggestion to the BRICS nations to have their own rating agency was accepted, thus strengthening the institutional foundation of the five-nation body.
That 115 meetings involving ministers and officials of five countries during the BRICS summit discussed a wide range of issues did credit to India as a host nation for the 2016 edition of BRICS.
The twelve member countries of BRICS and BIMSTEC together represent two-thirds of the world population and Modi's success in getting recognition for his vision by all but one nation at the outreach summit was no small achievement.
Representatives of the BIMSTEC nations included two of the world's most wellknown figures -- Myanmar's new State counsellor, de facto prime minister and Nobel Laureate Aung San Suu Kyi, who is known for waging one of the greatest battles for democratic freedom, and Bangladeshi Prime Minister Sheikh Hasina Wazed, one of the bravest fighters in the world against ultra-Wahhabi terrorism.
Modi hosted Suu Kyi in Delhi and signed a series of pacts with her government after the BRICS-BIMSTEC outreach summit.
This event, coming just six months after Suu Kyi's party came to power in Myanmar, gave yet another indication of Modi's strategic diplomacy, marked by his expertise in striking a personal rapport with world leaders.
Modi's overtures were significant because Myanmar had moved very close to China some years ago. His gesture promised rich diplomatic dividends. Although Suu Kyi heads a small nation, she has a unique standing in the world because of her fight for democracy.
R S N Singh, an averred strategic affairs expert and former officer of the Research and Analysis Wing, says: "On the whole, it was brilliant diplomacy by Modi."
Excerpted from Marching with a Billion: Analysing Narendra Modi's Government at Midterm, by Uday Mahurkar, published by Penguin Random House, 2017, Rs 499, with the publisher's kind permission.