'The army can easily initiate retaliation for the Uri terror attack.'
'But escalation would be inevitable and unpredictable,' warns Ajai Shukla.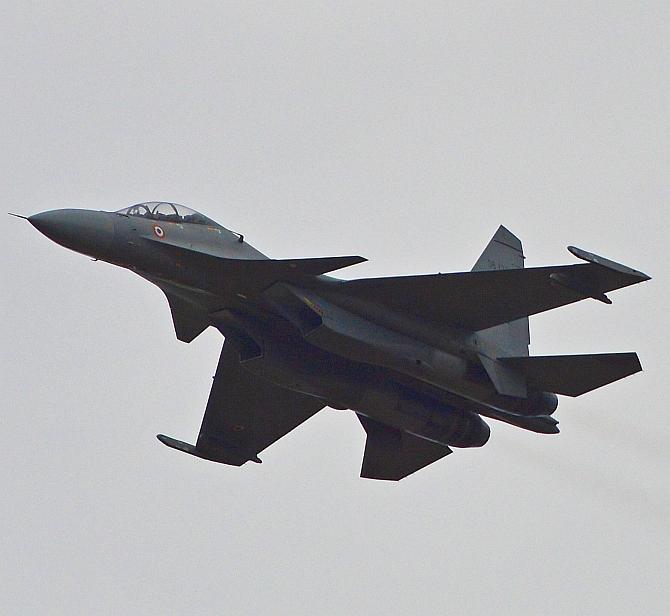 The strike by jihadi terrorists on Sunday on an army camp near Uri, in which 18 soldiers were killed and 29 injured, has inflamed tensions along the Line of Control.
On Tuesday, the army shot down eight Pakistani terrorists after intercepting a 15-strong group that was discovered infiltrating from Pakistan occupied Kashmir.
With public opinion and the media aroused, and with Prime Minister Narendra Modi vowing to punish those responsible; and the army's top operations officer declaring the military would retaliate at a time and place of its choosing, both sides of the LoC are bracing for what might come.
New Delhi has pinned the attack on the Lashkar-e-Tayiba, a militia controlled by the Inter-Services Intelligence, a wing of the Pakistani army.
Home Minister Rajnath Singh has declared Pakistan a 'terrorist State' and the Indian Army, already grappling with public turmoil in the Kashmir valley, is evaluating options to extract revenge for Uri.
Pakistan presents an easy target for an Indian diplomatic offensive against its terror-friendly ways, in Western capitals and multilateral forums. However, a calibrated military riposte would need more careful consideration.
Business Standard has discussed India's options with senior officers close to the planning process.
All of them agree that the army can easily initiate retaliation. But, thereafter, there would be two sides in the game.
Escalation would be both inevitable and unpredictable.
India's first option is to retaliate through fires (the effect of weapons) without Indian forces physically crossing the LoC.
This would involve 'fire assaults' on targets across the border, using artillery, missiles, and multi-barrel rocket launchers and Brahmos cruise missiles for deeper-lying targets.
A fire assault involves suddenly opening up intense fire with massed weapons on an unsuspecting and carefully chosen target, catching people in the open and inflicting heavy casualties.
Besides weapons, all trans-LoC retaliation would require reconnaissance assets, including satellites and unmanned aerial vehicles, to identify suitable targets and carry out battle damage assessment after a strike.
The battle damage assessment would determine whether the target had been adequately punished, or whether it needs to be struck again.
Depending upon Pakistan's response, fire assaults could be escalated through three stages -- first targeting terrorist infrastructure, then forward Pakistan army posts that facilitated infiltration and, finally, Pakistani headquarters and installations in the rear.
Each operational level would send a specific signal and require tailor-made diplomatic messaging to manage international opinion.
To absorb the inevitable retaliation, the Indian military would need to anticipate and plan appropriately.
In keeping with the theory of 'escalation dominance,' the military would seek to dominate each step of the escalation ladder.
This would discourage Pakistan from escalating the exchange.
The next level of escalation would involve physically moving troops -- first aircraft and then, if necessary, ground forces --- to attack across the LoC.
To manage the risks, India would signal a purely punitive intent, with no intention to actually hold ground across the LoC.
Naturally, aircraft and troops that cross the LoC carry the risk of being captured.
India's military would pre-position 'search and rescue' units, equipped with helicopters, to retrieve personnel shot down across the LoC.
The third level of escalation would involve the capture and occupation of territory across the LoC, such as vulnerable pockets where the border protrudes into India, or enclaves on the Indian side of a river or stream.
This would be a significant escalation and a violation of the Simla Agreement, which prohibits either side from changing the status quo.
Deeper attacks would require India to mobilise reserves, including fire support assets, as well as the air force.
Longstanding intelligence and military assessments indicate that any Indian capture of significant Pakistani territory would trigger a nuclear threat from that country.
The final level of escalation -- Indian offensive operations across the settled international boundary between India and Pakistan, the so-called Radcliffe Line -- would certainly violate the Pakistan army's nuclear threshold, eliciting a threat to use nuclear weapons.
Several Indian strategic planners insist a Pakistani threat would be a bluff. However, the diplomatic pressure on New Delhi would be intense, and it remains unlikely that India's leadership would successfully resist it.
Representative Image of a Sukhoi-30MKI in action. Kind courtesy: Alan Wilson/Wikimedia Commons