The BJP could win only 16 out of the 57 seats in Bengal where Amit Shah campaigned, reports Syed Firdaus Ashraf/Rediff.com.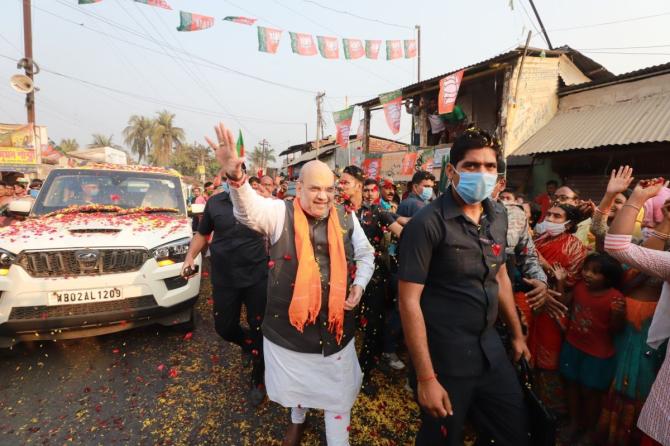 The man they call Chanakya, Bharatiya Janata Party leader and Union Home Minister Amit Anilchandra Shah, has never had such a bad outing in any election that he has spearheaded as in West Bengal.
Shah met his waterloo at the hands of Mamata Banerjee, the Trinamool Congress leader who was sworn in as Bengal's chief minister for the third consecutive term last fortnight.
Data compiled by Hemant Shivsharan/Rediff.com
Shah, who virtually camped in Bengal, addressed around 57 rallies for various BJP candidates but when the EVMs were opened on May 2, the outcome was far from expectations.
The BJP could win only 16 out of the 57 seats where Shah campaigned in his typical style.
His success rate: 28 per cent. 28.07 per cent, to be precise.
In other words, he failed to deliver for the BJP in 71.93 per cent seats of West Bengal.
Shah's worst show was in Kolkata where Firhad Hakim, the TMC minister and a lieutenant of Mamata Banerjee, defeated Awadh Kishor Gupta of the BJP by 68,554 votes.
Firhad's victory is significant because he stated before the elections that the BJP was trying to vitiate the communal atmosphere in his constituency by calling him Dhakaiya (a local pejorative used to describe people of Bangladeshi origin).
'I will die an Indian and my grave will be on Indian soil. However, for the sake of polarisation they (the BJP) label a person as a Muslim or a Pakistani. This is against (the spirit of) the Constitution, against the pride and ethics of India,' Hakim had stated in an interview with the Economic Times.
Another crushing defeat was at Baruipur Paschim where Shah had done a massive road show.
Here the BJP candidate, Debopam Chattopadhyaya, lost by 61,910 votes to the TMC's Biman Banerjee.
In 27 of the seats where Shah held rallies or roadshows, the BJP lost by more than 20,000 votes.
In 50 per cent of the assembly seats where Shah went on roadshows or held election rallies, BJP candidates lost badly and that too at a time when he proclaimed that the BJP would cross 200 seats in Bengal.
Prashant Kishor, Mamata Banerjee's election strategist, told The Telegraph, 'Amit Shah is the most over-rated politician and poll manager. A disaster. What does he have to show for his great and fabled election management?'
'He has the most charismatic leader in Narendra Modi to put on stage; he has humongous resources at his command; he has an elaborate party network supported by the Sangh; he has the backing of the government and its agencies; he has an Election Commission playing footsie; and still he lost! That must tell you something about Amit Shah and his reputation,' Kishor said.
'This is my third head-to-head with him and all three times I have defeated him -- in Bihar in 2015, in Delhi and in Bengal. And, of course, we defeated him in Andhra and Punjab, where the BJP was fighting in alliance with local parties,' Kishor added.
'He is a good-for-nothing political manager. I have to say I haven't the greatest respect for Amit Shah as a politician.'
Table designed by Ashish Narsale/Rediff.com