Behind the BJP's astounding electoral success is a small army of dedicated lieutenants marshalled by Amit Shah, reports Archis Mohan.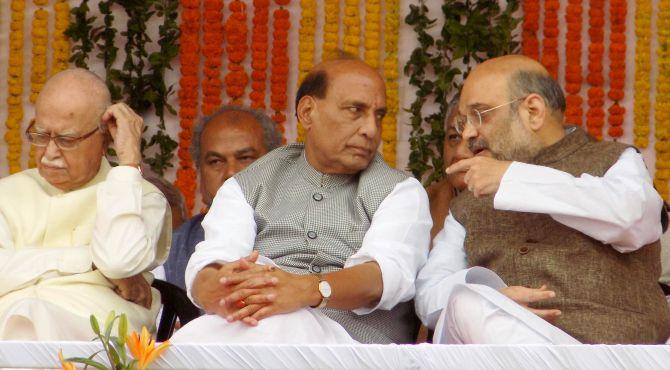 IMAGE: Bharatiya Janata Party President Amit Shah, right, with Home Minister Rajnath Singh, the BJP's tallest leader in UP who reportedly was forced to play a cameo role in the 2017 election campaign, as BJP veteran L K Advani, left, seems thoughtful at the UP chief minister's swearing in ceremony in Lucknow, March 19, 2017. Photograph: Sandeep Pal
After Amit Shah took over as the Bharatiya Janata Party president in July 2014, an innocuous change instilled fear among second- and third-rung BJP leaders.
Until then, the BJP office at 11, Ashoka Road in New Delhi was disorganised and leaders were unpunctual.
Meetings could last beyond midnight and the next day the office would regain its buzz around late afternoon.
A month into Shah's presidency, a BJP worker and occupant of one of the rooms noticed a nondescript young man, register in hand, visiting each of the 50-odd rooms on the premises and make small notes.
It turned out that the man was noting down the time that each occupant spent in his room: When he arrived and when he left.
Word spread fast.
There were those who adapted to the new regime quickly, while the more obstinate were either gently prodded to vacate their rooms or lost their relevance in Shah's scheme of things.
Shah brought in a rigour and discipline to the BJP's office that was thought to be the hallmark of the Communist Party of India-Marxist in its heyday.
Some of the other changes, like pushing the party workers to make the BJP the world's largest political party, keeping the workers galvanised round the year by reaching up to the booth level and pushing the social media team to continuously engage the youth, have become case studies for other political parties to replicate.
Each week a minister is asked to be present at the party office to meet workers, and even the public, to listen to their grievances.
Not all were happy with this new regime.
Many, including senior leaders like Murli Manohar Joshi, Shanta Kumar and Yashwant Sinha, after the party's defeat in Delhi and Bihar assembly polls in 2015, criticised Shah for his undemocratic ways.
Knives would have been out again if Prime Minister Narendra Modi and Shah were to lose Uttar Pradesh.
However, the two men from Gujarat stunned all who thought themselves to be experts of the political landscape of India's most populous state -- and not just those in the Opposition ranks but also within their own party.
The victory in Uttar Pradesh makes Modi the unassailable leader of India.
But, as Modi acknowledged in his speech at the BJP's Ashoka Road headquarters on March 12, the wins in UP and Uttarakhand couldn't have come about without Shah.
After this triumph, as the BJP parliamentary party resolution on March 16 suggests, Shah is now Modi's rightful heir, if and when the prime minister decides to retire from electoral politics conforming to the age bar of 75 years that has been set for party leaders.
Shah is 52 and Modi 66.
Just as Modi handpicked Shah in Gujarat three decades ago, Shah has built around himself a committed team of party workers and second-rung leaders.
The secret of surviving in Shah's regime is "parakram, and not parikrama," says a party strategist in his mid-40s.
He says that workers were earlier rewarded for their parikrama, literally circumambulation or sycophancy of the leader, while Shah rewards those who show parakram, or performance.
This has meant several unsung and unnoticed party leaders being given key positions.
"Modi and Shah are men of minutest detail and superficial reporting means they soon lose faith in you," an occupant of one of the rooms on Ashoka Road, somebody from outside the BJP network, says.
They also do not easily trust those they perceive as upstarts, or those educated in public schools or dynasts.
Many second generation leaders, therefore, have found themselves ignored.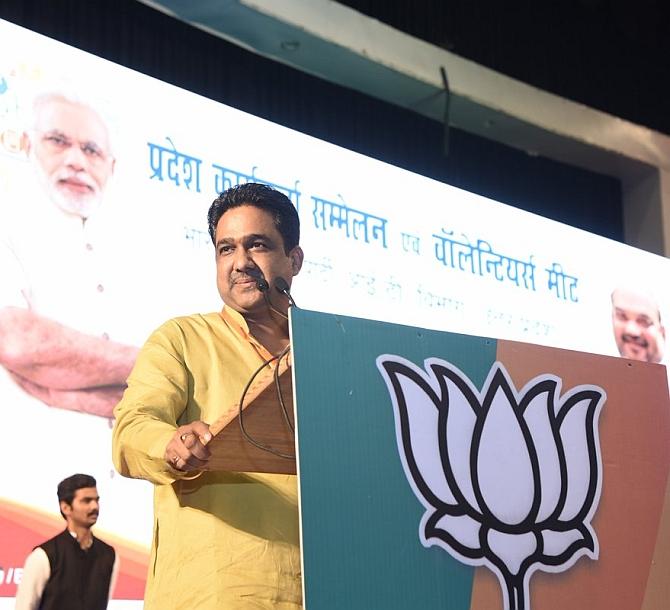 IMAGE: Bharatiya Janata Party leader Sunil Bansal, Amit Shah's trusted lieutenant, widely credited for scripting the BJP's victory in UP in 2017 as he did in 2014.
Away from television cameras and flashbulbs, there are key people who go about their work in Delhi and outside, and operate not so much out of 11, Ashoka Road but the adjacent bungalow at number 9.
These men include joint general secretaries handling organisational work like V Satish, Saudan Singh, Shiv Prakash and B L Santosh.
Similarly, in UP, while Rajasthan leader Om Mathur was the party in charge for the state, the unsung Sunil Bansal, a 48-year-old former Akhil Bharatiya Vidyarthi Parishad worker, also from Rajasthan, was the chief strategist.
Among the well-known faces, some of the success of the UP win has been credited to Petroleum and Natural Gas Minister Dharmendra Pradhan.
Shah publicly acknowledged the success of the Ujjwala scheme, initiated by Pradhan's ministry, which aims to give LPG cylinders to poor families.
It contributed significantly to the BJP building a narrative of it being a party for the welfare of the poor.
Modi had launched the scheme in Ballia, in eastern UP, on May 1. Until now, the scheme has covered 693 districts and 19 million LPG connections have been released.
Over a fourth of the connections have been handed out in UP and 40 per cent of the recipients are Dalits.
Party insiders point out how Shah has also ensured a division of labour among party general secretaries.
The area of work and territories are clearly defined for each of the general secretaries. There is also increased accountability.
The party has started to devote more effort and resources on training its leaders, media relations and policy making, including foreign policy.
If party vice-president Vinay Sahasrabuddhe has been entrusted with the training of leaders and giving inputs on policymaking, Overseas Friends of BJP chief Vijay Chauthaiwale has Shah's confidence for the party's foreign outreach.
With the Delhi civic elections coming up, the role of vice-president Shyam Jaju is set to become important.
The recent UP election has also helped upcoming leaders like Sidharth Nath Singh and Shrikant Sharma, both national secretaries and key to the BJP's media outreach, to consolidate their positions.
Sharma won the Mathura assembly seat by over 100,000, while Singh won Allahabad West. Initially, neither had seemed confident of contesting what were extremely difficult seats but now constitute the core of the next generation of BJP leadership that Shah is grooming.
Bhupender Yadav, a Rajya Sabha member, is another who belongs to the BJP's gen-next.
However, Shah's success, say party insiders, isn't merely about efficiency.
"It is to do with Shah's conceptual clarity of sanskritik rashtrawad, or cultural nationalism, which is the core of our party's ideology, and also his conviction that a BJP government should be pro-poor," a party leader says.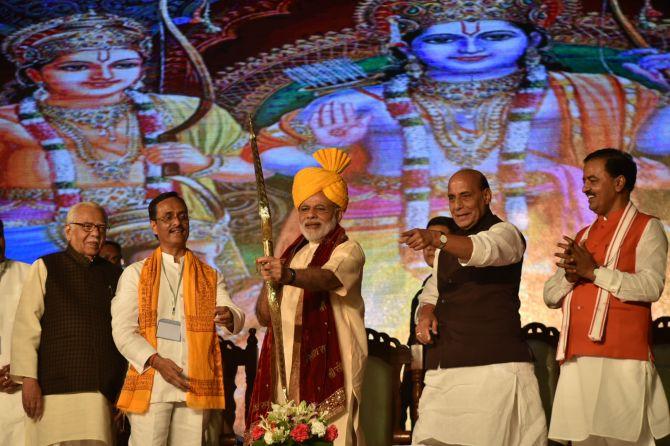 IMAGE: The tone for the BJP's election campaign in UP was struck when Narendra Modi attended the Ramleela celebrations in Lucknow on October 11, 2016.
Though Yogi Adityanath was not present at the event, where Modi delivered a 20-minute speech on terrorism, Keshav Prasad Maurya, right, and then Lucknow mayor Dinesh Sharma, second from left, the state's new deputy chief ministers, were present on stage.
While the Congress continues to believe that a unified Opposition can defeat Modi and Shah in 2019, others in the Opposition ranks say that arithmetic and strategy are insufficient to mount a challenge unless a unified Opposition is able to build an alternative narrative on the ground through peoples' movements, a narrative that could question the BJP's cultural nationalism and pro-poor politics.
But with Modi as the party's leader, and a hardworking and canny general as Shah, that looks like a mountain too high to climb.
MUST READ features in the RELATED LINKS below...