Shailajanand Mishra lists The Hottest Videos of the Week! Take a look.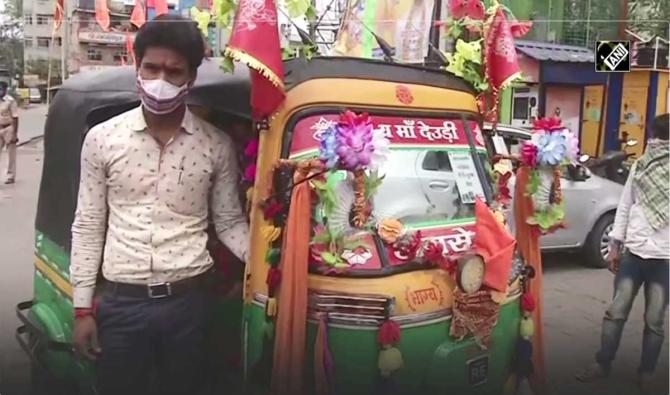 Every week is full of exciting events. And we make sure we bring you the most interesting ones, with a special twist.
These videos are chosen by you, through your likes.
So if you'd like to see your favourite video on our weekly round-up, make sure you like them on iShare.
---
Rafales arrive
Date: April 21
Location: New Delhi
After take-off from France's Merignac air base, the fifth batch of Rafale aircraft arrived in India on April 21.
The fighters flew a distance of almost 8,000 km, with air-to-air refuelling support by the French air force and the UAE air force.
---
Wild elephant wreaks havoc
Date: April 23
Location: Chikmagalur, Karnataka
An elephant attacked Halasina Marada Halli village in Karnataka's Chikmagalur on April 23. It toppled huts and broke several bore wells in the vicinity.
Later, the administration sent a truck to capture the elephant.
---
Auto driver gives free rides to people visiting hospital
Date: April 24
Location: Ranchi, Jharkhand
Since the COVID tsunami has hit the country, several organisations and individuals have come out to support people in need.
One of them is an autorickshaw driver in Ranchi. Ravi offera free rides to people who need to go to the hospital.
"I have been doing this since April 15, when I dropped a woman to hospital after everyone else refused. My number's on social media so people can contact me."
---
Haldi ceremony at police station
Date: April 24
Location: Dungarpur, Rajasthan
The haldi ceremony (a pre-wedding ritual) of a female constable was celebrated by her colleagues in her police station premises as her leave was not approved amid the COVID lockdown in Rajasthan's Dungarpur.
Every ritual, including the traditional sangeet, was part of the ceremony.
---
Salman's helping hand to COVID warriors
Date: April 26
Location: Mumbai
The whole country is currently in the grip of the corornavirus's second wave and COVID warriors are facing a tough time.
Amid this, Salman Khan extended a helping hand to COVID-19 warriors and distributed food packets and other essentials to them.
---
COVID horror: Sons throw mother out of the house
Date: April 26
Location: Kanpur, Uttar Pradesh
The COVID pandemic has seen people come forward to help each other. But, in Kanpur, a woman was allegedly thrown out from her house by her sons as she tested COVID positive.
Police took cognisance after the video went viral on social media and admitted her to hospital for the treatment, where she succumbed to the disease.
A case has been registered.
---
15-feet-long King Cobra rescued
Date: April 28
Location: Mayurbhanj, Odisha
A 15-feet-long King Cobra was rescued from the bedroom of a house in Odisha's Mayurbhanj district on April 26.
Forest department officials reached the spot and rescued the snake.
People gathered to witness the rescue operation.
Later, it was released in the forest.
---
Feature Presentation: Ashish Narsale/Rediff.com