When they returned to Chennai from the US, their plan was to set up a successful business.
Which they did.
Then, says Rediff.com's A Ganesh Nadar, something tugged at their heartstrings.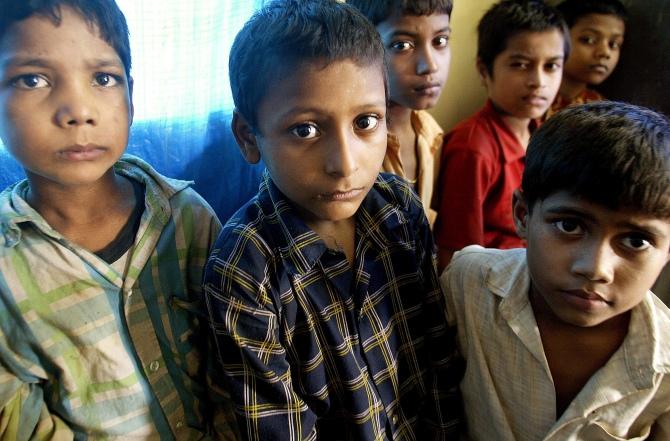 IMAGE: Child labourers rescued from different factory units wait inside a police station in Mumbai. Photograph: Reuters
You've seen this at every traffic signal.
As the red light flashes on, grimy, barefoot children -- dressed in mismatched clothes that are too big or too small if they are lucky and naked if they are not -- tap at the window that encloses your clean, air-conditioned world from theirs, asking for a few rupees.
Or there could be adults, clutching a filthy feeding bottle in one hand and a baby in the other -- begging for money.
At some point, you might have wondered: How did these children land on the streets?
Do they belong to the adults who say they are their family/children?
The light turns green and the thought whizzes out of your head faster than you can get your car in motion.
But the questions -- Who are these children? Do their parents send them to beg? Are they runaways? Have they been abducted? Are they lost? -- continued to plague Vijay Gnanadesikan, 39, and M Elango, 41.
They turned to the Internet where they came across two government Web sites: Track The Missing Child, managed by the police, and Khoya-Paya, managed by the revenue department.
Citizens can use the latter to upload photographs of missing or found children without referring to the police.
The two Web sites also provide a count of how many children have gone missing and how many have been found.
However, sifting though the thousands of photographs on these two Web sites, and the thousands more floating around on social media, was daunting.
The two software engineers -- who run a company called Haliscape in Chennai -- decided they had to do something about it.
Haliscape's most successful product is Greendesk, a managerial software for sports and recreational companies.
"Our clients are primarily the YMCA in Australia, other recreational centres and the government of Australia. Our business is worth around $2 million," say the duo.
Four years ago, they had expanded into face analysis.
Now, they decided to use their expertise in this area to help trace missing children.
First, though, there were quite a few tough bridges to be crossed.
"Unlike adults, a child's facial features changes every few months as they grow up," says Gnanadesikan. "We also factored in the possibility that, sometimes, the spellings of the children's name may differ in the lost and found pages, which affects the search results in these two Web sites."
It took them 18 months to write software they were satisfied with. "After that, it was simple to make it an app," he says.
The app, Facetagr, was ready six months ago, but is yet to be made available to the public.
"We are careful about giving this app to anyone as it can be misused by traffickers to find children who have escaped from their custody," says Elango./p>
IMAGE: Vijay Gnanadesikan and M Elango hope their app will reunite missing children with their families. Photograph: A Ganesh Nadar/Rediff.com
Gnanadesikan and Elango have a database of over 300,000 children that they have pulled from the Khoya-Paya and Track The Missing Child Web sites and social media.
Over the last six months, working on requests from families who had heard of their app, they have united almost 100 missing children with their families.
Gnanadesikan and Elango are also working on a project to track the families of around 15,000 children from Nepal, who had been trafficked to India and have now been rescued.
"We are giving 15 handsets that have been loaded with the app to volunteers there," says Gnanadesikan.
Both these projects are funded by them and the tech manpower needed is provided by Haliscape, which has a team strength of 10 members.
Despite intensive public relations campaigns spearheaded by the government, the Track The Missing Child Web site shows that 73,000 children remain missing.
Officials say the reasons behind these cases could be kidnapping, abduction, trafficking, illegal adoption, runaway children and displacement during natural calamities.
At present, when a child is deemed to be 'found', it does not necessarily mean they have been united with their family.
It could -- and mostly does -- mean they are in a government or NGO home, affiliated with or recognised by the government.
"We have no software that will scan the missing data bank and tell us. We do it manually. It helps when the person remembers the place they belong to, otherwise it is very difficult," says Seema Agarwal, additional director general of police, Tamil Nadu State Crime Records bureau.
Despite these difficulties, her department has united more than 100 mentally challenged adults with their families in the last six months.
This is where Gnanadesikan and Elango believe their app will help as it will make it easier to unite the children who have been found with their families -- if their information has been uploaded on these Web sites.
Gnanadesikan and Elango say they are willing to give the app to the Government of India so that it can be integrated in the Track The Missing Child and Khoya-Paya Web sites.
Till that happens, if you want to find out about a missing child, do send her or his photograph, and other details, to findmymissing@facetagr.com or vijay@facetagr.com. Gnanadesikan and Elango will get back to you as soon as possible.