Shailajanand Mishra lists The Top Videos of the Week! Take a look.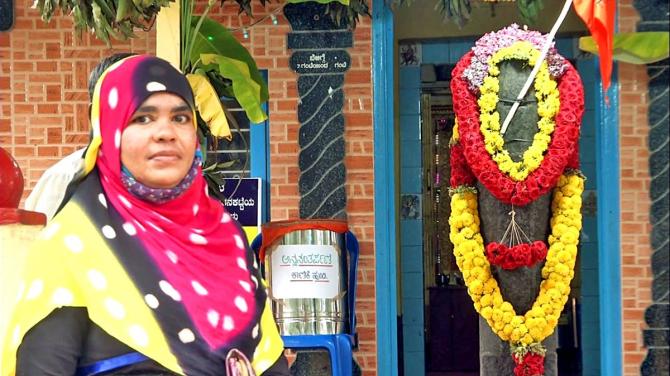 Every week is full of newsworthy events. And we make sure we bring you the most interesting ones, with a special twist.
These videos are chosen by you, through your likes.
So if you'd like to see your favourite video on our weekly round-up, please make sure you like them on iShare.
---
Dussehra celebration with 10,000 dolls!
Date: October 10
Location: Bengaluru
Her Dussehra will always be unique.
Because it is celebrated with dolls.
Not one.
Not two.
But 10,000.
Plangonologist -- that's what someone who collects dolls is called -- Bhagyalakshmi lives in Thyagaraja Nagar, Bengaluru, and has always loved dolls.
This Dussehra, she decorated her residence with 10,000 of them.
Bhagyalakshmi's incredible collection includes some fantastic 100-year-old heritage dolls.
---
Muslim woman offers a special puja
Date: October 11
Location: Shivamogga, Karnataka
Fifty years ago, says Famida, her husband -- a railway employee -- built a temple and handed it over to the Hindu community.
His gesture built an unbreakable bond between Famida and the Bhagawati Amma temple.
Which is why, on Dussehra day, she offers a special prayer here.
---
Why these air travel passengers were forced to use tractors
Date: October 12
Location: Bengaluru
Ever though that taking a flight meant you would have to use a tractor?
Yup, it can happen.
Heavy rainfall caused waterlogging outside the Kempegowda international airport in Bengaluru on October 12 and tractors were used to ferry passengers outside the airport!
---
Watch: PPE kits and garba
Date: October 12
Location: Rajkot
If it's Navratri, there has to be garba.
But how do you dance the garba when there is coronavirus in the air?
These girls in Rajkot found a solution.
In an event attended by several people, they performed the garba wearing PPE kits.
---
Whaat! Is that the Burj Khalifa in Kolkata?
Date: October 12
Location: Kolkata
Kolkata's Durga pandals are amazingly innovative.
One of them is run by the Shreebhumi Club, which is known for its interesting Durga Puja themes.
This year, they've chosen to bring Dubai's Burj Khalifa to Kolkata.
---
Women participate in 'Lota Daud' in Bhopal
Date: October 13
Location: Bhopal
The lack of proper sanitation facilities still plagues many parts of India.
Unfortunately, even where facilities are available, the battle is on to break a long-ingrained habit.
One village, and the district administration, decided to do something about it.
So, they organised a Lota Daud (people carry lotas, as these tumblers or water pots are known, when they go to the fields/jungle to relieve themselves).
Eighteen women from Phanda village took part in this unique race, whose aim was to discourage defecation in the open.
It was organised by the Bhopal district administration.
"Through this race," said a participant, "we urge our daughters-in-law to avoid open defecation because every household has a toilet now."
---
Feature Presentation: Ashish Narsale/Rediff.com