'Please mention my phone number in your article: +97-144479988.'
'And if you know of a person who is stuck in a UAE jail, then tell his relatives to call me.'
'I will help them for sure,' Firoz Merchant tells Rediff.com's Syed Firdaus Ashraf.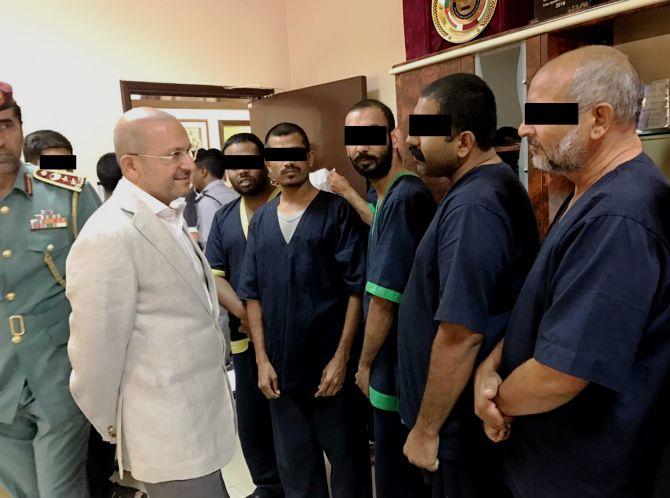 IMAGE: Firoz Merchant speaks to workers lodged in a UAE jail. One should not call them prisoners, he says, as these workers are not at fault.
In 2008, the ripple effects of the massive recession were felt worldwide. The United Arab Emirates was more troubled by an offshoot of the slowdown.
Construction activity in the UAE, which was at its peak before the recession, had slumped to an all time low and most of the work came to a halt. Many migrant workers lost their jobs overnight.
Many of them also did not get their salaries on time. And, consequently, the cheques they had submitted towards repayment of their loans bounced.
This landed them in UAE jails. According to UAE law, one is immediately sent to jail when a cheque bounces.
An Indian businessman was moved by the plight of these 'prisoners'.
Firoz Merchant, chairman of Pure Gold Jewellers, knew these workers were in jail for no fault of theirs.
"The UAE was hit very badly by the global economic crisis," Merchant recalls. "Many blue collar and white collar workers lost their jobs. They did not get salaries on time. Their cheques bounced and they were sent to jail."
| | | |
| --- | --- | --- |
| | Please give my number +97-144479988 to the relatives of any person stuck in a UAE jail. I will help them for sure. | |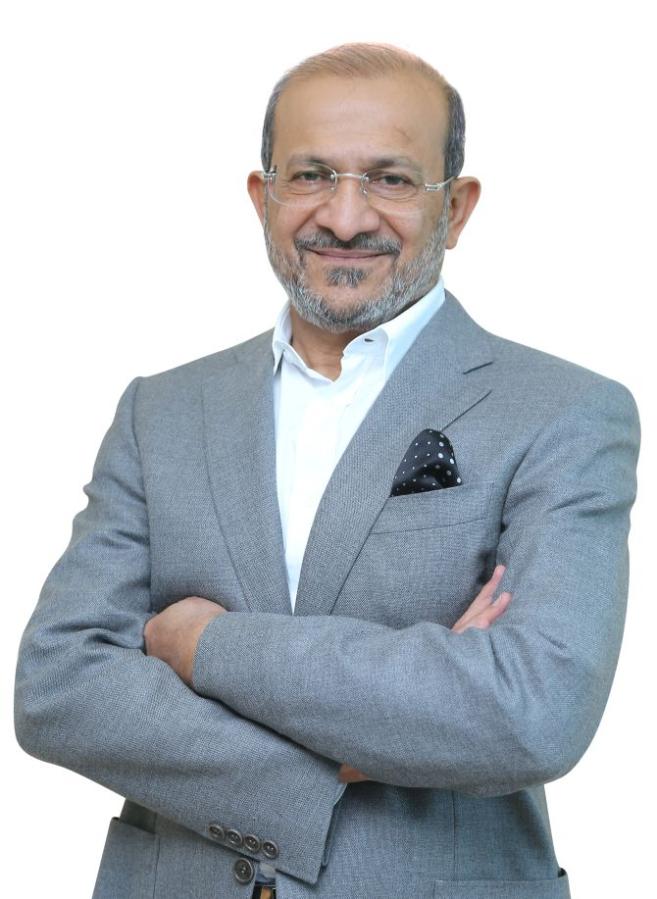 "They were not at fault because their salary cheques bounced and therefore could not repay their loans. I wanted to help them because I felt they had no one to take care of them," says the businessman.
"Many of them had completed their jail sentences, but had no money to go back home," he adds.
Merchant got in touch with the UAE authorities to find a solution to this problem.
"When I approached the jailors, they told me 'Firozbhai, our jails are overflowing.' The jails were overcrowded. The jailor of Ajman jail gave me a list of 132 people and said I must get those people released immediately," Merchant remembers.
"They had spent considerable time inside the prison. They were Indians, Sri Lankans, Indonesians, Pakistanis, even Omanis," he adds.
Merchant says UAE government officials were happy with his offer to intervene. They knew many of those languishing in the Emirates' prisons had completed their sentences, but had no means to return home.
"The director general of police told me the jails were overcrowded because many people had no money to pay and get out," he says.
Merchant decided to pay for their air tickets so that they could return to their native countries.
"In the last eight years, by the grace of Allah, I have sent back 4,500 innocent people back to their countries," he says.
"The situation improved after 2011 when the global economy recovered. But for the last one year, again with the slowdown in the economy, such cases are erupting," he says.
His parents, Merchant explains, inspired him to help others.
"My mother was very generous. She always told me that you must stand by for fellow human beings. And I am only following her. I saw her helping people from my childhood and I think I have inherited this noble deed from her."
When he left Mumbai for Dubai in 1989, Merchant says he didn't know he would strike it rich in the Emirates.
"When I was leaving India," he remembers, "my mother told me that however big you become financially, you will become a bigger human only if you are good."
IMAGE: Firoz Merchant with UAE officials. He does not take help from the embassy of any country for his noble cause.
In 27 years, Merchant's business has flourished worldwide. He has one factory in India, one in China and offices in 125 countries.
Asked what precautions Indian expatriate workers must take in the UAE so that they don't end up prisoners in the Emirates, Merchant corrects my question.
"Don't call them prisoners," he says. "I call them unfortunate people. Taqdeer ke maarey log hai. (They are unlucky). They are not criminals. They are majboor (helpless)."
"These labourers end up in jail because they are illiterate. People cheat them. Sometimes agents also cheat them. They are told that they will get Rs 25,000 in the UAE. But when they come here, they get only Rs 10,000," says Merchant.
"They have to work here for two years on the same salary," he points out. "Their passports are also taken away by the agents or the company."
"(Migrant) labourers work in the construction companies. Their passports are with the companies. They also get arrested sometimes for not renewing their visas," he says.
"Sometimes these labourers do not get their due salaries, so they leave their jobs and start working at some other place," he says. "This may also land them behind bars. A labourer must always work for the company for which the visa has been granted. They must not work at other places."
The workers, he says, can go to the UAE labour department and register a complaint if they do not get paid.
Won't language be a problem for these workers?
"No," says Merchant, "It is not difficult. There are three million Indians in the UAE. I don't think language can be a problem."
Asked if he involves the Indian embassy in this work, Merchant says, "We only work with the UAE authorities and under their guidelines only."
Explaining the procedure, he says, "We do not involve embassies. The UAE police deals with that. Many people do not have their passports or their passports have expired. So they contact their embassy and make an outpass. This procedure is done at the government level."
Merchant has just received a list of 350 people in the Ajman central jail and another 350 people in the Sharjah central jail.
"By the last week of February, I hope I can send all these people home," he says. "This list comes from the UAE government and they get it from the jails. The heads of these jails have meetings with us. They tell us about the good character and good behaviour of the people who are in jail. They suggest the names of the people who can be released."
In 2017, Merchant has pledged $1 million (Rs 6.7 crore/Rs 67 million) of his own money for this noble cause.
"I pay 100 dirhams (Rs 1,800) plus the cost of the air ticket to every such person in jail so that they can go home," he says.
How do these workers react when he meets them after their release?
"Such reactions can only be felt. It cannot be expressed in words. You can feel the happiness."
Before we end the conversation, Merchant asks me to "please mention my phone number in your article: +97-144479988. And if you know of a person who is stuck in a UAE jail, then tell his relatives to call me. I will help them for sure."