On his first visit to Srinagar post the abrogation of Article 370 on August 5, 2019, Home Minister Amit Anilchandra Shah claimed that incidents of terrorism have declined and stone-throwing incidents too have ended in Jammu-Kashmir.
Syed Firdaus Ashraf/Rediff.com digs out the facts.
Data: Hemant Shivsaran/Rediff.com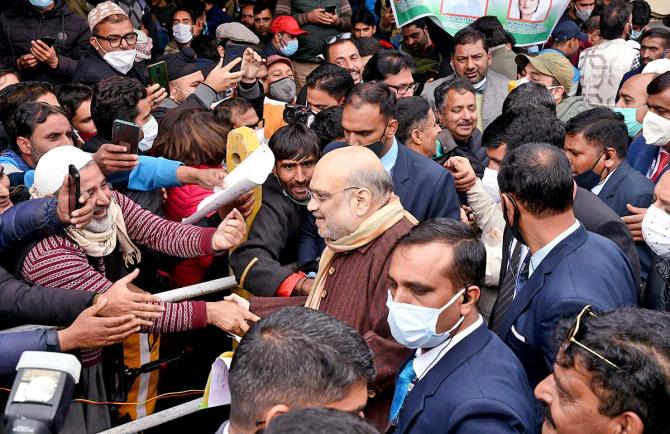 One year before the Congress-led United Progressive Alliance government made way for Prime Minister Narendra Damodardas Modi, things did not start on a smooth note regarding Jammu-Kashmir.
On February 9, 2013, Afzal Guru (the accused in December 2001 Parliament attack) was hanged to death, thus making everyone wonder what the future held for J&K as violence erupted in the state.
One change noticed that same year was the drastic fall in terrorist incidents in 2013 post Afzal Guru's death.
There were 170 terrorist violence incidents that year resulting in 53 soldiers getting martyred whereas 15 civilians and 67 terrorists were killed.
Source: Annual reports of the ministry of home affairs
The first three months of 2014 saw 46 infiltration attempts in which four Indian soldiers were martyred and four civilians killed, with 24 terrorists being killed by the security forces.
Data till March 31, 2014
Source: Annual report of the ministry of home affairs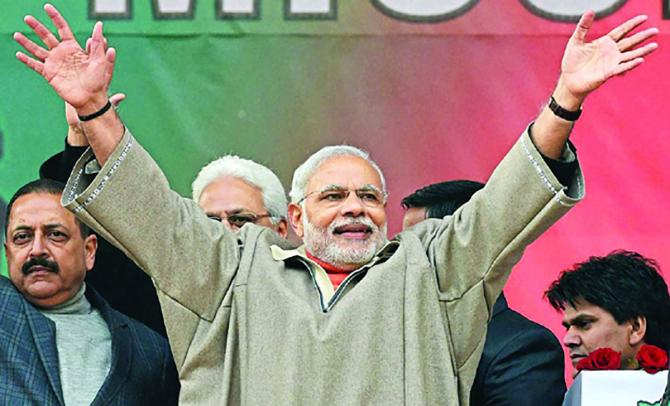 Source: Annual report of the ministry of home affairs
Though politics went on as usual, terrorism surfaced time and again.
In 2014, there were 222 incidents of terrorist violence in which 47 security personnel were martyred. 28 civilians were killed. 110 terrorists too were killed in 2014.
In 2015, 208 incidents of terrorist violence were reported in the state, with 39 security personnel being martyred and 17 civilians losing their lives.
108 terrorists were killed in 2015.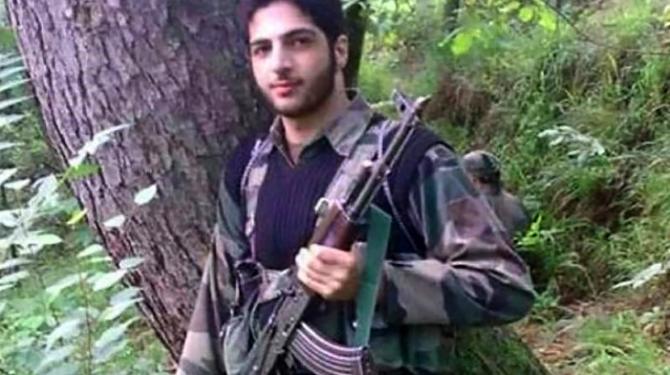 On July 8, 2016, the Indian Army tracked down terrorist Burhan Wani and gunned him down in an encounter.
Wani was the poster boy of terrorism in the Kashmir Valley and would post his pictures on social media regularly and talk about his exploits.
Two months later, on September 18, 2016, an Indian Army brigade in Uri was attacked at 5.30 am in which 18 soldiers were martyred.
The army avenged the soldiers's deaths by the surgical strikes on September 28-29, 2016, destroying terrorist training camps and eliminating terrorists across the Line of Control in Pakistan occupied Kashmir.
The statistics for 2016 to 2018 show the worst scenario in Jammu and Kashmir.
Source: Annual report of the ministry of home affairs.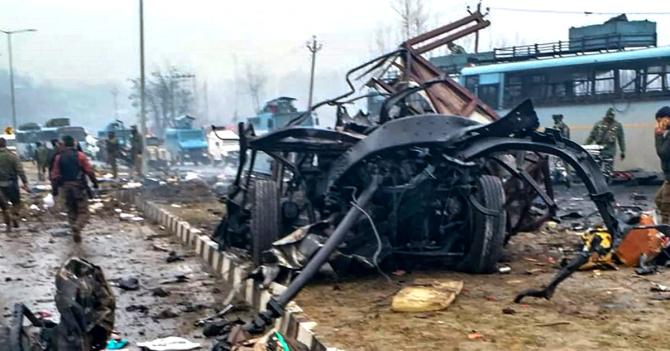 On February 14, 2019, in the worst terrorist attack in recent memory, 40 Central Reserve Police Forces soldiers were martyred when a terrorist carried out a suicide attack in Pulwama.
In retaliation, Indian Air Force aircraft struck terrorist camps in Pakistan, reportedly killing scores of terrorists waiting to cross the LoC.
After winning a decisive re-election in the summer of 2019, Prime Minister Modi took thedecision to abrogate Article 370 that granted special status to Jammu and Kashmir.
The results were dramatic: By the very next year there was more than a 50 percent drop in incident of terrorist violence in the newly created Union Territory of Jammu-Kashmir.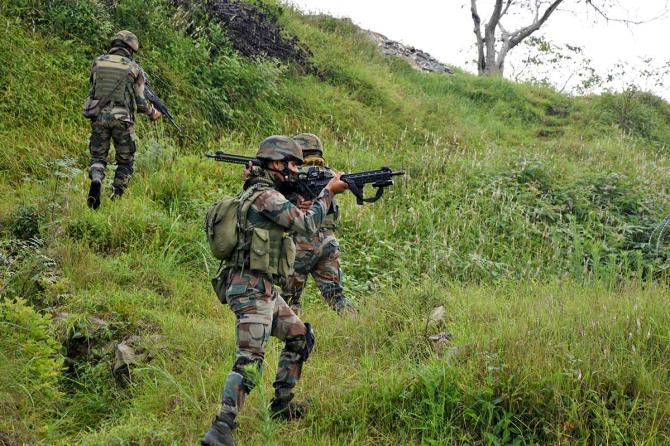 Source: Annual report of the ministry of home affairs
In 2020, there was 244 incidents of terror attacks in which 62 security forces were martyred and 37 civilians lost their lives.
The ministry of home affairs Web site states that 168 terrorists were killed in 2020.
Source: Ministry of home affairs
Data till October 25, 2021
Source: South Asia Terrorism Portal
According to the South Asia Terrorism Portal, there were 206 killings in Jammu-Kashmir in 2018 which fell to 140 in 2020 and to 118 so far in 2021.
Feature Presentation: Ashish Narsale/Rediff.com