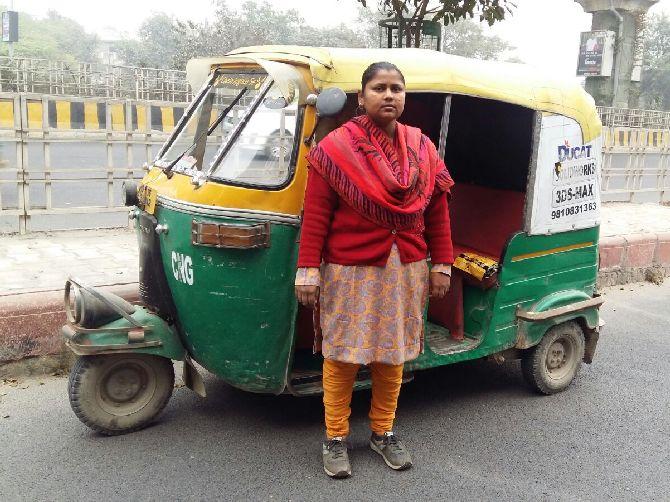 IMAGE: Ruby Singhal with her autorickshaw.
Ruby Singhal is the only woman autorickshaw driver in Ghaziabad, Uttar Pradesh. Her husband also drives an auto. Last month, both their autos were set on fire.
A lesser soul would have given up, but Ruby is determined to buy a new rickshaw. How she does not know, but she is sure she will.
This is her story, in her own words. (With a happy update at the end!)
I am 30 years old and I have studied up to the 8th standard. I have three children, who are in school.
I have been driving an autorickshaw for six years. My husband Ajay Singhal has also been driving an auto for the last three years. The autos were insured. But the insurance company refused to pay us compensation. They told us that the policy does not cover fire; it only covered road accidents.
My husband and I used to run a small shop, but we did not make enough money. So I decided to drive an auto. I bought a second-hand auto. I had Rs 35,000 and my brother also helped me.
I already knew how to ride a scooter and bike, and so it was not very difficult to drive an auto. Those days it was very difficult to get an auto driver's license. Brokers said it was very expensive. I did not know what to do. I just started driving the auto.
One day the road transport officer stopped me. He told me to come to his office the next day. I went and met him and he gave me a license. A local journalist recommended me. Now I am getting a license to drive heavy vehicles.
Three years ago, my husband decided to join me.
The shop and my house were demolished by the municipal authorities as I did not have any documents. I stayed with my elder brother for a while. Now I am staying with my younger brother. He is not married.
I normally drive my auto for six hours a day. If my earnings in that time are not enough, then I drive for a few more hours.
It is difficult to manage my house work and also drive an auto, but I do my best. I leave early in the morning, so house work I do in the afternoon or at night.
I earn between Rs 500 to Rs 600 every day. I normally rest on Sundays, but that is not a rule.
In my profession sometimes it is scary, but I always overcome my fear and continue to work. Sometimes a passenger refuses to pay. When I plead with them, they insult me. At such times I just leave the place without collecting the fare.
My children have not said anything about me driving an auto so far. I don't want my children to become auto drivers. I want to educate them and get them good jobs.
As the only woman autorickshaw driver in Ghaziabad, my name has appeared in the local newspapers. My children like it when my name appears in the papers. They are proud of me. They want to see me on television now.
When woman see me driving an auto they also want to drive. Many have told me that they also want to become auto drivers. I have taught a couple of woman to drive, but they did not like it.
Now my brother gives me his auto for two hours when I ask him. I only ask him sometimes. If I take one on rent, I will have to pay Rs 500 every day. I will have to drive from 7 am to 9 pm to pay that much rent and then earn something for myself.
I am choosy about my passengers. I am very careful about who gets into my auto, so sometimes it is hard to earn.
I don't have any money. Some journalists have promised to help me get a new auto. My husband is trying for a loan. But the banks are asking for a Pan card and IT returns. I can get a Pan card, but I don't know anything about IT returns. I have stopped going to banks to ask for a loan.
The police arrested a man for setting our autos and three small shops on fire. It seems he was drunk. I met the man at the police station. He did not reply when I asked him why he set my auto on fire. He is now in jail. If his family had come, I could have asked for compensation, but nobody came.
No NGO or government official has come forward to help me.
If any young girls come to me and say they want to become an auto driver, I will certainly teach them. Not only will I teach them, but I will also tell them to call me if they have any problem on the road.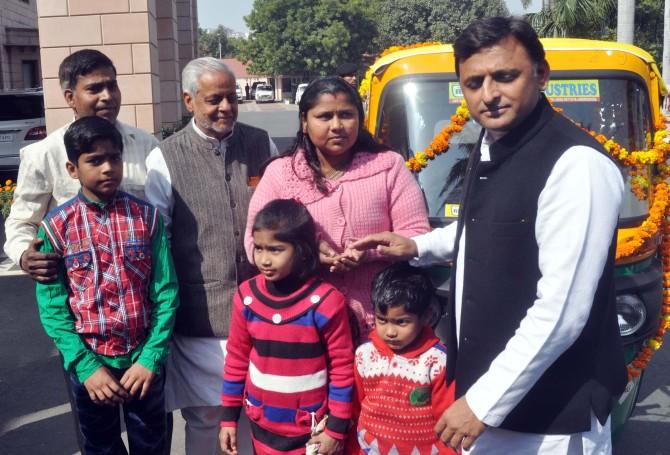 IMAGE: A HAPPY UPDATE! Sandeep Pal, who contributes visual coverage from Uttar Pradesh to Rediff.com e-mailed this photograph on February 14, of UP Chief Minister Akhilesh Yadav presenting Ruby Singhal with a brand new autorickshaw!
I had written a letter to Chief Minister Akhilesh Yadav telling him that I am a poor lady with a family, that I was a rickshaw driver who had lost her autorickshaw when a drunken man burnt it down. The police had arrested the man, so he (the chief minister) must have known it was a fact.
I was pleasantly surprised when he replied to my letter. I was taken to Lucknow to meet him. He spoke to me for a long time. He presented me with an autorickshaw there. He also asked me if I had any other problems.
I told him that I live in a rented house and I did not have my own house. I told him I had written to the district magistrate about this. He said he would help me in that regard too. I hope I get a house in the future.
The UP government delivered the autorickshaw to me in Ghaziabad, I am now using it.
I am very happy and hope more women are encouraged by me and become autorickshaw drivers.
As told to A Ganesh Nadar/Rediff.com