'It is not clear how the NDA government -- including Defence Minister Nirmala Sitharaman and Finance Minister Arun Jaitley, backed by senior IAF officials -- claimed that the 36 Rafale contract with Dassault in 2016 cost the IAF 20% less than Dassault's 126 Rafale offer,' notes Ajai Shukla in the first of a three-part series.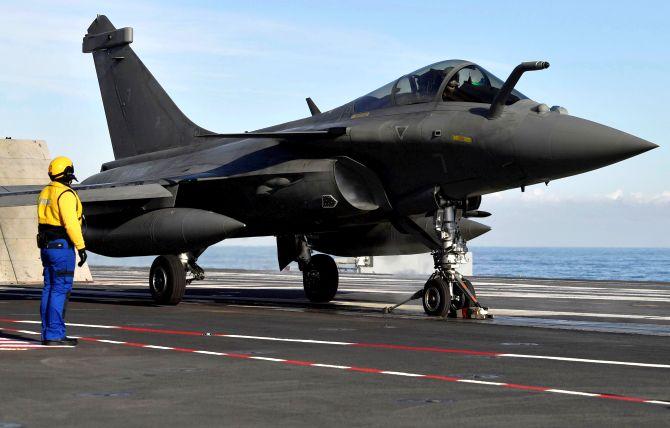 The price per Rafale aircraft that the government agreed in 2016 with French company Dassault for 36 fighters is 40 per cent higher than what Dassault had offered in 2012, in a global tender for 126 medium multi-role combat aircraft.
Two senior defence ministry officials, who were directly involved in contract negotiations with Dassault from 2012 onwards, have said that Dassault's winning bid amounted to €19.5 billion for 126 Rafale fighters.
The €19.5 billion quote averaged out to €155 million per aircraft.
This included the cost of 126 fighters, technology transfer, indigenisation, India-specific enhancements, weaponry, spares and maintenance guarantees.
At an exchange rate of Rs 65:14 to the euro on January 30, 2012, when Dassault was declared the lowest bidder, its price amounted to Rs 1,270 billion, averaging almost exactly Rs 10 billion per Rafale fighter, inclusive of all the above additional aspects.
The MMRCA offer included 18 Rafale fully built in France, and 108 fighters to be built in India by Hindustan Aeronautics Ltd from kits supplied by French vendors, Dassault, Thales and Snecma (renamed Safran Aircraft Engines in 2016). Even HAL's labour costs were factored into this price.
In comparison to that €155 million average cost per Rafale, the National Democratic Alliance government's September 2016 purchase of 36 Rafale fighters for €7.8 billion works out to €217 million per Rafale -- exactly 40 per cent higher than Dassault's 2012 quote.
It is not clear how the NDA government -- including Defence Minister Nirmala Sitharaman and Finance Minister Arun Jaitley, backed by senior Indian Air Force officials -- has claimed that the 36 Rafale contract with Dassault in 2016 cost the IAF 20 per cent less than Dassault's 126 Rafale offer.
These officials have argued that the €7.8 billion cost of 36 Rafale included add-ons like weaponry, spare parts and logistic guarantees. However, the IAF's 2007 tender for the MMRCA -- termed 'Request for Proposals' -- which this reporter has reviewed in detail includes all these enhancements in the 2012 price.
The 2007 RFP stipulates that vendors must price in the 'total cost of acquisition'. This includes the purchase cost of the 'bare bones' aircraft, specified enhancements, weaponry, spares, maintenance and the cost of operating the aircraft for 40 years, including the cost of fuel, oil and lubricants.
The 2007 RfP requires vendors to price seven specified aspects into their bids. These are: a. Direct acquisition cost, or the cost of buying and building 126 Rafales along with weaponry (termed M1); b. Cost of Total Technical Life (TTL) reserves, or the spares needed over the Rafale's service life of 40 years (M2); Cost of reserves for ensuring availability of 75 per cent of the fleet at all times (M3); Cost of intermediate level periodic servicing (M4); Cost of depot level overhaul (M5); Operating cost of the fleet for 40 years (M6) and the cost of technology transfer for building the Rafale in India and for other technologies specified in the RFP (M7).
Appendix F of the RfP mandates that the 'total cost of acquisition' (M8), would be arrived at by adding all seven aspects above -- M1 to M7.
The vendor with the lowest 'total cost of acquisition' would be declared L-1, and would be awarded the contract.
In fact, the difference between the two bids is greater, since the 126 MMRCA bid involves building 108 fighters in India, which adds to the cost.
In contrast, the 18 Rafales that were to be supplied in flyaway condition would cost significantly less.
While the price Dassault quoted for the 18 fully built Rafales is not known, an estimate can be obtained from the pricing of the Sukhoi-30MKI.
About five years ago, a Sukhoi-30MKI built in Russia would cost below Rs 3 billion, while the same built by HAL in Nashik would cost the IAF about Rs 4.50 billion -- a 50 per cent mark-up for indigenisation.
Dassault's €19.5 billion quote remained valid at the time Prime Minister Narendra Damodardas Modi announced in Paris on April 10, 2015 that he had requested then French president Francois Hollande to supply 36 fully-built Rafale fighters in a government-to-government arrangement.
In February 2015, at the Aero India 2015 show in Bengaluru, Dassault chief Eric Trappier confirmed: 'Our pricing remains the same from Day One of L-I (lowest bidder). So there has been no change on that front.'
Stipulations in the 2007 RFP impose several additional requirements on the vendor.
The 126 Rafale fighters were to comprise of six independent squadrons of 18 fighters each and 18 additional reserve aircraft to cater for losses. They were to be based in three main operating bases, each housing one squadron.
Appendix F of the RfP specifies: 'Each squadron would be required to operate two independent detachment of six aircraft for a period of 30 days at a time while continuing operations from the parent base'.
The bid price is required to include the cost of spare parts, ground handling equipment and ground support equipment needed for these operations.
Paragraph 45 of the RfP requires the vendor to 'confirm his willingness to provide the aircraft for field evaluation in India on No Cost No Commitment basis'.
Eventually, the six vendors ended up spending in the region of $50 million each on fielding and marketing their aircraft.
Even so, the government eventually cancelled the MMRCA tender and went in for a government-to-government purchase of 36 Rafale fighters on September 23, 2016.
Now, the IAF is preparing a fresh RfP for 110 medium fighters, in which the same vendors are expected to participate.