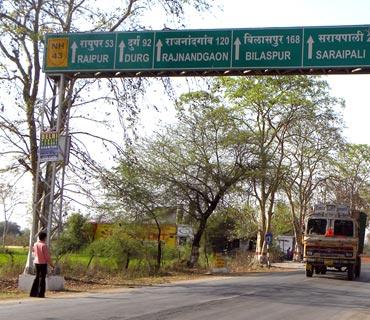 Caught between the Naxalites and forsaken by her villagers, a young girl tries to come to grips with a new life after she left the Naxals.
It is the penultimate day of Navratra, the nine religious days in the Hindu calendar before the onset of summer, and Geeta is fasting. Every day she reads the Ramayana for an hour in a corner of the room dedicated to the Gods. Having taught herself to read and write only recently (she is in her early 20s), the young girl practices reading primarily through religious texts.
Geeta did not go to school. Her father died when she was a child; her mother abandoned her, leaving the girl at the mercy of relatives in the village.
Instead of going to school, Geeta cooked, cleaned, ran errands and was often ill treated by the relatives. With no end to her misery for several years, Geeta saw hope in the Naxalites and joined them as a teenager.
She worked with the Naxals for a few years, travelling from village to village, telling villagers how they had been failed by the government and espoused Mao Zedong's ideology. Her other duties included guarding Naxal camps in the jungles and working in their camp kitchens.
"I left them because my health was not good," she says. "I had joined because I saw such hardship in my home in the village," after a slight pauses, she continues, "You (the government) can't fight them and they can't fight you. It's the poor that get crushed in this battle."
Stalked by poor health she left the Naxals and returned to the village where she was met with hostility. Then one day, she surrendered to the police, which eventually inducted her as a special police officer to assist with information about the Naxals. Her knowledge of the Gondi language spoken in the area, the terrain and information about Naxal officials provided vital inputs to the police.
Now she does not want to do that any more.
"I don't want to work in the police because I don't want to make any more enemies. I can't go back to my village -- I have enemies on both sides -- villagers on one side and Naxals on the other," she says with a laugh tinged with sadness.
Determined to teach herself how to read and write, she reluctantly shows the notebook in which she practices handwriting and reads haltingly with a child-like shyness. "Hamare desh mein alag alag roop ke paehanave hai (There are various kinds of attire worn by the people of our country...)
Geeta hopes to find some other kind of work, not knowing exactly what -- a friend says she has shown interest in Chhattisgarhi folk theatre. At the moment, she spends her days studying, doing puja and watching television.
On the request that her identity is not revealed, she spoke to rediff.com about her life with the Naxals and how it has been since she crossed over.
"My relatives used to ill treat me. I was never sent to school. Since there was no one to look after me, I went to them (the Naxals). I did not know too much about them at that time. They did not come and take me forcefully, I joined them out of my own choice because life was very tough for me.
I liked my early days there. I did guard duty with a 12 bore rifle and wore a uniform. I was sent to collect rice etc from villagers. The villagers knew we would come and kept it ready. The villagers used to help them. I used to talk to the children in villages and held meetings with them. I did whatever they (the Naxals) asked me to do.
I had been trained to use the rifle. I underwent training twice. First they taught us by holding a stick as a gun for practice. I did not go for operations, my work was doing guard duty, looking after children and the kitchen.
I used to guard the camp. Then I used to inform villagers about the meetings that were to be held. We told them that the work of the government was not good, that they should join us and cooperate with us.
I used to go from village to village telling children that they should inform us when the police came. We also gave them PT, exercise training. There were no schools in the villages we went to. For two years I worked with balak log (children) in the villages. When I went to villages, we held meetings for at least three hours. We went to 3, 4 villages in a day.
The Naxals also gave me kitchen duties. There was not much rest there.
Earlier I did not know that they (the Naxals) killed. I joined them because I saw such hardship in my home. It is a confusing situation, they get killed by the police. You can't fight them and they can't fight you. The poor suffer in this battle. I realised this when I came back. I don't trust anyone now.
People in the village and my family all knew that I had gone to them. After I returned, I stayed in my village for two years. The villagers were hostile to me for coming back and said bad things to me. Two years after I returned, I surrendered to the police.
I left (the Naxals) because I wasn't keeping good health. The udharwale (Naxals) had a meeting and asked me why I wanted to leave, I told them I did not want to work with them. At that time I had a bad eye problem and could not see properly.
Recently I was in the hospital for 15 days, now I am okay. The eye problem is not yet fixed fully.
For three years I worked for the police. Since I speak Gondi (the language spoken by the tribals in the area), I helped the cops and assisted them in identifying Naxals. Now I don't want to work with the police any more. It has been a month that I haven't gone for work. I don't like it, I don't like going for patrols in the night.
In the police I don't like nabbing people, that's why I wanted to leave. I had to identify the Naxals, show the police the route in the jungle.
I want to do something that is not connected with my past at all.
I will not get married. All I want at the moment is get my eyes fixed. I don't want to work, don't feel like. I want to study, that is why I am teaching myself to read and write.
My brothers still live in my village. They are all married. They do not meet me. Where will they meet me? My villagers keep getting picked by the police and are also threatened by the Naxals. My village has got destroyed between the Naxals and the police.
I can't go back to my village, I have enemies on both sides -- the villagers on one side and the Naxals on the other (laughs). But still the present is a little better than the past. Now I want to do some other work. I don't want to work in the police because I don't want to make enemies any more."
Image: The highway linking Bastar, the Naxal-affected region, to Raipur, the capital of Chhattisgarh. Photograph: Seema Pant