'It's the first-ever US presidential visit which is specially planned for India.'
'The standalone visit itself has achieved something already. Don't underestimate it.'
Sheela Bhatt gives us an exclusive glimpse of what the Modi government hopes to achieve from Trump's visit.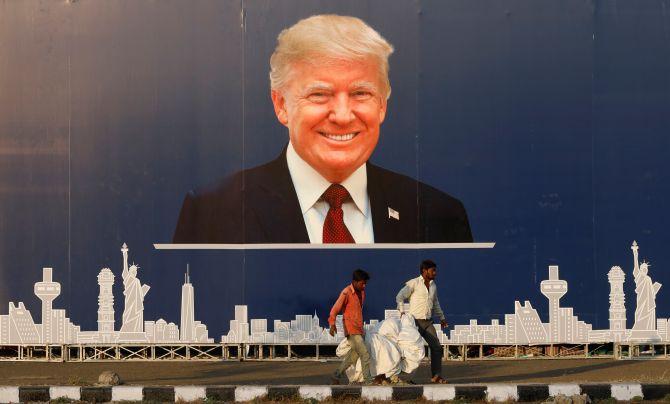 "I assure you this is the trip when you will have one defining photograph of Prime Minister Modi and President Trump. I can't say now where, when and how. But that image will speak volumes than any other deals or agreements done or not done," a high level source in the government, a pivotal member of the group trying hard to make the Trump visit successful, tells Rediff.com.
The Modi government, as expected of it, is showing confidence that all arrangements are in place including the management of drawing huge crowds for the Trump-Modi road show in Ahmedabad on Monday afternoon.
"Forget about mathematics or trade or defence. Talk chemistry! Chemistry ab badhega!," declares the high-level source. "When any country's presidential or prime ministerial visit takes place, how do you rate its political success? One of the ways is by assessing the chemistry between the VIP guest and the head of the government of the host country. Both leaders have that and this visit will enhance the chemistry between Modi and Trump."
"By all accounts, the Trump visit is political more than anything else. Politics drives everything in both regimes," says former foreign secretary Kanwal Sibal. "There are serious trade differences, but the strategic partnership can develop still."
"Trump's visit is sending the right geo-political message to our neighbouring countries when there are movements within India against the government," adds Sibal.
"In short," says the highty placed government source, "The Modi government is looking at the Trump visit as the relationship that is going smoothly will visibly get stronger when he leaves India on the evening of February 25."
"It's the first-ever US presidential visit which is specially planned for India," the highly placed government source points out. "The standalone visit itself has achieved something already. Don't underestimate it. The message has already spread."
The geo-political message is that America has decided to have a full blown and exclusive visit of its president and his family soon after major political decisions with huge ramifications like dilution of Article 370 and amendments to the all-important Citizenship Act.
"President Trump has a personal political gain in mind too," explains Chidananda Rajghatta, the Washington-based diplomatic editor of The Times of India.
"Aside from the geo-political messaging of support to India," Rajghatta points out, "Trump will also hope to derive some political advantage back home. Indian Americans don't constitute a big voting bloc, but even in small numbers they become important in swing states such as Michigan which Trump won by a mere 10,000 votes in 2016."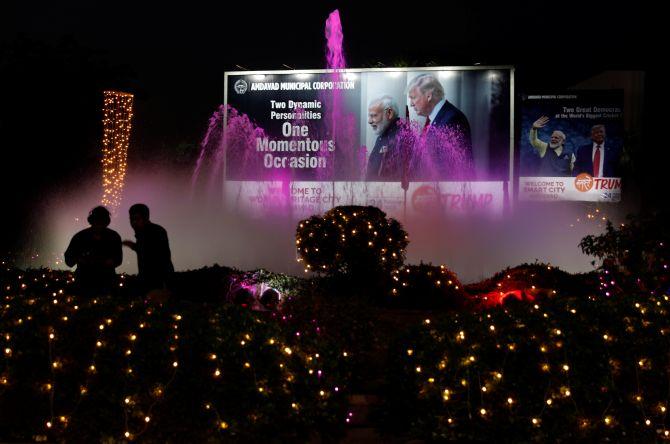 "This visit is all about political messaging," notes a retired senior diplomat who has worked closely with Prime Minister Modi in the past. "By having a standalone visit to India, Trump has -- if not exactly endorsed -- surely ignored decisions like Article 370 and CAA."
"There will be customary remarks and public questions over it, but that's it. America gave support to India at time of the Pulwama terror attack. There is highest-level intelligence co-operation. The military component ($18 billion in the last decade) and energy trade (in 2016, US energy exports to India grew 500% to nearly $7 billion) is expanding," highlights the retired diplomat.
"For India, it is the most important bilateral relationship. From 1998 to 2019, both sides have maintained steady forward movement. Not even the detractors can ignore that fact. India has a favourable trade balance with America. A rare feat," he adds.
"India enjoys bipartisan support in Washington. Notwithstanding a few recent negative remarks from Democratic leaders, India is confident that broadly America has tilted towards India due to its strategies in the Indo-Pacific and due to China."
"The new 2+2 dialogue of Indian and US defence and foreign ministries is an American idea," reveals the retired diplomat. "It is helping sort out issues without circumventing it for long. Both sides are less bureaucratic now, if and when they want to."
America and India have serious trade difference on agricultural products and dairy products and also on high-cost two wheelers like Harley-Davidson motorcycles. It is definitely advantageous to India that in spite of such a high profile visit, trade negotiations have not been completed in time. An inconclusive trade agreement means India has not yielded to American pressure, yet.
Three companies are competing in the Indian market to sell 5G technology. The US wants India to avoid Huawei, the Chinese monolith, and select either Ericsson or Samsung.
Also, India has sensitive, well-established and pragmatic relations with Iran. Since last year due to American-led sanctions, Iranian gas imports to India is down to nil. This affects Indian interests.
However, these are big issues and Trump's visit is not the event to decide it. America and India have both conducted many bilateral rounds of dialogue round the year where the respective positions of both countries regarding China and Russia have been made known. Prime Minister Modi has surprised many in the last six years by keeping India-Russian relations on steady ground. The Trump visit, therefore, will matter mainly in providing optics.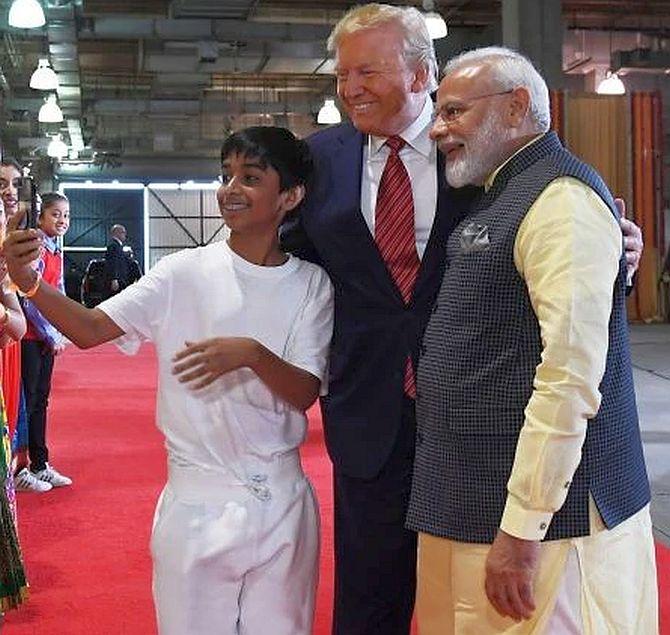 The Modi government is hyping up the personal chemistry between the Indian prime minister and American president. There is a method behind it. Both leaders have shaped up personalised diplomacy with a sharp political purpose.
Modi has likely cracked the Trump code. He is playing on Trump's sentiments, something Modi understands well. Both men confront political and personal accusations and derision within their countries. Both are self-made men with large egoes. Both have come to power winning a democratic election. Both have mercilessly taken head-on their enemies, adversaries and competitors.
Modi has, over the years, demonstrated his knack to judge people as his relations with Nepal's Left-leaning leader K P Oli demonstrates, say a retired diplomat who has prepared many briefs on world leaders for Indian prime ministers when he was in government.
The Trump-Modi chemistry is also because both leaders believe that the projection of their selves and their views is necessary to maintain their leadership position abroad and within their country. Of course, this projection of themselves have captured the imagination of their core supporters.
Both Modi and Trump are intense men in public and in private and both run their politics on the basis of the 'Nation First' slogan.
Asked, if in spite of the so-called chemistry, if Trump likely to repeat his proposal to mediate in Kashmir, the retired senior diplomat says, "On Kashmir, India and Modi can absorb much more than comments here and there by visiting dignitaries."
Asked if India should expect Trump to offer to mediate on Kashmir again, a senior administration official of the US state department, said, 'I think what you'll hear from the president is very much encouraging, a reduction in tensions between India and Pakistan, encouraging the two countries to engage in bilateral dialogue with each other to resolve their differences.'
'We continue to believe that a core foundation of any successful dialogue between the two countries is based on continued momentum in Pakistan's efforts to crack down on terrorists and extremists on its territory. So we continue to look for that," the state department official said, while briefing the media in Washington, DC, on the eve of Trump's visit.
'But I think the president will urge both countries to seek to maintain peace and stability along the line of control and refrain from actions or statements that could increase tensions in the region,' the state department official added.
Many government sources who are in the know of things tell Rediff.com that the Modi government has a "closed mind" on issues related to Kashmir. So, foreign governments know well that the Modi government is unlikely to change track on what it has done and plans to do in the Kashmir valley.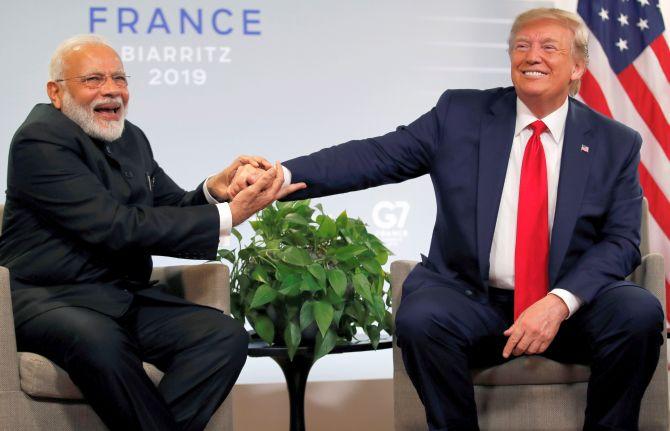 Asked specifically how the chemistry between Modi and Chinese President Xi Jinping and Modi and Trump got established, the afore-quoted senior diplomat says, "Prime Minister Modi picks the traits of the visiting leader correctly when he is briefed on them."
The diplomat cites the example how America is lately understanding that there is a necessity to listen to Indian arguments for a 'Make in India' initiative in the defence sector. If the US and India agree to a joint venture and manufacture American defence equipment in India, then it will be certainly cheaper than America.
Also, due to cost effectiveness, China and Russia are able to increase their export of weapons and defence equipment to far many countries now and through it they are able to influence their international diplomacy.
To compete with them, the joint venture in India is more desirable for America.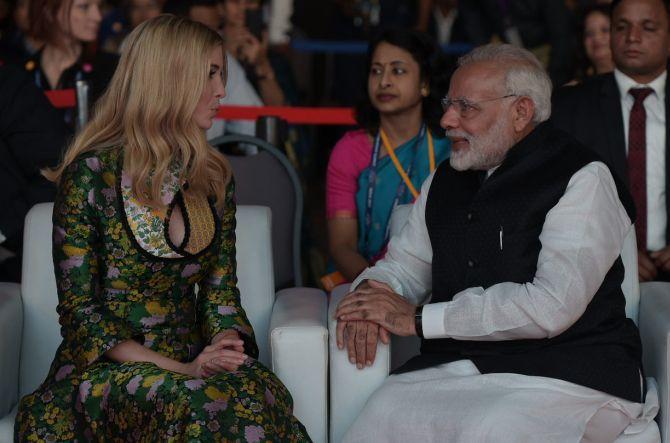 The most important signal of the Trump visit's significance to the American establishment is visible in the list of visitors accompanying the American president or POTUS, as he is referred to by the US secret service that protects Trump and his family.
Trump arrives in India with his wife Melania, his daughter Ivanka and son-in-law Jared Kushner.
Ivanka, reportedly the favourite of Trump's five children, is officially assistant and advisor to the US president while her husband Jared, who hails from a wealthy New York Jewish family, is assistant and senior advisor to Trump.
Also, don't miss one name in the list of VIPs -- which includes three secretaries -- accompanying Trump. In Trump's regime, policy wonk Stephen Miller -- who got married last week -- is assistant to the president and senior advisor for policy. Miller, 35, drives Trump's hardline immigration policies and politics and influences Trump at many levels.
With almost all important core members of Trump's regime, including newly appointed National Security Advisor Robert O'Brien, on board, the burden of making the American president's India visit successful is shared equally on both sides.
The script, with commas and all, is written backstage.
Relax and watch the grand perfomances on the actual stage in Motera and at the majestic Taj Mahal.