Thousands of villages in Maharashtra's Marathwada region have been devastated by the worst drought in a century.
Thousands of villagers have fled Marathwada hoping to find some form of livelihood in cities like Mumbai.
Syed Firdaus Ashraf/Rediff.com reports on the dismal state of 'refugees' in the big city.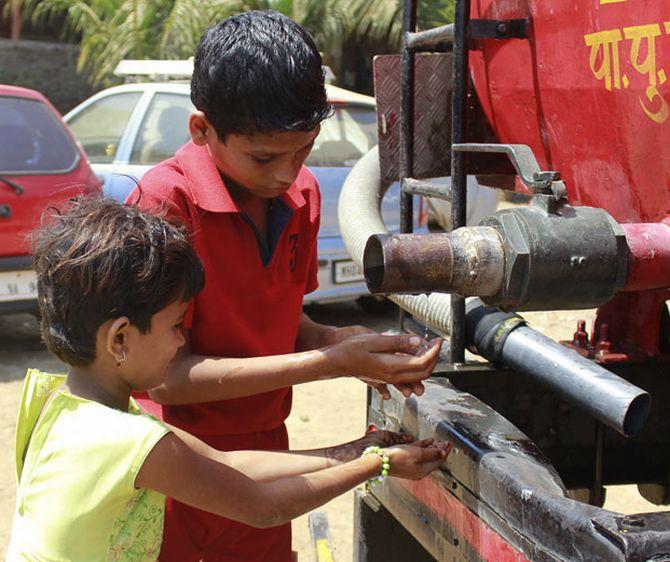 IMAGE: Children rush to the water tanker. All photographs: Hitesh Harisinghani/ Rediff.com
As the water tanker arrives at Ramji Maidan at Ghatkopar, north-east Mumbai, six-year-old Priyanka Pratiksha runs to fetch water with other children.
Priyanka is happy to see water trickling from the tanker's tap and eagerly awaits her turn to draw water.
"I have never seen such a big water tanker coming to my village," she says.
Priyanka and her family migrated to Mumbai from Khed village in Nanded, fleeing the terrible drought that has affected the district.
Nanded, which neighbours Latur district in Marathwada, has suffered the worst drought in a century.
Beyond the boundary of the Ramji Maidan, where one can see children playing cricket in the scorching heat, families like Priyanka's have found shelter whilst hunkered under temporary sheds.
"We have no option but to live under these sheds," says Baban Dhandoba Jadhav, a farmer from Nanded.
"There is no water in the entire district of Nanded. The Godavari, which flows near our village, has dried up. A man can live without food awhile, but without water it is impossible to find sustenance. We had to move out and take shelter in Mumbai."
Jadhav moved to Mumbai in January, but several of his acquaintances moved out much earlier.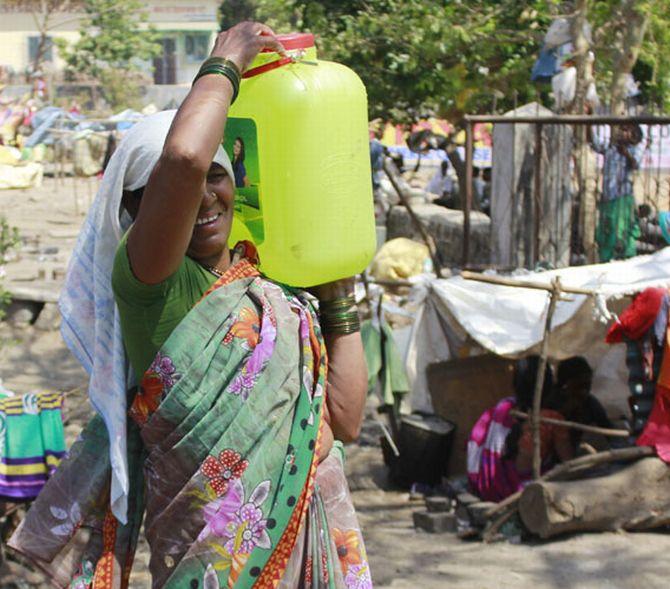 IMAGE: A woman fetches water from the tanker.
"I had one cow, a calf and a goat. All three died for want of water," says Jadhav. "I could not provide them enough water to drink. I moved here a month ago. I am not sure what the future holds for me and my two children."
"I moved to Mumbai in October because I knew there would be a massive shortage of water," says Shivaji Chavan, another farmer. "There was hardly any rainfall in our district. I had to leave my farm. There was no way I could survive on farming. I had planted jowar and moong seeds, but the rains didn't arrive. My entire crop was destroyed because of lack of water."
The men folk harboured at Ramji Maidan leave early in the mornings in search of employment and if they are lucky to get some work return late at night.
Most of them do odd jobs or work as day wage labourers. If they find work they may earn around Rs 300 a day.
"What option do we have?" asks Chavan. "We are waiting for the rains. The day it rains, we will go back to our villages. We are not used to this city life. We don't like living in this slum, but we have no option."
He then points to several pigs roaming around.
"These pigs destroy our belongings in the night," he says. "We hide our belongings on the branches of trees from these pigs. No one is bothered to know how we are living in this hell."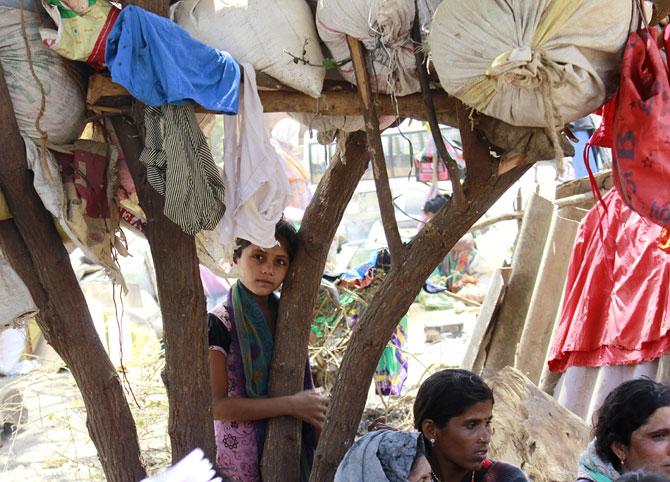 IMAGE: Many of the displaced children were forced to leave school.
The 'refugees' from Marathwada are currently staying on Brihanmumbai Municipal Corporation land, Ravindra Chalke, a local social worker, tells us and regular water is being supplied to them by the BMC.
"We have ensured that the BMC provides water to them through tankers on a daily basis. Every day they get 5,000 litres of water from the BMC for free," says Chalke. "Some political parties are also helping them in these times of distress."
Very disheartening is the fact that the children dropped out of school to come to Mumbai.
"I play the whole day," says Amol Rathod, a Class 9 student. "I don't know how to kill time because there is nothing to do. I came here in January and no school here was willing to give me admission because I did not have documents."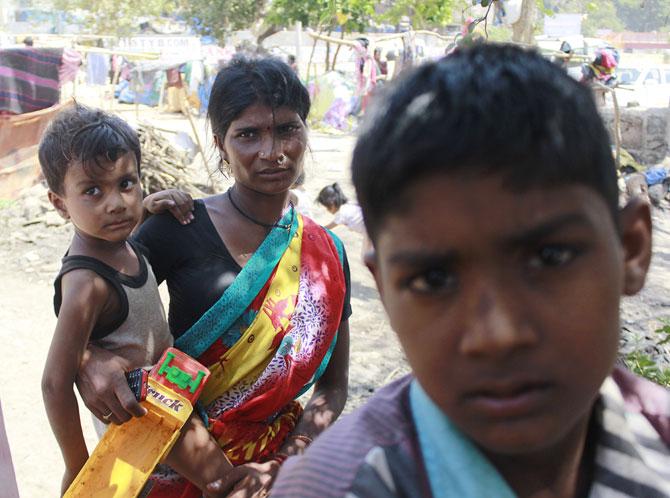 IMAGE: Several farmers lost their cattle to the drought, forcing a Mumbai-bound migration.
"It is not the first time people have migrated out of Nanded," savs Manisha Lalsingh Chavan. "This year, the situation is much worse and many came here in October itself."
"I have permanently migrated to Mumbai," she says. "I don't want to go back to Nanded because you never know which year it will not rain. There is no water to drink and I don't want to ever live in a situation like that."
Manisha works as a house maid at different homes in Ghatokpar and pays a rent of Rs 2,000 a month for a home in a nearby slum which has electricity and water supply.
"I am telling them that there is no future left in Nanded," she says, "and they must migrate permanently to Mumbai or else they will die of thirst."
Not a single migrant we spoke to had heard of the Mahatma Gandhi National Rural Employment Guarantee Act. When asked about MNREGA, one farmer takes out his Aadhar card and asks, "Are you talking about this?"
"We are poor people. We don't know about these government schemes," says Shivaji Chavan. "Many of us who got this (Aadhar) card had to bribe government staff to get it."