For all the controversy, the concept of prominent First Children is not novel in democracies.
So why is Donald Trump's daughter different and discomfiting?
Kanika Datta has the answers.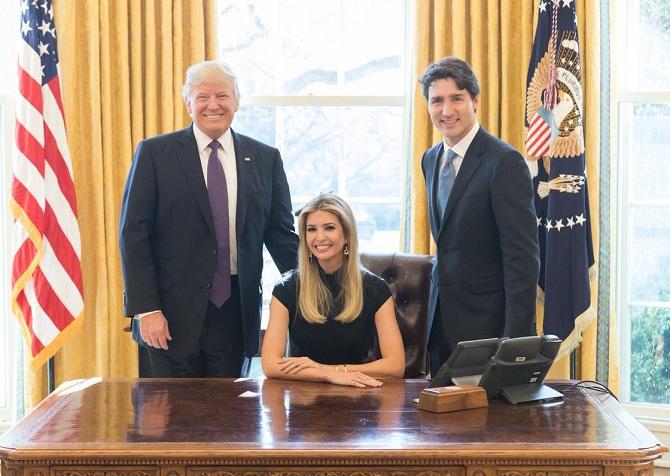 IMAGE: Ivanka Trump's tweet of her with a seat at the table in the Oval Office during Canadian Prime Minister Justin Trudeau's visit to the US raised eyebrows.
Photograph: Kind courtesy @IvankaTrump/Twitter
The elevation of Ivanka Trump to the nebulous position of 'Assistant to the President', with a West Wing office and security clearance, raised a storm among Western commentators but attracted little comment in Asia, where politics is pretty much, sometimes literally, a family business.
But something about this trendy First Daughter is discomfiting.
For all the controversy, the concept of prominent First Children is not novel in Western democracies, but most had responsibilities without power.
None have held Ivanka's unique 'unofficially-official' position of power without responsibility.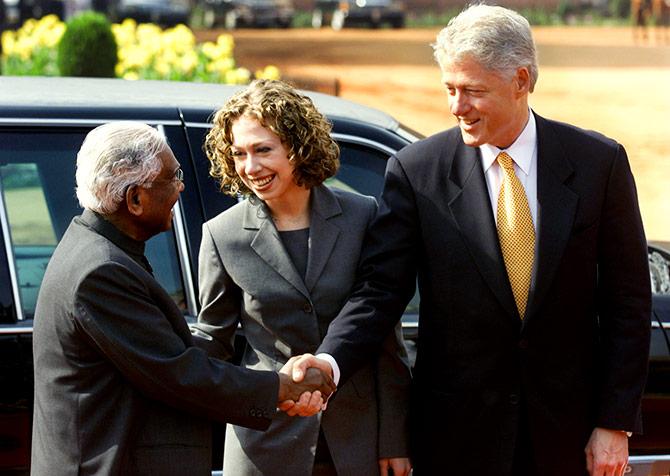 IMAGE: Then US President Bill Clinton and his daughter Chelsea are welcomed to Rashtrapati Bhavan by then Indian President K R Narayanan, left, March 21, 2000.
Photograph: Kevin Lamarque/Reuters
Chelsea Clinton, for instance, accompanied her father on his trip to India -- the first United States president to visit the country in 22 years -- in 2000.
She had no official status, but everyone knew she was filling in for her mother in the aftermath of the Monica Lewinsky scandal.
The Bill and Chelsea Platter on the Bukhara menu at Delhi's Maurya Sheraton where they stayed is a lasting reminder of a visit during which Bill wowed everyone.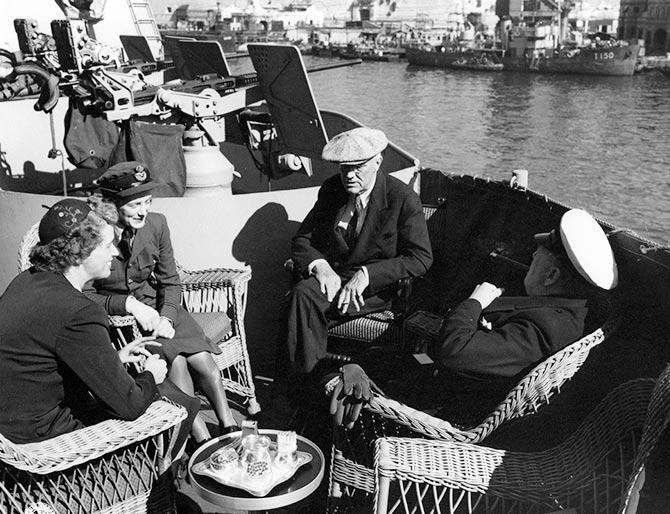 IMAGE: When then US president Franklin D Roosevelt, back right, and then British prime minister Winston Churchill, front right, met aboard the USS Quincy before the Yalta Conference in February 1945, they were accompanied by their daughters Anna, back left, and Sarah, front left, respectively.
Photograph: Kind courtesy FDR Presidential Library & Museum
More than half a century earlier, another First Daughter filled in for her parents' shaky marriage.
This was Anna Roosevelt, Franklin D Roosevelt's only daughter, who frequently played White House hostess.
Her parents' estrangement -- due in part to her handsome father's serial womanising -- kept her accomplished, activist mother Eleanor on tour as often as possible (the couple remained extremely proud of each other, however; their marriage bore no resemblance to the Donald-Melania union).
Anna's role attracted little comment. But the presence of the two of Roosevelt's sons, Army Air Officer Elliott Roosevelt and naval officer FDR junior, at the famous Anglo-American conference at Placentia Bay in 1941 created an uproar.
This was the famous meet at which the Atlantic Charter was signed and from which the press was excluded. FDR had arranged the reunion with his sons, but claimed it was coincidence.
At any rate, Elliott's presence wasn't redundant. He literally provided the muscle that helped his polio-crippled, 6'2" father stand when he greeted Winston Churchill, practising weightlifting to build his strength.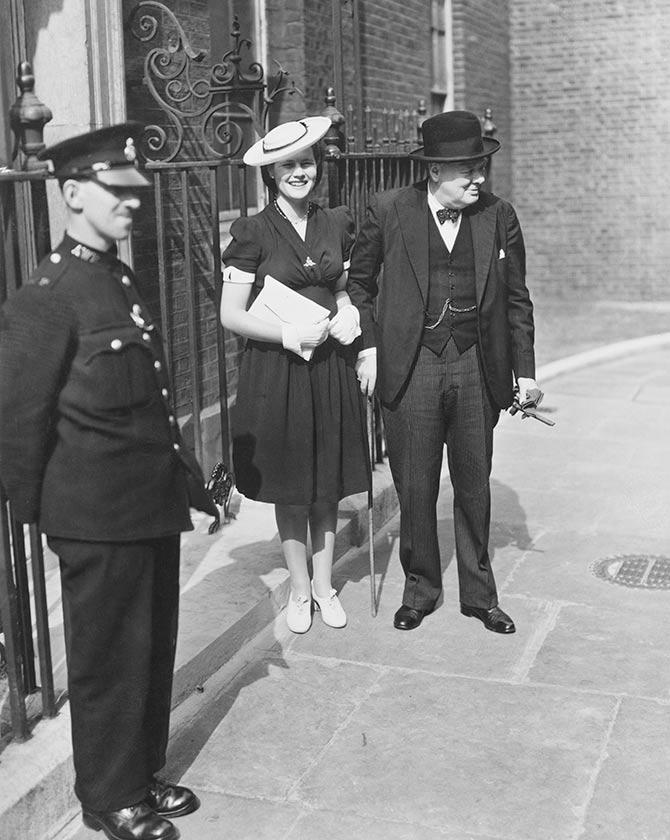 IMAGE: Churchill with his youngest daughter Mary outside 10 Downing Street, July 1942.
Photograph: Topical Press Agency/Hulton Archive/Getty Images
Churchill, too, often blurred the lines between the filial and the official.
Mary Churchill, then a member of the Auxiliary Territorial Army, accompanied her father as his aide-de-camp on several war tours, including to the White House and the Potsdam Conference with Harry Truman and Josef Stalin.
The bubbly Mary was the second of the Churchill daughters to meet the Russian dictator. At the Tehran Conference in 1943, he had met her stunning older sister Sarah who had accompanied her father as an aide.
A photo of him gallantly jumping up to greet Sarah while the Allied brass looks on indulgently marks a (very) rare display of Stalin's charm.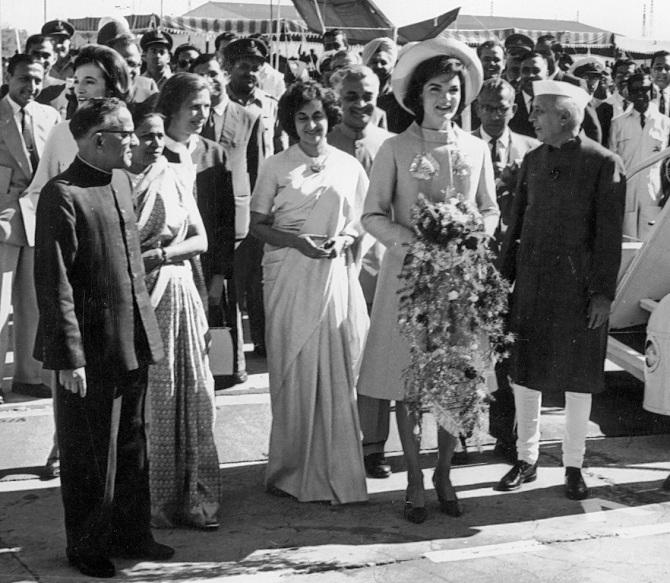 IMAGE: After her mother's death, Indira Gandhi often played hostess for her father, then prime minister Jawaharlal Nehru -- including when US First Lady Jacqueline Kennedy visited India in March 1962.
Photograph: Kind courtesy US Embassy New Delhi/Flickr
In Asia, several First Daughters have openly leveraged their fathers' legacies to rise to power -- Benazir Bhutto, Sheikh Hasina, Aung San Suu Kyi and Indira Gandhi being prominent examples.
Jawaharlal Nehru's widower-hood had catapulted Indira into the role of hostess and enabled her to imbibe the intricacies of prime ministership first hand.
One American First Lady -- Jackie Kennedy -- left a memorable portrait of those days. Indira, she said, was a 'bitter, pushy prune.'
Photos of her visit in 1962 confirm the poor vibes between the two (Indira's father's blatant admiration for Jackie must have had something to do with that).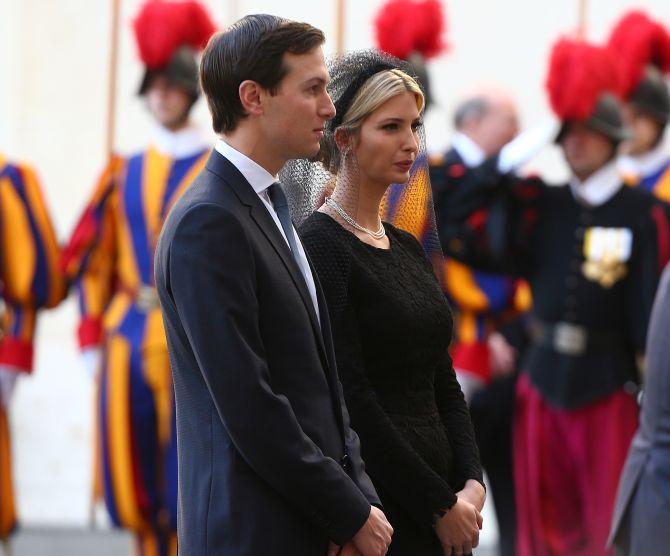 IMAGE: Ivanka Trump and her husband Jared Kushner accompanied US President Donald Trump on his visit to Pope Francis.
Both Ivanka and Jared have disconcertingly broad-based roles in the White House.
Photograph: Alessandro Bianchi/Reuters
Ivanka is another issue altogether.
Her White House office is one aspect; the distinctly creepy nature of the father-daughter relationship is the other.
Her father once told two TV anchors that if Ivanka weren't his daughter he would date her, smirk, smirk.
'Eew,' responded the anchors in open disgust, as the daughter concerned simpered at his side.
The contrast with the wholesome relationship between Chelsea and Bill, the Bush twins and George or the Obama girls and Barack was stark.
And then, there's this awesomely broad-based role assigned to Ivanka's husband and realtor of questionable talents: From West Asian peace (we saw how that played out this week) to restructuring the government (good luck with that one).
This would be familiar in India, where we once had a First Adopted Son-in-Law (daamaad), Ranjan Bhattacharya, in the Vajpayee PMO who may not have been allotted such weighty responsibilities but certainly enjoyed untrammelled influence via his access to power.
Finally, there's the running joke about the First Daughter's fabled moderating influence on her wayward father.
She's a proclaimed feminist; her father is passing policies that cruelly constrain women's rights.
She's a climate change believer, even having Al Gore meet her father; only to have Dad lift restrictions on fossil fuels.
She had Zeke Emanuel, an architect of Obamacare, meet her father; and there's a Bill in Congress that will deprive millions of their medical insurance.
Two inane books, a worldview unassailably anchored in entitlement, few hints of intellectual depth and serious conflicts of business interests.
All this bears an uncanny resemblance to an inheritor in Indian politics.
The only difference is that her father is in power; his mother isn't.