'I believe one of the most critical issues is the common threat we face from Islamist radicals and the continuing and unimpaired financing of Al Qaeda, the 'D' Company, the Haqqani network, the LeT and the Jaish-e-Muhammed.'
US Congressman Ed Royce discusses the agenda for his India visit with Aziz Haniffa/Rediff.com in an exclusive interview in Washington, DC.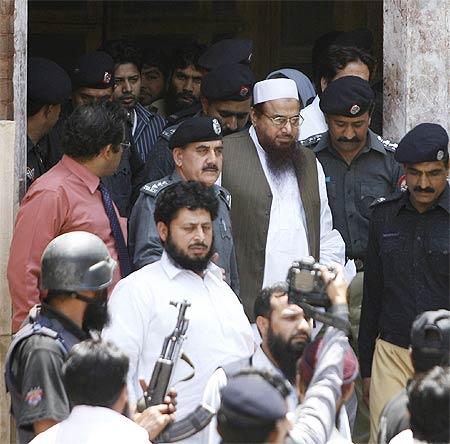 Image: Lashkar-e-Tayiba founder Muhammad Sayeed leaves a Lahore court. Photograph: Mohsin Raza/Reuters
United States Congressman Ed Royce, who chairs the powerful House Foreign Affairs Committee, leads a bipartisan Congressional delegation to India that arrives in New Delhi on March 7 on a three-day visit for meetings with Prime Minister Narendra Modi, ministers and other officials.
In an exclusive interview with Rediff.com, just before the seven-member delegation, which also includes US Congressman Dr Amerish 'Ami' Bera -- the only Indian-American lawmaker in the US Congress -- left Washington, Royce said the focus of the visit would be counter-terrorism though he would also exhort Modi and his senior aides to eliminate the red tape that inhibits US-India trade.
Besides discussions with Modi, the delegation will meet Finance Minister Arun Jaitley, Defence Minister Manohar Parrikar, National Security Advisor Ajit Kumar Doval, Home Minister Rajnath Singh and External Affairs Minister Sushma Swaraj.
Explaining why counter-terrorism cooperation would be the top priority item that would dominate their discussions, Royce said, "We have got to stem the flow of radical Islamists in relation with some of the neighbouring states and India's tough neighbourhood there."
"I believe one of the most critical issues is the common threat we face from Islamist radicals and the continuing and unimpaired financing of Al Qaeda, the 'D' Company, the Haqqani network, the LeT (Lashkar-e-Tayiba) and the Jaish-e-Muhammed."
"This," Royce argued, "poses a serious concern to the security of both the United States and India, especially in the context of the withdrawal of the coalition forces from Afghanistan."
"I am going to talk to the prime minister about that issue and the added concern that we have with the announcement of an Al Qaeda in South Asia by Ayman al-Zawahiri and the emergence of ISIS. These are causes of deep concern and he is one leader who understands the depth of this problem."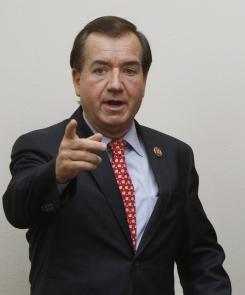 "The use of fake charities, businesses, the use of hawala and trade-based money laundering outfits from the Gulf States to transport funds to finance terrorist operations in India and South Asia," Royce, left, said, "that is a grave threat to regional security."
"So, we need to have a dialogue about how to put an end to that, and we need to have a dialogue about what to do about those 600 Deobandi schools that are still funded in Pakistan's education system," he added.
"As I have shared with you, I can vividly remember staying at the Taj hotel in Mumbai on several occasions and visiting after the (26/11) attack and the feeling on the grave threat that we continue to face was palpable then and we need closer cooperation because the money from the Gulf States continues to pour in to support those bastions of radicalism and it is a grave threat to India," the Congressman added.
Royce, an erstwhile co-chair and a founding member of the Congressional Caucus on India and Indian Americans, said, "We cannot be satisfied in the United States with only $100 billion in trade between the US and India when there is over $500 billion in trade with China."
"We should be trading more with India because with India, we have shared values and not just the rule of law, but also a democratic system and the respect for individual rights."
"These lopsided numbers mean a missed opportunity for millions of people living in India and America, who are itching to start businesses, invent products, and create better lives for themselves and their families."
"And this would be easier if only our two governments, India and the United States, would cut through this unnecessary red tape, which represses India's private sector and stifles bilateral trade."
"It takes an average of 80 permits -- as (US) Ambassador (Richard Rahul) Verma recently cited -- to build a hotel in India, while only six are needed in Singapore."
"The average wait time of nearly four years to resolve commercial disputes scares off those who would otherwise invest in India," he added.
"These are the points that we want the US and Indian officials to work with," Royce said, and noted, "reducing the number of days to start a business and improving protections for minority investors would be a good start. Promoting US trade with India in part by increasing intellectual property rights protection."
"So, that's going to be my job to push that along with simplifying tax bureaucratic hurdles in going to be crucial."
He said the he would try to persuade Modi to help "overcome some of these bureaucratic impediments and bring the same kind of leadership that he brought to Gujarat to the country."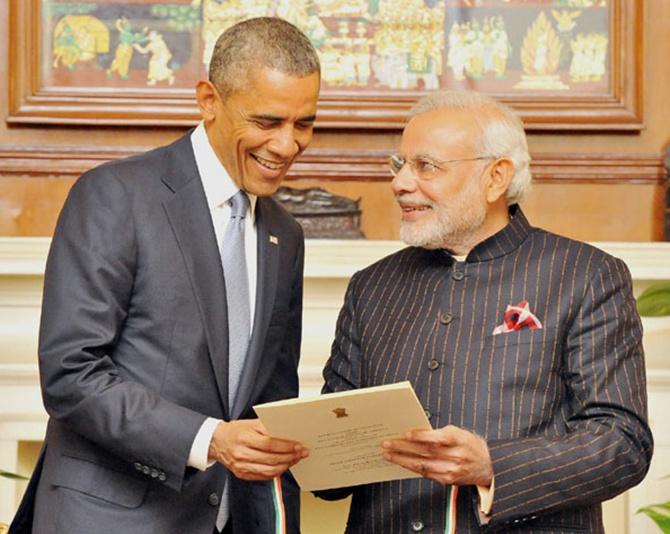 Image: US President Barack Obama with Prime Minister Modi in New Delhi. Photograph: Press Information Bureau
Royce was unimpressed with President Barack Obama's declaration of a 'breakthrough' on the US-India civilian nuclear deal, which has been in limbo for over six years.
"We still have these hurdles because despite these commitments, India is yet to adopt measures to shield US companies from unlimited liability and unfortunately, the announcement -- the agreement -- on this subject doesn't provide the needed changes and simply states that India's existing laws will suffice," Royce said.
"So, without adequate protection, with open-ended liability, US companies cannot engage in this kind of business in India."
Royce lamented that "this isn't what the US expected when the bill was passed, but we are still dialoguing with India."
The lawmaker said he was leading a charge in Congress to further wean India away from any dependence on Iranian oil for its energy needs as a means to have New Delhi completely in Washington's corner to isolate Teheran for its quest towards a nuclear weapons capability.
Acknowledging India's dramatic reduction of oil imports from Iran at the urging of the US, Royce said, "We have a good relationship with India on this issue -- they are trying to assist, sometimes not as fast as we would like, but India is trying to assist."
"In the meantime," he noted, "I am assisting in trying to get more natural gas or LNG permits for shipments from Texas to India."
"I've had six meetings now on this subject as I've tried to accelerate this process," Royce said, adding, "because I fully understand India's need for lower priced energy and that's why I handled the civilian nuclear agreement on the floor of the House."
"And, that's why I am working right now to expedite LNG shipments to India, and as we do this, supply India with more low cost energy, which will make it easier for India to continue its cooperation with the United States on the issue of Iran's belligerency."