'Anything that couldn't be stolen they destroyed.'
Saloni Dhumne and Atreya Raghavan speak to members of the Indian community in Durban -- the largest congregation of Indians outside India -- who were targeted in last month's horrific riots.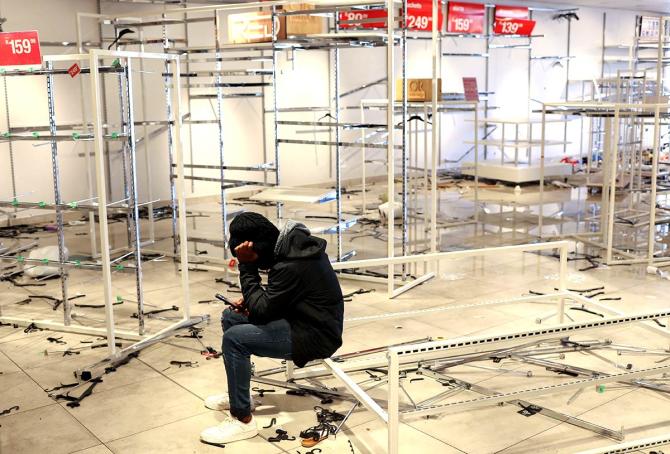 Chaos, panic and misery engulfed Durban and several other parts of South Africa in the aftermath of riots that followed the imprisonment of former South African president Jacob Zuma under charges of contempt of court.
The Indian community bore the brunt of the violence; members of the community lost their lives and many Indian-owned businesses were looted.
A sense of fear still pervades in the community, which is struggling to pick up the pieces in the aftermath of the riots.
The tears are evident in Neha's (name changed) voice as she recalls that horrific week.
Neha runs an India-inspired boutique in Durban. She witnessed violence that rocked the area.
"We had no food to eat," she tells Saloni Dhumne/Rediff.com.
"There was no bread, no flour available. People had to make do with whatever was available in their kitchens. It was difficult because most of us purchase perishables and fresh produce on a daily basis. Parents of young children ran out of nappies and milk."
That was when Gift of The Givers Foundation, a disaster response NGO, and the Muslim community brought in two tonnes of food and 32,000 loaves of bread from Johannesburg. "They helped everyone irrespective of caste, race or colour. Their only motive was to save lives," she says.
The riots began on July 9; a complete lockdown was imposed by July 12. Durban reeled under the violence that took place. Cars and factories were burnt, businesses were looted, people were killed.
"There weren't enough healthcare workers available to take care of the patients," says Neha.
Aid from the central and local governments arrived only after most of the damage was done. Even the police could not stop the rioting, she says.
Members of the Indian community, armed with only sticks, stood guard 24 hours a day to protect the community from the looters. "They were there when no one else was," she says.
Neha wishes the army, which came in much later, had been deployed earlier to handle the situation. The police too, she says, could have stepped up to ensure that fewer lives were lost.
"The violence had nothing to do with racial discrimination. Zuma's supporters wanted him released, hence the rioting," she says.
Neha, who is mourning the loss of a 25-year-old cousin who was shot dead during the riots, hopes the peace will last. "Irrespective of colour, race or nationality, everybody is human at the end of the day. All we are looking for is some peace. Just be kind to one another," she requests.
Dr Raeesa Abdul Karim's clinic was destroyed by the rioters.
Dr Karim is a dental practitioner and a fourth generation naturalised South African citizen of Indian descent based in the greater metropolitan area in Durban.
"I started my practice two years ago, just before COVID-19 began. Due to the pandemic, we would only earn around 15,000-20,000 South African rand a week. Owing to the shortage of funds, I couldn't afford a comprehensive insurance plan," says Dr Karim.
Her basic coverage is barely enough to cover structural damages, let alone the equipment that has been stolen or destroyed. Dr Karim is facing damage worth nearly half a million South African rand.
"They took everything they could find," Dr Karim tells Saloni Dhumne/Rediff.com, "from basic equipment like mouth mirrors, sickle probes, dental drills and syringes to electrical cables, wall partitioning and water pipes. Anything that couldn't be stolen -- including doors, chairs, etc -- they destroyed completely.
"The minute I got word of the riots, I headed to my practice to check the damage. Hundreds of rioters were still present at the site, so I was forced to turn back," she says.
The situation in the Point Waterfront township where she lives in was tense. "Our township was guarded by the community police forum, composed of residents who set up barricades at all entry points to ensure our safety," she says.
The Indian community received multiple threats of breaking in and looting from rioters, forcing many members to take up arms to protect themselves. "Thankfully, we didn't have to use them and hope we never have to do so in the future," Dr Karim says.
With grocery shops shut, food was in short supply, she recalls.
"When the shops opened, there were long queues of people waiting to stock up so we made do with what we had. Besides the rioters, we were also afraid of contracting COVID as, given the situation, no social distancing protocols were followed; most people were seen without masks," she says.
After the police and the army was deployed, "they worked towards controlling the rioters. They also organised random door-to-door checks for stolen goods. Where possible, they tried to return it to the rightful owners. In the initial days, though, they were nowhere to be seen, maybe on instructions from the ANC (African National Congress which rules South Africa)."
Like Neha, Dr Karim does not believe racism caused the latest riots. "Indians and blacks have lived side-by-side for years now," she says. "Eighty per cent of my clientele at the clinic belong to the black community even though my practice was surrounded by Indian businesses."
"The riots were instigated by the ANC to draw people's attention away from its corrupt practices."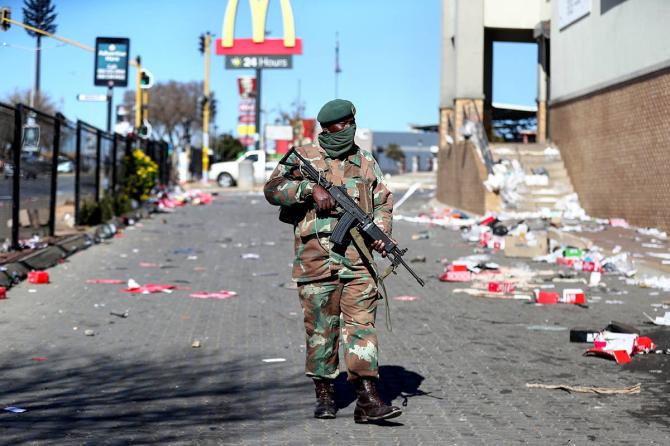 Zahir Karim, a fourth generation Indian-African and the founder of the HFC Mealbank, was actively involved in providing aid and relief.
"The looters were mostly people who lived in the impoverished areas of the city. They stole food items, perishables and other things they need to survive," he tells Atreya Raghavan/Rediff.com.
By the time the army stepped in, Zahir says the damage was done; there was barely anything that could be saved, but the police and the army did try to retrieve the stolen material and return it to the original owners.
"By our calculation, the damage caused by the riots could cross 50 billion South African rand. I'm not sure if insurance can cover such a large amount," he says.
"The lack of assistance from the government does not affect us. We are not holding our breath," he adds. "There is so much corruption that we can't afford to do so."
Dismissing racism as the cause behind the riots, he says, "A handful of people are trying to cause a divide on the basis of colour."
Speaking about those in power, he says certain people will always try and capitalise on any situation and the riots last month were no exception.
"Tragedy teaches us to unite. It is only when we are going through something that we understand the severity of the situation," says Zahir. "Unfortunately, though, there aren't enough heroes in the world."