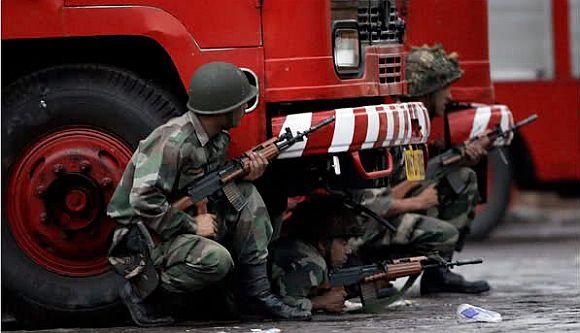 The Indian Army rejected the DRDO's INSAS assault rifle in 2010 due to its all-round inefficiency.
Now the army is being forced to accept DRDO's Excalibur rifle, which is basically an ungraded variant of the INSAS rifle, to make up for a severe shortage of small arms.
Rahul Bedi reports for Rediff.com
The Indian Army's recent decision to induct an indigenously developed assault rifle follows yet another instance of its failure to import one, after formulating unrealistic Qualitative Requirements for a weapon system that is simply non-existent.
On June 15, the army scrapped its December 2011 tender to procure 66,000 multi-calibre assault rifles, opting instead for the Excalibur assault rifle, designed by the Defence Research and Development Organisation.
The Excalibur is unlikely to emerge by 2017-2018 as an enchanted weapon system. For, once developed, it will merely be an upgraded variant of the DRDO's 5.56 x 45 mm Indian Small Arms System assault rifle, which the army has rejected.
The army vetoed the INSAS rifle, over a decade under development, in 2010, on grounds of it being 'operationally inadequate,' some 15 years after reluctantly inducting it into service in the mid-1990s.
Its veto was centered round the rifles bulging barrels, frequent breakdown of moving parts and cracks in its polycarbonate magazine, whilst employed in extreme temperatures in Kashmir and Rajasthan, and all-round inefficiency.
Thereafter, army headquarters declined to repose faith in the DRDO's ability to design a suitable assault rifle, and instead, drafted improbable Qualitative Requirements to import a multi-calibre assault rifle.
These required the rifles to weigh less than 3 kg and be capable of switching from 5.56 x 45mm to 7.62 x 39mm calibre, by merely changing their barrel and magazine. They were also required to fire 600 rounds per minute to a minimum distance of 200 metres.
After nearly three years of technical evaluation, field trials featuring four competitors were conducted at Bakloh cantonment, near Dalhousie in Himachal Pradesh, and Hoshairpur in Punjab, which concluded late last year.
Participants included Beretta's ARX-160 (Italy), Colt Combat Rifle (the US), CA 805 BREN (the Czech republic) and Israel Weapon Industries (IWI) ACE1 model.
All four manufacturers failed to meet the army's whimsical Qualitative Requirements, as other than Beretta's ARX-160, currently in service with the Egyptian and Italian armies and the Mexican federal police, the three other rifles were prototypes.
These had been configured hastily for the lucrative Indian tender, worth an estimated $3 billion to $4 billion (about Rs 18,900 crores/Rs 189 billion to Rs 25,200 crore/Rs 252 billion) and consequently were almost certain to fail in trials.
The deal included a technology transfer to the Ordnance Factory Board to licence build the shortlisted weapon system to meet the army's long-delayed requirement for over 220,000 to 250,000 assault rifles. Eventually, the rifles were also to equip the paramilitaries and special state police units.
At least three successive army chiefs reiterated 2010 onwards, that inducting the assault rifle was their 'top priority' and persisted with the import option. This was despite the continuing development of Excalibur, which the army ignored.
But faced with the stark reality of no assault rifle meeting its over ambitious Qualitative Requirements, the army quietly announced its preference for the Excalibur, regardless of its questionable capability and that of the DRDO's Armament and Research Development Establishment in Pune, in designing a competent rifle.
The proposal for the Excalibur also gained immediate acceptance in official circles -- operational efficiency be dammed -- as it was in consonance with the government's 'Make in India' initiative of increasingly sourcing its material requirements indigenously.
Unbelievably the ARDE, with the inefficient INSAS rifle to its credit, is simultaneously developing Excalibur-2, a 7.62 x 39 mm assault rifle, as well as a Multi-Calibre Individual Weapon System.
In 2013-2014 the army had summarily rejected three prototypes of the gas-operated MCIWS, designed to fire 5.56 mm, 7.62 mm and 6.8 x 43 mm special purpose cartridge, by merely changing the barrel and magazine.
But it mysteriously appears to be back in the army's reckoning, despite infantry officers maintaining that it was primarily an INSAS variant, with one of its barrel assemblies based on the Russian Kalashnikov AK-47 rifle.
Incidentally, the 6.8mm rounds the MCIWS is being developed to fire are rarely, if at all, used by many armies around the world. Besides, it would require the establishment of special machinery to manufacture the rounds.
The army's decision to opt for the Excalibur is a worrisome flashback to the DRDO's decision to develop the INSAS range of weapons in the early 1980s. This followed a ministry of defence proposal to import around 8,000 5.56 x 45 mm assault rifles for select parachute regiments, that later converted to Special Forces.
The army wanted to replace the paratroopers's heavier licence-built 7.62mm FN-FAL self-loading rifles and Germany's Heckler & Koch's G41, Austria's Steyr AUG and UK's Royal Ordnance's --later BAE Systems -- SA80 rifle were short-listed.
All three vendors offered free transfer of technology in a contract worth around $4.5 million (about Rs 28 crore/Rs 280 million).
But soon after, the army's requirements doubled and the Union government, facing a foreign exchange crunch, scrapped the rifle import.
The ARDE stepped in grandiosely announcing its INSAS family of weapons, which besides the assault rifle, included a light machine gun, carbine and sniper rifle. The latter three weapons were quietly dropped, presumably on grounds of technological incompetence.
It took the ARDE almost a decade before the assault rifle went into series production at the OFB's Ishapore Rifle Factory in West Bengal.
Weapon experts at the time claimed that the completed product was an amalgam of the Kalashnikov, FN-FAL, G41 and AUG designs and not in consonance with modern engineering production techniques.
This, in turn, rendered it expensive, as producing it necessitated importing expensive machinery. At the time the INSAS assault rifle was priced at around Rs 20,000 per unit, compared to Bulgarian AK-47s, 100,000 of which were imported around 1993 for $93 or Rs 2,790 (at then prevailing exchange rates) each; or seven, tried and tested AK-47s, for the price of one unreliable INSAS rifle.
The INSAS project was delayed further by at least two to three years, after the ARDE inexplicably insisted on making an extended variant of the SS-109 NATO-standard 5.56 mm cartridge, to achieve marginally longer range, unnecessary for such a weapon.
This time consuming superfluity pushed back the programme, as it necessitated the import of specialised and expensive German machinery, besides compelling the stopgap import of millions of rounds of Israeli 5.56 mm ammunition.
Meanwhile, in a related development the Indian Army is poised to scrap its December 2010 tender to import 44,618 5.56 mm close quarter carbines, trials for which were completed in 2013.
These featured Beretta's ARX-160, IWI's Galil ACE Carbine and Colt's Colt M4 but, for unstated reasons, the army has been unable to decide the winner despite repeated 'confirmatory' trials. No substitute appears to be in the offing.
For over five years the Indian Army has operated without a CQB carbine, a basic infantry weapon, essential to a force readying for 'hot pursuit' missions into neighbouring States.
Senior officers too concurred that the delayed induction of assault rifles and carbines would only compound the army's overall alarming equipment shortages.
A former director general of infantry termed the paucity of small arms a 'disaster' for the army's 360-odd infantry battalions and 106 associated counter-insurgency units like the Rashtriya Rifles and the Assam Rifles, worryingly compromising operational efficiency.
Image: Indian soldiers with INSAS rifles.