'I don't think such a meeting ever happened... I don't see how it is even possible without people coming to know immediately,' says Julio Ribeiro.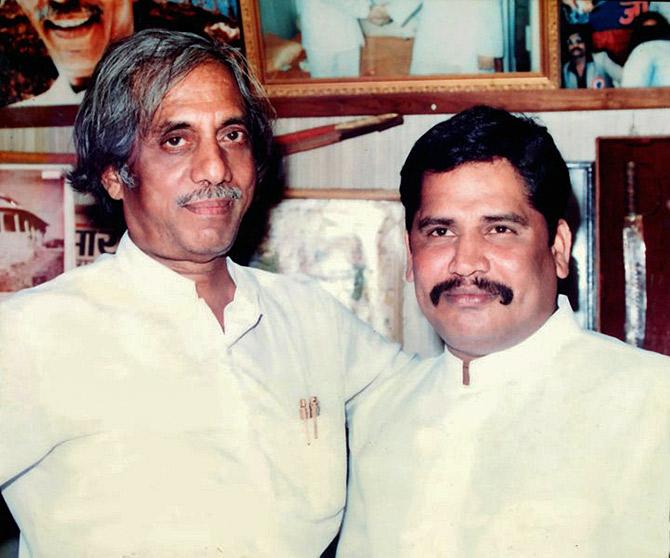 Shiv Sena Rajya Sabha MP and Saamna Executive Editor Sanjay Raut kicked off a controversy with his revelation that then prime minister Indira Gandhi met Haji Mastan and Karim Lala who ruled the Bombay underworld in the late 1960s and 1970s.
Raut issued a denial, but the furore won't die down.
Sundar Shaekhar, Haji Mastan's adopted son, has confirmed that his father did meet Indira Gandhi and Raut was right in saying so.
To find out more, Prasanna D Zore/Rediff.com spoke with five former Mumbai police officers who had dealt with Haji Mastan and Karim Lala.
"As a former police officer, my frank opinion is in those days smugglers were not treated as criminals. Though I don't have any evidence to back what I am saying, I can say this for sure as a police officer they were financing political parties," says Y C Pawar, who had several run-ins with Varadarajan Mudaliar, once Haji Mastan's lieutenant.
"Not to my knowledge (that Indira Gandhi could have met Haji Mastan and Karim Lala) but there are reasons to believe that," says another retired IPS officer, speaking on condition of anonymity.
"There is a huge possibility that Indira Gandhi might have met them. They would go to meet these leaders as politicians. Haji Mastan had started his own political outfit. As a leader when you address public meetings, lots of people meet you and click photographs with you after the meeting. The photographs circulating on social media could have been clicked after one such meeting," this police officer adds.
Julio F Ribeiro, Mumbai's police commissioner between 1982 and 1986, categorically states that such a meeting between Indira Gandhi and Mastan/Lala never took place.
"I don't see how it is even possible without people coming to know immediately about this meeting. Any prime minister coming to Mumbai would be known to everyone, especially the Mumbai police," says the legendary Ribeiro.
"I don't think such a meeting ever happened. I am rather stupefied (by these allegations). At least it didn't happen when I was in Mumbai," says Ribeiro during whose tenure both Masxtan and Lala were arrested by then assistant commissioners of police Madhukar Zende and Isaque Bagwan.
When asked about photographs of Mrs Gandhi and the two dons being circulated on social media, Ribeiro said, "I don't think Mrs Gandhi could have met them at his home."
While Bagwan refused to comment on the controversy, Zende supported Ribeiro's contention that no such meeting took place.
"I arrested both of them (Mastan and Lala). I don't want to say anything," says Bagwan, who has written Me Against the Mumbai Underworld, a book on the city's crime scene. "There was no political pressure on the police after or before their arrests," he says.
Zende, who Bagwan calls his mentor, says, "I can't remember any such meeting."
Recalling the day when he arrested both Mastan and Lala, Zende, who shot into the limelight after he arrested international criminal Charles Sobhraj after he escaped from Tihar jail in March 1986, says, "I first arrested Haji Mastan in 1964 for assaulting a policeman and then in 1984 I arrested both Mastan and Karim Lala under MISA (Maintenance of Internal Security Act)."
"While Mastan was arrested from near Chandan cinema (in Juhu, north west Mumbai), Lala was arrested from near Novelty cinema (south Mumbai). Both meekly came along with us to the police station. When I produced them before Julio Ribeiro (then the police commissioner) he couldn't believe that the arrested person was Haji Mastan because he was so ordinarily dressed."
Both Mastan and Lala were released from jail within a month.
Shiv Sena founder Bal Thackeray had castigated then Maharashtra chief minister Vasantdada Patil for their release.
Mastan went on to start a political outfit which was soon disbanded for lack of popular support.
Elaborating on the politician-gangster nexus, Ribeiro says, "Usually big gangsters would take advantage of their money and muscle power to peddle influence among politicians. That is normal. It is not possible for the police to control the politicians. But the police chief could always control his own men."
"If any cop was found meddling with the underworld during my time he would be in serious trouble," says Ribeiro who had a reputation as a tough officer. "The cops would surely come to know if the meeting had happened."
"I can assure you that nothing of this sort (the meeting) happened during my time," he insists.
While any discussion on the Mumbai underworld cannot be completed with mentioning the D-gang, the police officer, who does not want his name cited in the report, adds, "Dawood Ibrahim was not treated as a criminal before the March 1993 Mumbai serial bomb blasts. He was treated as a respected citizen. It is tragically ironical, but this is a fact."