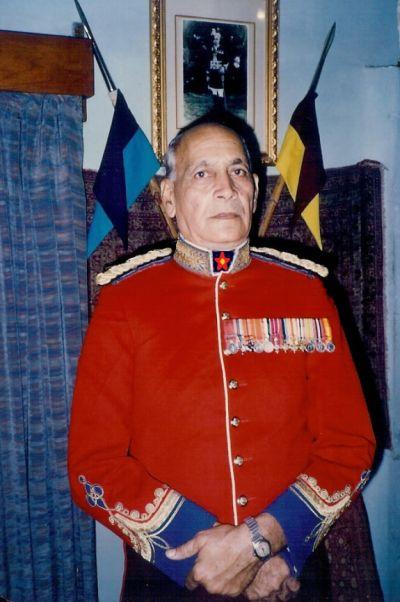 Lt Col Sumer Singh, who has fought the Germans, the Japanese, the Afghans and the Pakistanis in various battlefields, says he wants to live even longer.
Lieutenant Colonel Sumer Singh (retd), a decorated officer who served in the Second World War as well as in wars fought in the aftermath of Independence, turned 100 on Tuesday.
The centenarian has an exemplary record on the battlefield and was honoured as a Member of the Most Excellent Order of the British Empire, or MBE, by the then Viceroy Lord Wavell in 1945 for 'valour and courage while fighting the Germans'.
Singh, who is a 6 feet tall Rajput, lives in Jaipur with his family. Two of his three sons rose to the rank of Lieutenant General in the Indian Army, while the third was a bank officer.
During the World War, Singh fought alongside the Allied Forces in North West Frontier Province, Eritrea, Abyssinia (now Ethiopia), Libya, Egypt and Italy.
After Independence, he fought the Pakistani forces invading Jammu and Kashmir in 1948. He also participated in the Indo-Pak war of 1965.
Singh graduated from Agra University and, despite having the option of joining the administration wing of Jaipur state services, he chose the Jaipur state services Man Guards, the then state army commanded by the Maharaja of Jaipur Sawai Man Singh.
Man Guards and other such armies of the princely states at that time rendered their services to the British forces the during Second World War and fought on both eastern and western fronts and also in Balochistan against the Afghan rebels.
Lt Col Singh also fought in Africa and was a part of the British army troop that freed the Gondal Fort from the Italian forces.
While posted in Italy, the Man Guards became a part of the Beach Group which was comprised of the army, the navy and the air force. It was this battle for which Lt Col Singh was honoured as an MBE.
After the war, the Man Guards was sent to Hong Kong to guard Japanese soldiers who were held as prisoners of war and were kept at different places in Hong Kong, Malaya, Burma (Myanmar) and Indonesia.
Despite having served in the battlefield for so long, Lt Col Singh is keeping good health till recently when an old injury pushed him to a wheelchair.
Once, while he was posted in Hong Kong, his leg was fractured while playing football. Due to old age and weakening muscles, this old injury aggravated his condition and Lt Col Singh is now wheelchair-bound.
Apart from this, he suffers partial hearing impairment and was fitted with a pacemaker a few years ago. However, his eyesight is perfect and he reads without using spectacles.
He attributes his good health to controlled diet and regular exercise. He eats an omelette, a slice of bread and two biscuits in breakfast; one wheat or bajra chapatti, two vegetables, mutton and curd for lunch; and one glass of beer, soup, one chappati, one vegetable and mutton for dinner. He also loves to eat sweets.
"I used to play football and volleyball and used to exercise every morning to keep myself fit. Long walks also helped me remain healthy," says Singh.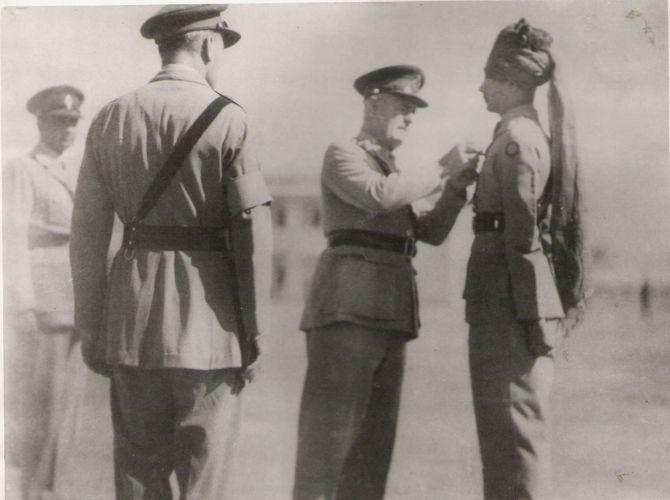 Lt Col Sumer Singh being honoured a Member of the Most Excellent Order of the British Empire by the then Viceroy Lord Wavell in 1945.
Lt Col Singh says he never drank during his initial years in the army and started drinking only after he became a Lt Col. He, however, says with a smile that drinking added to his good health.
He got married in 1947 to the daughter of General Gope Singh, a soldier in the forces of Maharaja Ganga Singh of Bikaner who fought in the First World War. His wife passed away in 1995.
Lt Col Singh lives with his family of three sons, their wives, five grandchildren and great-grandchildren.
His eldest son Lt Gen Kunwar Daulat Singh Shekhawat retired from the Indian Army in 2007 as the director general of mechanised forces. His second son Rear Admiral Kunwar Karni Singh was a neurologist in the Indian Navy and also held the rank of Lt General in the army later.
His youngest son Ranbir Singh was also selected as an officer in the army but opted to be a banker and retired as an officer from the State Bank of Bikaner and Jaipur.
"My children and grandchildren take care of me very well. My journey so far was very satisfying and I want to live even longer with my loving family," says Lt Col Singh.