Major Anuj Sood, scholar and daredevil soldier, had finished his Kashmir tenure and would have been home had COVID-19 not come in the way.
He did not live to be old enough, but he lived the soldier's life to the fullest, reveals Archana Masih/Rediff.com.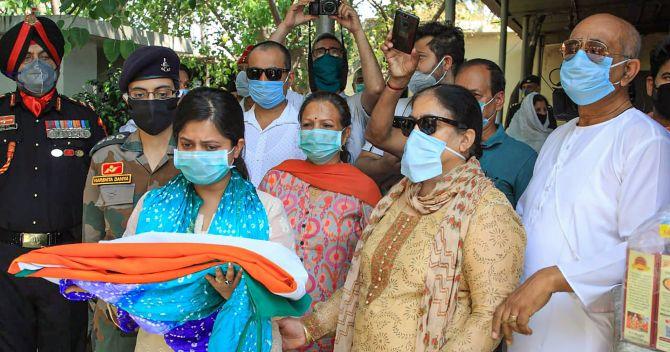 Major Anuj Sood was in the habit of excelling.
He excelled in school, then at the National Defence Academy and in all the courses he undertook in his eight-year journey in the Indian Army.
When he lost his mother to cancer in 2011 in the final term at the NDA in Khadakvasla, he went home for a few days for the funeral. On his return, he immersed himself in training and went on to better his performance.
Even as a trainee-cadet at the academy, he was already an accomplished second-generation army officer -- he stood out in training, academics and conduct. He was a stickler for rules to the point of exhaustion.
He was called the 'feedback machine'. Whenever instructors asked for feedback, he would be the first to answer.
Not only was he a topper in academics throughout the six-terms -- which ex-NDA graduates would agree is no easy feat -- he was good at drill and was part of the equestrian team.
On the glorious day when he graduated from the Indian Military Academy in Dehra Dun, he marched out as the parade's senior under officer.
Always amongst the top band of performers, it was only natural that he had the privilege to select the regiment of his choice. The young officer chose the Brigade of the Guards, one of Indian Army's oldest and most decorated regiments.

Last Saturday, May 2, the young Major made the supreme sacrifice alongside his Commanding Officer, Colonel Ashutosh Sharma, Naik Rajesh, Lance Naik Dinesh from the Guards Regiment and Sub Inspector Shakeel 'Qazi' Pathan of the J&K Police.
For a nation already reeling under an unprecedent health crisis, the news brought greater shock.
The pictures of the two wives gnawed the soul. Mrs Sharma saluted her husband with her head held high, eyes shut tightly to hold back tears. Mrs Aakriti Sood lovingly looked at her husband for the last time as he lay inside the coffin.
Commanding Officer Colonel Sharma and Company Commander Major Anuj Sood launched a search and cordon operation as soon as being informed about a hostage situation in Changimulla village in Handwara.
The men had to quickly move into the village where two terrorists had held a family hostage inside a two-storied house.
Counter-terrorism operations inside built-up areas are among the most difficult missions. Speed is of essence.
"In conventional warfare, secrecy is critical because you need to move troops to a particular point and time is on your side. Here, it is not so. If you delay, civilians lose lives," says a soldier who has had his boots on the ground in the Kashmir Valley.
Military scholars dealing with terrorism will plainly tell you that if the people are not on your side and don't feel strongly for a cause, terrorism can never be eliminated however many bullets and weapons you use.
"That essence has been taught to troops engaged in counter-terrorism. Indian soldiers have always helped people at the peril of their own lives," says the soldier.
That May evening in Handwara, Indian soldiers did that to the peril of their lives to rescue civilian lives.
Major Sood had been deputed for two-and-a-half years to the Rashtriya Rifles, a counter-terrorism force deployed in Kashmir.
It has several battalions drawn from different regiments of the Indian Army. Officers and men are deployed into the Rashtriya Rifles after induction training where they are taught nuances of operating in terrorist-infested terrain in high altitudes and at sub-zero temperatures.
The situation is difficult, dangerous and delicate, sometimes exacting a heavy price from the Indian Army as it guards the Line of Control to prevent Pakistani terrorists from crossing over into India.
The melting of the snow in the summer opens up blocked infiltration routes and hots up the LoC. The maximum infiltration attempts take place in the summer months.
Hundreds of terrorists cross the LoC in repeated attempts with many dying in the bargain when confronted by the Indian Army, but a handful succeed in getting through.
Life is of no consequence to these cadres and their leadership Lieutenant General Syed Ata Hasnain, one of the most experienced generals to operate in the Valley with a deep understanding of Kashmir, wrote on Rediff.com on the evening of the Handwara operation.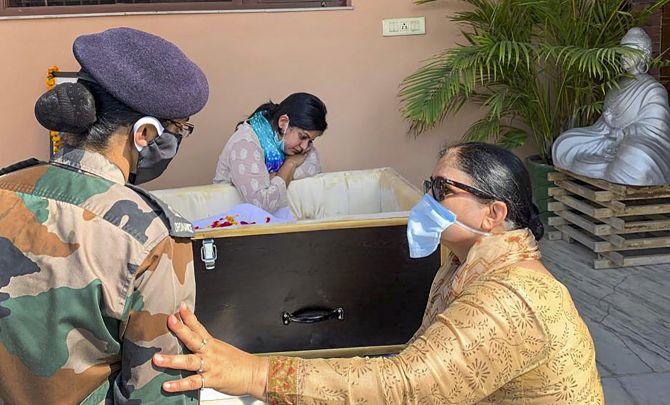 Pakistan-bred and trained terrorists, usually as young as 17 or 18, dangerously radicalised, pumped up with drugs, cross over to J&K to play out Pakistan's diabolic, dirty and bloody designs.
This year alone, over 50 terrorists have been eliminated by Indian security forces.
The operation to rescue hostages in Handwara had continued for one-and-a-half days. In the true ethos of the Indian Army, the commanding officer and company commander led from the front.
After engaging with the terrorists from outside, the team entered a cowshed adjacent to the house after a considerable lull in gunfire. They came under heavy fire after rescuing the civilians and all communication link was lost.
Two days later, the fallen soldiers were cremated with military honours, their sacrifice upholding the traditions of their battalion.
All officers serve tenures in Kashmir. The core of the Rashtriya Rifles is comprised of such young officers who cut their teeth while serving in dangerous field postings along the LoC.
Soldiers who have served in the Valley will tell you how they hold their field postings in J&K closest to their hearts.
"Kashmir is very addictive. It is a love-hate relationship, more love than hate. It is a toxic love. Someone who has bled there, sweated there, walked the entire mountains, drunk the water of the Jhelum can only know how deep that emotional attachment is. You feel for the people, you feel for the land. It is amazing," says a soldier with long experience of serving in the Kashmir Valley.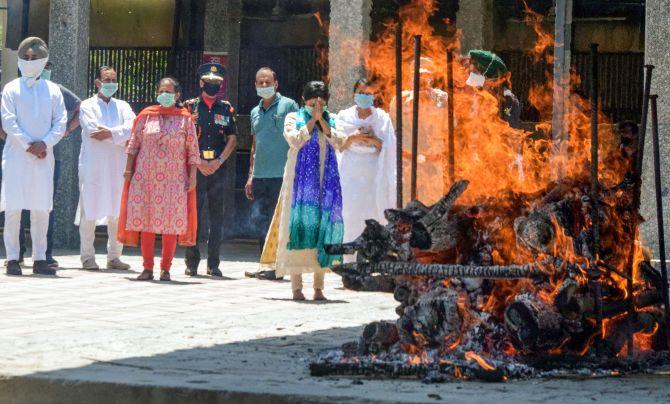 Major Anuj Sood, scholar and daredevil soldier, had finished his Kashmir tenure and would have been home had COVID-19 not come in the way.
He had been posted to his unit in Gurdaspur and had looked forward to spending time with his wife who had resigned her job in Pune to be with him.
The couple had spent a total of two-and-half months together after their marriage in 2017 after which he was posted to Kashmir.
"He was a daredevil and his professional acumen commanded a lot of respect from his jawans," remembers a friend.
In an Instagram post, Major Anuj wrote what a soldier's life meant to him.
'When you are older, the only thing that matters is that you had courage and honour. Lose those things and you won't die any quicker, but you will be less than the dirt on your boots. You will still be dust, but you will have wasted your short time in the light.'
Major Anuj Sood did not live to be old enough, but he lived the soldier's life to the fullest.