Shailajanand Mishra lists The Top Videos of the Week! Take a look.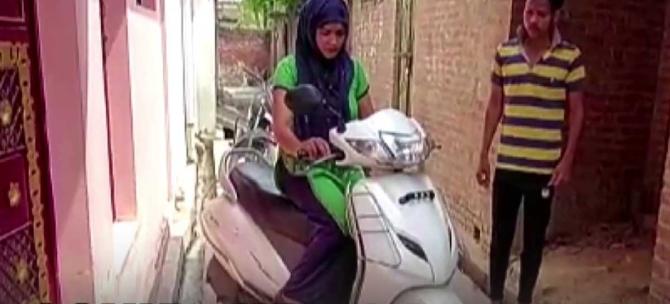 Every week is full of dismal news these days. So, this week, we bring you inspiring COVID heroes.
These videos are chosen by you, through your likes.
If you'd like to see your favourite video on our weekly round-up, make sure you like them on iShare.
---
IAS officer-turned-actor launches OxyTaxi
Date: May 14
Location: New Delhi
Amid the increased demand for oxygen due to rising COVID cases, 2011 batch IAS officer-turned-actor Abhishek Singh has launched oxygen taxis in Delhi that refill empty oxygen cylinders for people in distress.
Singh had earlier started an online portal to bridge the gap between plasma donors and recipients.
'We started this initiative to home deliver oxygen cylinders, especially for people who are not able to come out or not able to stand in queues for refilling,' says Singh. 'People can request an OxyTaxi through our plasma donor Web site, unitedbyblood.com'
---
Why this farmer destroyed his tomato crop
Date: May 16
Location: Moradabad, UP
An angry tomato farmer, Chetram, destroyed his standing tomato crop on May 16, stating he was not getting a fair price for his produce.
As a result, he can't pay his agricultural labour.
'I have suffered huge losses,' says Chetram. 'That is why I started destroying the crop.'
---
UP girl delivers oxygen on Scooty, wins hearts
Date: May 17
Location: Shahjahanpur, UP
A girl from Shahjahanpur has won accolades for helping coronavirus patients who are in need of oxygen.
Arshi, who is now known as 'Cylinder Waali Bitiya', has been supplying liquid medical oxygen cylinders on her Scooty.
'We struggled to find cylinders for my father,' says Arshi. 'Now, I'm helping others who are struggling due to lack of government effort. I get cylinders filled at my expense.'
---
Pune teen's stunning moon pictures
Date: May 19
Location: Pune
Prathamesh Jaju, 16, is gaining popularity on the Internet for his stunning, ultra clear photographs of the moon.
The Pune lad captured the images on May 3 at 1 am.
'I took photographs and videos for around four hours. It took 38-40 hours to process them. The reason behind taking 50,000 pictures was to get the clearest picture of the moon,' Prathamesh tells ANI.
'I stitched them together and sharpened the images to see crisp details of the moon,' he adds.
---
Brave guards stop robbers
Date: May 19
Location: Muzaffarpur, Bihar
Two bike-borne criminals attempted to loot a cash van at the Puraini Bazar Central Bank in Muzaffarpur on May 18, but were thwarted by alert security guards.
'The van was carrying Rs 88 lakhs in cash. The money is safe,' says the city's superintendent of police.
---
When this doctor refused to wear a mask...
Date: May 20
Location: Mangaluru
A doctor refused to wear a mask at a supermarket in Mangaluru.
In a video that has gone viral, he is seen arguing with the supermarket manager when asked to wear a mask.
Mangaluru City Police Commissioner Shashi Kumar says a case has been registered against the doctor.
---
Feature Presentation: Ashish Narsale/Rediff.com